Linen Supply Market Size for FY2017 Achieved 516,277 Million Yen, a Rise by 0.1% from FY2015
Yano Research Institute (the President, Takashi Mizukoshi) has conducted a survey on the domestic linen supply market and has found out the market trends and the business strategies at market players.
Transition of Linen Supply Market Size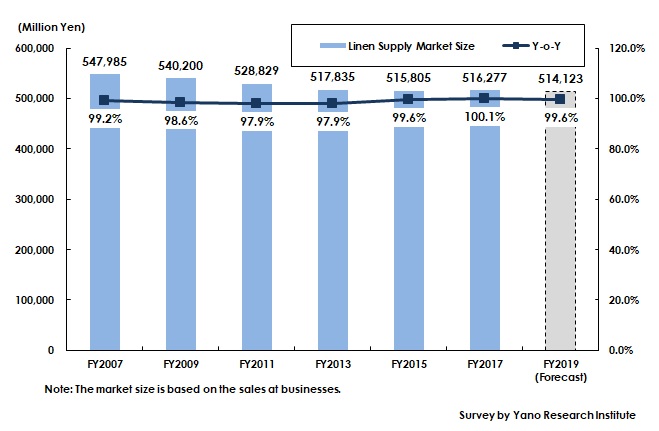 Market Overview
The linen supply market in FY2017, based on the sales at businesses, has achieved 516.277 billion yen, 0.1% of the size of the FY2015, managed to attain a positive growth, though very slightly. The linen supply market has been on the fall since FY2007, but has managed to secure the size of the previous fiscal year since FY2017.

Noteworthy Topics
In recent years, increase of foreign tourists visiting Japan and Tokyo Olympic & Paralympic games to be held have invigorated constructing and operating of hotels and other accommodation facilities. In such a status, the rising demand for hotel linens has driven the entire linen supply market.


The favorable demand for hotel linens stems from increasing number of hotels themselves that has expanded the size of the linen supplier users, which also is the factor of the prosperous market. This has led some of leading linen suppliers to continue augmenting their abilities to provide better services by investing in and building new facilities and equipment.


In addition, soaring fuel expenses and personnel cost due to labor shortage have raised unit price of services, also boosting the market size. While increasing costs had to affect the unit price of services to rise, the current hotel linen industry obviously enjoys the affluent demand that presses the users to accept the higher prices, unlike the situation in the past, which is bringing about favorable influence to the entire market.


​In addition, improved quality in linen materials at hotel rooms has contributed to rising unit price of services. The scheme of Tokyo Olympic & Paralympic Games has brought about many hotels to renovate their guest rooms accompanied by upgrading of interior including the linens, which also contributed to rising unit price of services.


Future Outlook
The linen supply market size for FY2019is projected to slightly decrease by 0.4% of the size of FY2017 to be 514,123 million yen.


Although the demand of hotel linens has been brisk due to increasing number of foreign guests visiting Japan together with that of hotels and accommodation facilities encouraged by Tokyo Olympic & Paralympic Games to be held the next year, many categories in linens have tend to be decreasing. In addition, hotel linens, too, have unclear views in growth in the wake of the Tokyo Olympic & Paralympic Games.


Research Outline
1.Research Period: April to May, 2019
2.Research Object: Domestic leading linen suppliers, wholesalers and makers of linen products and equipment for linen supplies, etc.
3.Research Methogology: Face-to-face interviews by the specialized researchers, mail-in questionnaire, and literature search
the Linen Supply Market
The linen supply market in this research indicates the services of lending linen products to businesses such as enterprises, stores and factories, with cleaning services included. The market is classified into nine categories including 1) Hotel Linens (linens for hotels, Japanese inns and other accommodation facilities) 2) Hospital Linens (bedclothes and other linens for hospitals, clinic, and nursery homes), 3) Food Linens (linens and uniforms for restaurants, diners, and etc.) 4) Service Linens (towels and uniforms used at sauna, aesthetic salons, reflexology and other salons), 5) Industrial Linens (uniforms of factories and other facilities, 6) Traffic Linens (Seat covers used for Shinkansen bullet trains and limited express, and sheets, pillow cases, and curtains used for sleeping cars, ships, and airplanes), 7) Diapers (linen diapers for children and elderly), 8) Rental Hand Towels (hand towels used at restaurants, sports facilities including golf ranges and golf courses, and amusement facilities including karaoke, pachinko parlors, and bowling alleys, etc. 9) Dust Control (doormats, mops, cabinet towels used in industrial facilities and dusting apparatus for households).


Contact Us
©2019 Yano Research Institute Ltd. All Rights Reserved.
The copyright and all other rights pertaining to this report belong to Yano Research Institute.
Please contact our PR team when quoting the report contents for the purpose other than media coverage.
Depending on the purpose of using our report, we may ask you to present your sentences for confirmation beforehand.