e-Learning Market in Japan: Key Research Findings 2019
e-Learning Being Popularized as One Option of Learning Tools
Yano Research Institute (the President, Takashi Mizukoshi) has conducted a survey on the domestic e-learning market and has clarified the trends of each of the B2B and B2C markets, and of the market players, as well as the future outlook.
Figure: Transition of e-Learning Market Size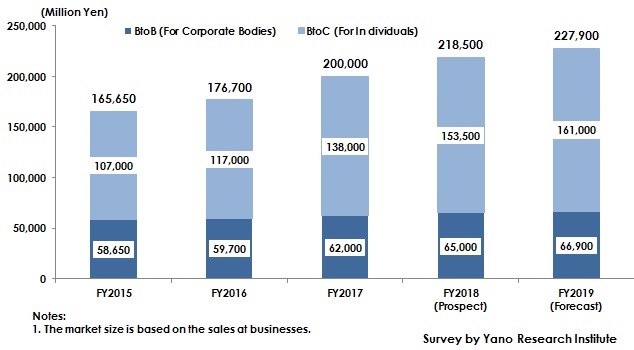 Market Overview
The domestic e-learning market for FY2018 is projected to rise by 9.3% from the previous fiscal year to attain 218,500 million yen. Both the markets of BtoB for corporate bodies and B2C for individuals are projected to continue expanding, with the former likely to rise by 4.8% to achieve 65,000 million yen and the latter by 11.2% to 153,500 million yen.

With regard to the B2B market, diversification of learning tools and advanced movie contents stemming from wider acceptance of smartphones and tablet terminals, advanced usefulness of e-learning led by progressively developed cloud environments, and invigorated demand of manpower training at enterprises have raised more opportunities for user companies to employ e-learning and have steadily increased the number of users. These factors have contributed to permeate e-learning as one form of learning tools.

On the other hand, the B2C market has shown a stable growth, because of sufficient services provided in the market, such as online foreign language classes and some video lessons and classes at preparatory and cram schools aiming to provide supplementary tuitions and to help students proceed to the next education levels. Also, some learning services combined with e-learning have been on the rise, such as some movie explanations or online coaching inserted into the lesson curriculums, in order to deepen the learners' understanding. Currently, e-learning has become popularized as an option to learn individually especially among students and other young users.

Noteworthy Topics
"Act on the Arrangement of Related Acts to Promote Work Style Reform" being in effect since April 2019 has raised the recognition of manpower training among companies, which led them to enhance efficiency and productivity improvement while suppress overtime labor. As a solution for these issues, e-learning is likely to be needed increasingly because it has no restriction in time and location. In addition to it, micro learning, one of the methods in e-learning that provides more detailed contents made into a few minutes of videos for the learners to learn in a short time, is also projected to be needed furthermore.


Research Outline
1.Research Period: January to March, 2019
2.Research Object: e-learning system developers, architect, and distributors, e-learning contents developers, producers, and providers, companies managing and providing business training and seminars using e-learning (operators of private preparatory schools, language schools and business trainers), learning software developers, producers, and distributors, etc.
3.Research Methogology: Face-to-face interviews by the expert researchers, survey via telephone/FAX/email, and literature research
The e-Learning Market
The e-learning market in this research indicates a form of education services provided through internet and other networks. The learning methods using gaming devices and software for PCs are not included. The e-learning contents ranges extensively from business, academic subjects, languages, IT technologies, qualification acquisition, to various cultural and general knowledges.


Contact Us
©2019 Yano Research Institute Ltd. All Rights Reserved.
The copyright and all other rights pertaining to this report belong to Yano Research Institute.
Please contact our PR team when quoting the report contents for the purpose other than media coverage.
Depending on the purpose of using our report, we may ask you to present your sentences for confirmation beforehand.