Space Designing Market in Japan: Key Research Findings 2023 Estimated Domestic Space Designing Market Size for FY2021 Decreased by 3.1% to 1,270.0 Billion Yen on YoY
Yano Research Institute (the President, Takashi Mizukoshi) carried out a survey on the space designing industry and found out the domestic market size, trends of related industries, and future perspectives.
Domestic Space Designing Market Size Transition and Forecast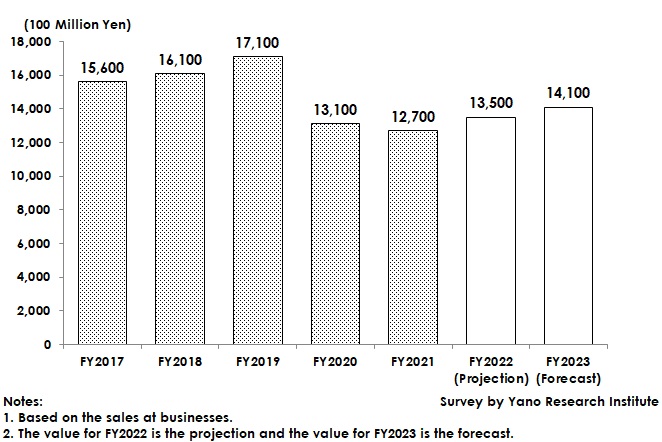 Market Overview
The domestic space designing market for FY2021 (based on the sales at businesses) was estimated as 1,270 billion yen, down by 3.1% on a YoY basis. Although FY2021 saw a tendency of recovery in the demand for events and exhibitions, continuous declarations of state as well as semi-state of emergencies amid the spreading coronaviruses restricted the economic activities for a long time, which prevented the companies from newly constructing or renovating commercial and entertainment facilities.

Noteworthy Topics
Profitability Improvement is Key
Structurally speaking, space designing industry has the nature of low income. Each of space designing companies are suffering from even sterner profitability in recent years, due to skyrocketing material cost and rising personal expenses, and to fiercer price competition.

This has caused many of space designing businesses to aim for profitability improvements by offering value-added services through comprehensive production and supervising, and by differentiating from others in planning, designing, layout, fabrication, construction, etc. Some businesses are reducing costs by streamlining the work processes, exploring the businesses to collaborate with, reviewing the order placement as well as purchasing schemes, and strengthening the alignment with group companies.


Future Outlook
The domestic space designing market for FY2022 is likely to increase by 6.3% on a YoY basis to 1,350 billion yen. Although FY2022 has seen negative impacts such as limited capital investment, suspended store rollout caused by soaring material prices, and postponed construction works due to shortage of materials, the lift of restrictions in sales activities nationwide after the end of semi-state of emergency in March 2022 and uptick of the economy, in addition to continuously favorable demand for events and exhibitions since FY2021, led the demand for new construction and refurbishing of commercial and amusement facilities to recover, which is projected for the market to grow positively.


Research Outline
1.Research Period: January to March 2021
2.Research Object: Space designing industry, event industry, commercial facility industry and other peripheral industries
3.Research Methogology: Face-to-face interviews by the specialized researchers, and literature research
About Space Designing Market
According to "Japan Standard Industry Classification" by Ministry of Internal Affairs and Communications, space designing service is defined as "a business that undertakes the comprehensive designing of various exhibition spaces such as at a retail store, a trade show venue, an event hall, etc., aiming mainly for sales promotions, enlightenment and education, and information offering, incorporating the interior, exterior, exhibition equipment, mechanical equipment (audio and visual), etc. at these facilities, through such works as researching, planning, designing, displaying structuring, manufacturing, and supervising the construction works."
The market size in this research was calculated based on the sales at space designing businesses that handle extensive work and tasks.


<Products and Services in the Market>
Planning and basic designing, and laying out of the interiors of commercial facilities, exhibition facilities (including show rooms, exhibition venues,) cultural facilities (museums, art museums, aquariums, etc.,) amusement facilities (amusement parks, etc.,) public facilities (parks, signboards, etc.,) and placing of display cabinets and equipment, displaying of exhibits.
Contact Us
©2021 Yano Research Institute Ltd. All Rights Reserved.
The copyright and all other rights pertaining to this report belong to Yano Research Institute.
Please contact our PR team when quoting the report contents for the purpose other than media coverage.
Depending on the purpose of using our report, we may ask you to present your sentences for confirmation beforehand.