Field Service Management Solutions Market in Japan: Key Research Findings 2022 Field Service Management Solutions Market for FY2021 Expanded by 13.8% From Preceding Year to 50,400 Million Yen
Yano Research Institute (the President, Takashi Mizukoshi) has conducted a survey on the field service management solutions market in Japan, and found out the trends by demand field, the case studies on major solutions by field, and future perspectives. ​​
Transition and Forecast on Field Service Management Solutions Market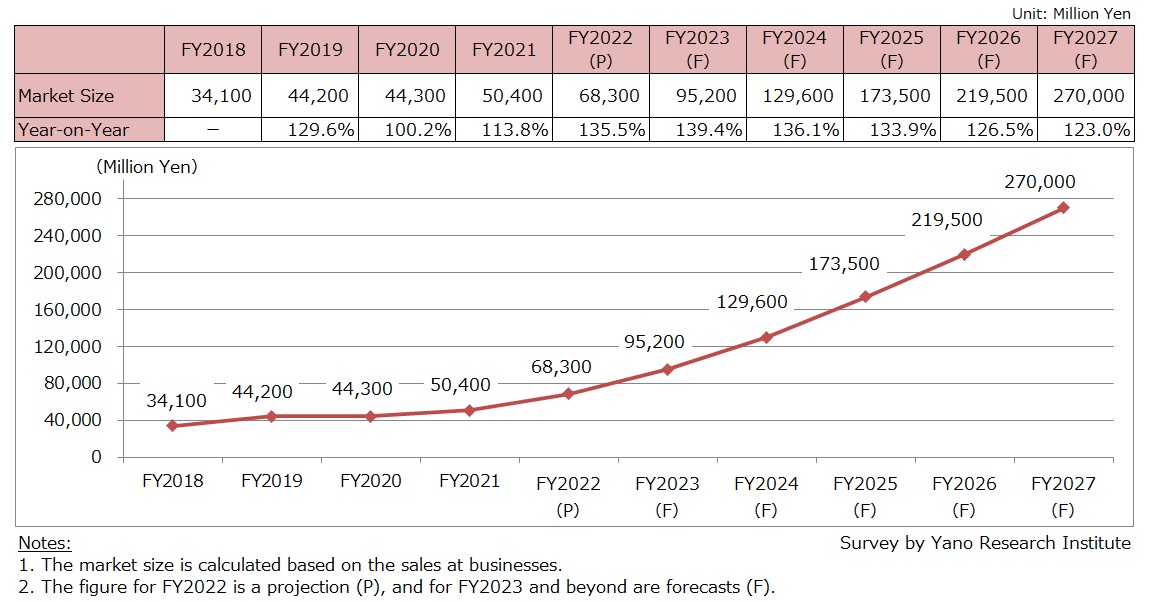 Market Overview
Size of the field service management solutions market in Japan is estimated at 50,400 million yen for FY2021, up 13.8% from the previous fiscal year. The market size includes not only packaged software and solutions provided by IT vendors, but also similar solutions as a part of large-scale system integration and system development projects, projects undergoing PoC (Proof of Concept) or pilot test, and systems developed in-house by user companies.

While there are views that COVID-19 pandemic has worked in favor for deployment of remote solutions throughout FY2021, it also exerted negative impact by deferring field service operations. Viewing by demand field, while quite a few projects were put on hold or suspended in manufacturing and distribution/warehousing sector, the market growth is driven by the large-scale projects in industries of manufacturing, infrastructure, and energy.

Noteworthy Topics
Field Service Management Solutions for Construction/Civil Engineering
In expectation for better operational efficiency by using ICT and smart devices for field service management, various types of devices have been set in place at construction worksites. For example, in order to streamline construction project management, it is critical to digitize various types of information like process charts, instead of relying on managing in an old-school paper and pencil. Since digitized field information can be shared via smartphones and computer tablets, improvements in work efficiency and service quality are expected subsequently.

These digital solutions mainly comprise of portable terminals/devices such as computer tablets for field workers, and cloud computing applications. The terminals/devices are the ones suited for rugged outdoor use, which are compact, lightweight, waterproof, dust proof, and drop resistant. The cloud applications streamline operation by data sharing and labor-saving on-site, such as enabling simpler data input operation and tool management, making design drawings accessible for field workers on-site, and providing remote technical support.


Future Outlook
Introduction of network/IP cameras and image analysis solutions are anticipated to increase hereafter as underlying technologies for the field service management solutions. The demands for these technologies are expected to grow for the purpose of surveillance/monitoring at service operation sites, inspection/diagnosis, and support for in-store marketing/purchase order operations. It is also assumed that industrial drones will increase popularity, particularly in the fields like construction and energy sectors, as construction machinery makers are promoting drones specifically for progress management at construction sites.

Despite a temporary slowdown due to the COVID-19 crisis, against the backdrop of technological advancement driven by the labor shortage, the demand for field service management solutions is on an upward trend. The market is forecasted to grow at a compound annual growth rate (CAGR) of 32.3% from FY2021 to FY2027 to reach 270,000 million yen by FY2027.


Research Outline
1.Research Period: May to September 2022
2.Research Object: IT vendors, system integrators, device makers, communication service providers, user business operators, infrastructure management operators
3.Research Methogology: Face-to-face interviews by our expert researchers (including online interviews), surveys by telephone and email, and literature research
What is the Field Service Management Solutions Market?
Field service management solutions indicate systems and services using IT devices and IoT technologies, such as smart devices and computer tablets, to support service operation of field workers (particularly those who work in uniforms). The solutions aim to reduce their workload and improve their work efficiency, as well as to adapt to work-style reform, assist service operator education/training, and support knowledge transfer.

In this research, the market of field service management solutions includes computer tablets, smartphones, HMDs (Head Mounted Displays), smart glasses, wearable devices (watches, bands, smart clothes), drones, terminals/devices such as IoT robots, system development fees, communication modules, communication fees, platform/cloud service usage fees, and operation management fees. The market size is calculated based on the sales at businesses.


<Products and Services in the Market>
Field Service Management (FSM) solution/system
Contact Us
©2021 Yano Research Institute Ltd. All Rights Reserved.
The copyright and all other rights pertaining to this report belong to Yano Research Institute.
Please contact our PR team when quoting the report contents for the purpose other than media coverage.
Depending on the purpose of using our report, we may ask you to present your sentences for confirmation beforehand.