Corporate Training Service Market in Japan: Key Research Findings 2021 Despite Drop by 8.5% YoY to Attain 482,000 Million Yen for FY2020, Corporate Training Services Market is Rising Again by 8.9% YoY for FY2021 to Reach 525,000 Million Yen
Yano Research Institute (the President, Takashi Mizukoshi) has conducted a survey on the domestic corporate training service market, and has found out the market trends and the future perspective, in light of the impact of COVID-19 on the market and changes in social needs.
Transition and Forecast of Corporate Training Service Market Size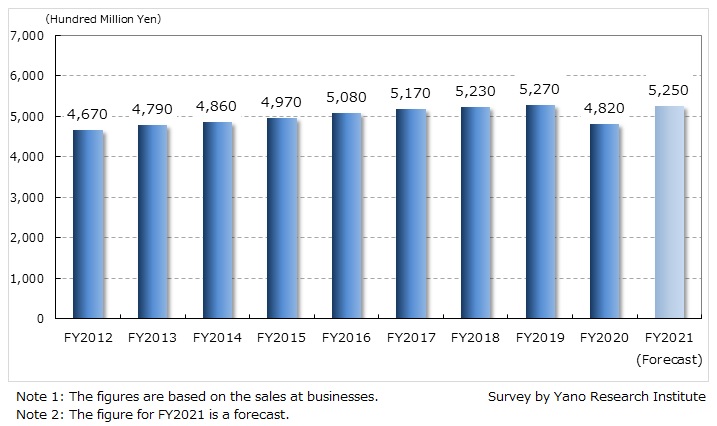 Market Overview
The corporate training service market is valued at 482,000 million yen for FY2020 based on the sales at businesses, down 8.5% from the previous fiscal year. Although the market maintained marginal growth over the past several years, the market turned negative in FY2020 as COVID-19 calamity affected the market significantly.

In recent years, the key market driver was new employee training against the background of enterprises actively recruiting new graduates. For FY2020, however, because the timing of recruitment activities coincided with the first declaration of state of emergency that involved voluntary lockdown as a measure against spread of COVID-19, such activities had to be cancelled or postponed. The cancellations and postponements is the number one reason for a decline in revenues from the main business of the market, the classroom training sessions (open programs/customized programs). Cancellation and postponement of classroom sessions due to pandemic resulted in dramatic damage to sales of various trainings provided year-round, particularly to position-specific trainings (courses designed specifically for young/mid-career employees, for next-generation leaders, and for middle management, etc.), which was as stable as the new employee training.

Noteworthy Topics
Trend toward Remote Working Accelerated by COVID-19 Made Online Training a Must
Although the market of corporate trainings service was badly damaged by COVID-19 crisis that led to cancellations and postponements of classroom training sessions, the main business for most players–the impact of new employee trainings coinciding with the first declaration of state emergency was particularly huge – and the market growth turned to negative, because the influence is solely due to the pandemic, i.e. it does not imply to decline in companies' will to hire people or to cut down investment in corporate education, the corporate training services view the decline as only temporary.


Since market players found urgency in providing online trainings as an alternative to classroom training sessions, in the latter half of FY2020 most of them focused on turning their classroom session into online session just as it is. Now that the transition to online is completed to certain degree, reinforcing development of training methodologies and contents suitable for online training has become a noteworthy trend.


As trainees basically participate online training sessions on their own, corporate training services must be creative in designing the courses interesting enough to keep the trainees focused, while enhancing effectiveness of the training. For this reason, increasing number of services are shortening training hours, and/or incorporating education methods using videos and microlearning (a training method by short-term learning units). Creativeness will be a key point of differentiation in the market of online training services hereafter.


Future Outlook
Considering the rapid shift to offerings that can adapt in- and post- COVID-19 era such as online trainings, and recovery in sales of some fields to or above the level prior to the outbreak of the pandemic, size of the corporate training service market for FY2021 is projected to jump by 8.9% from the previous fiscal year to reach 520,000 million yen (based on the sales at businesses).


Research Outline
1.Research Period: April to July 2021
2.Research Object: Corporate training service providers
3.Research Methogology: Face-to-face interviews (including online interviews) by the specialized researchers, survey by telephone and fax, and literature research
Corporate Training Services
Corporate training services are the training and education provided by external businesses for user companies as their corporate training services. This research does not include in-house corporate training and education, but includes those training services provided by subsidiaries to their parent and/or group companies.


Target of the research includes classroom training sessions (open programs, customized programs), correspondence courses, e-learning, and organizational diagnosis/assessment tools. However, it does not include teaching materials except for those prepared/provided for classroom sessions or correspondence courses.


<Products and Services in the Market>
Corporate training services
Contact Us
©2021 Yano Research Institute Ltd. All Rights Reserved.
The copyright and all other rights pertaining to this report belong to Yano Research Institute.
Please contact our PR team when quoting the report contents for the purpose other than media coverage.
Depending on the purpose of using our report, we may ask you to present your sentences for confirmation beforehand.