Market of Biochemical Reagents for Studies in Japan: Key Research Findings 2021 Market of Biochemical Reagents for Studies in 2021 Expected to Achieve 118,360 Million Yen, 102.2% of Previous Year
Yano Research Institute (the President, Takashi Mizukoshi) carried out a research on the domestic market of biochemical reagents for studies, and found out the market trends by application, the trends of market players, and future perspectives
Transition and Forecast of Market Size of Biochemical Reagents for Studies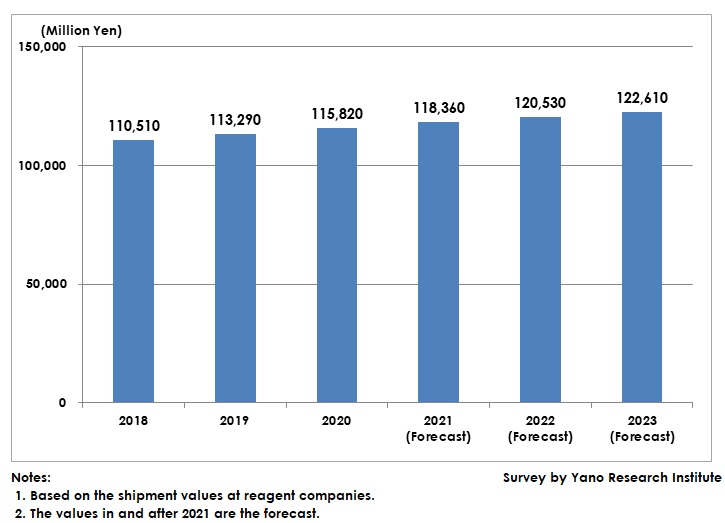 Market Overview
Biochemical reagents for studies are used for a wide variety of studies from basic researches such as biochemistry, immunology, molecular biology, etc., to applied researches in the industrial areas including medicine, diagnostic agent, chemicals, and agricultural and fishery products. Biochemical reagents vary from biological components such as amino acid, protein, glucose, lipid, nucleic acid, etc. to those reagents for researching immunochemistry, cellular biology, for culture study, etc. As advancement especially of genetic engineering and immune cell studies is remarkable in recent years, a variety of new reagents for researches have been generated in accordance with new technologies.

The domestic market of biological reagents for studies tends to be affected significantly by the governmental budget size (especially the budgets at MEXT [Ministry of Education、Culture、Sports、Science and Technology], MHLW and MAFF). This heavily influence universities and national as well as public research institutions, which are said to occupy approximately 70% of the reagent users. As the public budget has currently been reexamined due to fiscal reconstruction, the budgets at universities as well as at national and public research institutions have been affected, depending on the study segment. In addition, private enterprises, though enjoying steady R&D investment, are seen to limit such investment to certain areas. The entire market of domestic biological reagents has been sluggish and facing severe competition.

In such a situation, the budget bills were shown as a proactive attitude by the government to tackle life-science initiatives. The budget bills are significant for the companies developing biological reagents for studies to grasp the future application demand. For FY2021, 143,900 million yen of the budget for research and development in medical fields was allocated for AMED (Japan Agency for Medical Research and Development), and 85,200 million yen was allocated as the expense for in-house research and development. When compared with the previous fiscal year, there were increase by 18,000 million yen at AMED, and 600 million yen for in-house R&D expenses.

Noteworthy Topics
NGS Used as "Clinical Sequencing"
In Japan, DNA sequencers have been used chiefly for studies. In order for the market to expand, it is a challenge for the sequencers to be used more for diagnostic purposes by which to take advantage of their features.

Regarding the diagnostic use of sequencers, each sequencing company has launched products in the research area as well as preclinical area from the diagnostic perspective, which include development of disease panels (user interfaces) of various kinds. In addition, deployment of NGS (next-generation testing sequencing) products is in progress at clinical testing centers in the prospect of expansion in genetic test demand, while NGS analysis has been acknowledged as a promising area for growth by some companies, which is increasing the acceptance of NGS.

In order for sequencers to be used for diagnosis, the analysis results should be employed for treatments. This requires making explicit about which specific treatment should be the target or which of the treatment needs genetic testing. Also, a sequencer is not only to grope for the possibility of being used as SNP (Single Nucleotide Polymorphism) analysis tool for disease-related genes, but also it is effective to indicate the superiority over the existing diagnosis methods. For instance, a DNA sequencer requires less cost and higher efficiency than the existing diagnosis method that uses PCR testing, which can be a significant factor to be widely accepted.


Future Outlook
As large-scale governmental projects ended and investment for research and development at private companies diminished due to the recent economic situation, the domestic market size of biological reagents for studies has remained flat or increased only slightly. The market size based on the shipment values at reagent companies is forecasted to achieve 118,360 million yen, 102.2% of the size of the previous year.

As the domestic market has been saturated, each reagent company has been focused on new study areas for the reagents to contribute in. It is imperative for the companies to find not only from each of the current business domains but also from the peripheral application fields, and to determine how each of the in-house products work in the domain or fields and what lacks for the product to work. In addition, more satisfying information should be sent to the researchers. Because researchers collect information not only by means of conventional paper medium such as newsletters but also by means of internet searching, it is considered important to post and upload the data at websites and improve the operability in order to expand the sales of reagents.


Research Outline
1.Research Period: March to May 2021
2.Research Object: Domestic enterprises developing and selling biochemical reagents for studies
3.Research Methogology: Domestic enterprises developing and selling biochemical reagents for studies
About Biochemical Reagents Market
Biochemical reagents in this research refer to all the reagents used for various basic researches such as biochemistry, immunology, molecular biology, etc., and for applied researches in the industrial areas including medicine, diagnostic agent, chemicals, and agricultural and fishery products.


<Products and Services in the Market>
Reagents related with genetic engineering, reagents for electrophoresis, reagents related to proteome, reagents for cell/tissue culture, reagents for studying immunity/cells, reagents for studying other biochemistry
Contact Us
©2021 Yano Research Institute Ltd. All Rights Reserved.
The copyright and all other rights pertaining to this report belong to Yano Research Institute.
Please contact our PR team when quoting the report contents for the purpose other than media coverage.
Depending on the purpose of using our report, we may ask you to present your sentences for confirmation beforehand.