High-Performance Heat Exchanger Market in Japan: Key Research Findings 2021 High-Performance Heat Exchanger Market for FY2020 Likely to Decline to 72,550 Million Yen, 93.6% of Previous Year, Due to Reconsideration of Capital Investment and Stagnant Sales Activities
Yano Research Institute (the President, Takashi Mizukoshi) carried out a survey on the domestic high-performance heat exchanger market, and found out the market trends, trends of major market players, and future outlook.
Transition and Forecast of High-Performance Heat Exchanger Market Size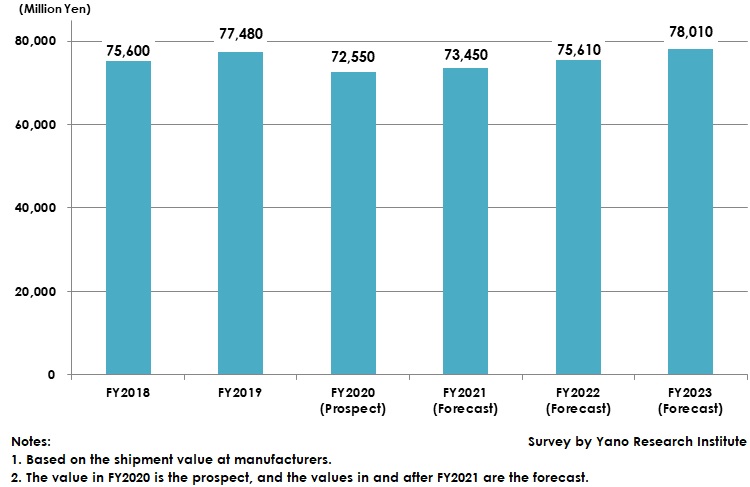 Market Overview
The domestic high-performance heat exchanger market kept expanding until FY2019, in association with facility constructions for Tokyo Olympic and Paralympic games, redevelopment in metropolitan areas, and new constructions of woody biomass power plants, etc. The estimated market size based on the shipment value at manufacturers was 75,600 million yen in FY2018 and 77,480 million yen in FY2019.

For FY2020, the COVID-19 infections slowed down the capital investment and reduced the demand for heat exchangers at many industries from the previous fiscal year. The sectors that showed continuous favorable demand for heat exchangers during FY2020 were limited to semiconductor manufacturing plants, telecommunication facilities, manufacturing facilities for food and beverages for consumers, and biomass power plants. In addition, some user companies reconsidered the capital investment plans, and restricted people from moving around to prevent spreading of infections, which slowed down the progress of development projects as well as the sales activities. Therefore, the high-performance heat exchanger market is estimated to be 72,550 million yen, 93.6% of the size of the previous fiscal year.

Noteworthy Topics
Business Expansion Relies on Technological and Application Developments Aiming at Carbon-Neutral
As the Japanese government announced its goal to attain carbon neutral by 2050, there has been a growing attention to technologies for energy decarbonization and for various devices and facilities that contribute in save energy.

Heat exchangers are not only used in biomass power plants, hydrogen stations, and fuel cells, but their performance can directly affect the energy efficiencies of air conditioners, freezers, refrigerators, and water heaters, so that their roles for achieving carbon neutral are quite important. To press ahead with increasing use of non-fluorocarbon refrigerants including natural refrigerants and of unused heat such as earth thermal, development of heat exchangers applicable to such refrigerants and heat is indispensable.

After FY2021, the technological development as well as finding out new use of heat exchangers is likely to increase furthermore. For the high-performance heat exchanger market, the global trend to achieve carbon neutral is advantageous. Successful business expansion for the market players depends on whether they can respond to the demand for carbon neutral or not.


Future Outlook
Size of the high-performance heat exchanger market for FY2021 is forecasted to attain 73,450 million yen, 101.2% of that of the previous fiscal year.

In addition to the demand for heat exchangers likely to keep on being stable in semiconductor manufacturing facilities, telecommunication facilities, and biomass power plants, the recovery of investments to other facilities is expected to contribute in exceeding the market size of FY2020. Hereafter, the domestic demand for heat exchangers is expected to gradually recover, and it is likely to be around FY2023 for the market size to reach the level of FY2019. Due to capital investment for Expo Osaka 2025, and product development as well as exploration of new use to deal with carbon neutral, the high-performance heat exchanger market for FY2023 is anticipated to achieve 78,010 million yen.


Research Outline
1.Research Period: September 2020 to March 2021
2.Research Object: Manufacturers of high-performance heat exchangers, engineering companies, material manufacturers, metalworking companies, etc.
3.Research Methogology: Face-to-face interviews (including online) by the expert researchers, survey by telephone, and literature research
The High-Performance Heat Exchanger Market
Size of the high-performance heat exchanger market in this research is calculated based on both applications where heat exchangers are installed stand alone at plants and factories, and where they are installed within air conditioners, water heaters, and other apparatuses. Note that those heat exchangers used for vehicles, such as vehicle radiators, are not included in this research.


<Products and Services in the Market>
Heat exchangers for industrial and business applications
Contact Us
©2021 Yano Research Institute Ltd. All Rights Reserved.
The copyright and all other rights pertaining to this report belong to Yano Research Institute.
Please contact our PR team when quoting the report contents for the purpose other than media coverage.
Depending on the purpose of using our report, we may ask you to present your sentences for confirmation beforehand.