Jewelry Market in Japan: Key Research Findings 2020
Yano Research Institute (the President, Takashi Mizukoshi) carried out a survey on the domestic jewelry market and found out the market status, the trends of market players, and the future perspectives.
Transition and Forecast of Domestic Jewelry Market Size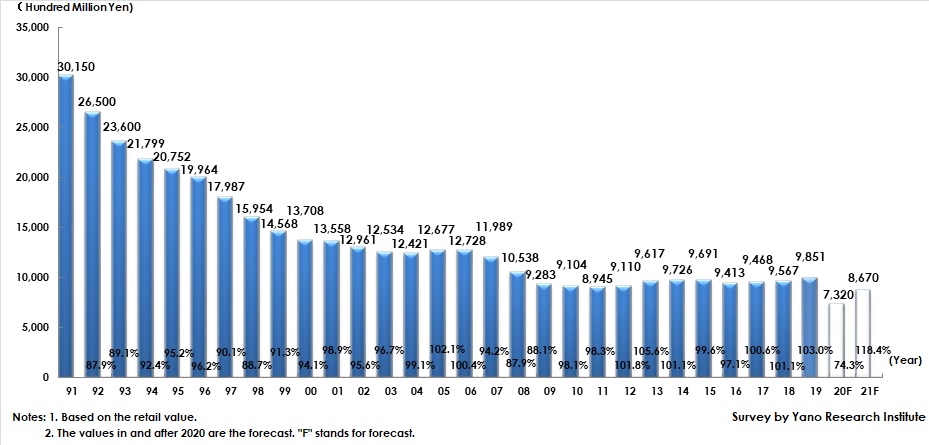 Market Overview
The domestic jewelry retail market generated 985,100 million yen in 2019, 103.0% of the previous year, achieving growth for three consecutive years, although the growth rate was slight.

Consumption tax hike in October 2019 brought about slump in consumption after October, but last-minute surge in demand in the third quarter of FY2019 (during July to September 2019) just before the tax hike had been larger than expected, which subdued the drop in sales value. On the other hand, during the time of Christmas shopping, the sales were severe at many brick and mortar shops, largely due to decreased customer visits, reducing the chances for such shops to close the deals. The trend showed that more Christmas gifts were bought through mail-order services, another reason for the sales decline at physical stores.

Noteworthy Topics
Bridal Jewelry Market Rose for the First Time in Twelve Years, Due to Reiwa-Era Marriage
2019 was the first year of the Reiwa era, which led many couples to marry within that year in commemoration, which was called the "Reiwa Marriage." The number of couples married in 2019 rose by 2.1% from the preceding year, an increase for the first time in seven years*. This expanded the bridal jewelry market in 2019, though slightly by 0.7%, the first time in twelve years of growth.

On the other hand, the recent young couples are apt not to be particular about engagement rings or wedding rings, decreasing the purchase rate of these rings. Therefore, increase in the number of married couples does not contribute in expansion of the bridal jewelry market.


* Source: Specified Report of Vital Statistics 2019 (only in Japanese) announced by the Ministry of Health, Labor and Welfare in 5 June 2020.


Future Outlook
The domestic jewelry retail market size for 2020 is likely to be 74.3% of the size of the preceding year.

When compared with daily necessities, jewelry represents a non-essential and non-urgent item, which do not increase purchase at the time when consumer sentiment is low. There are many tiny vulnerable companies in the jewelry market suffering from predicament stemming from temporary business closure and too many stocked items left unsold, caused by COVID-19 pandemics, which is inflicting more significantly than at the time of Lehman's collapse.


Research Outline
1.Research Period: August 2019 to August 2020
2.Research Object: Jewelry specialized store chains, market players including department stores, luxury shops and Kimono shops that deal in luxury watches and jewelry, and imported jewelry brand companies
3.Research Methogology: Face-to-face interviews and surveys through telephone by the specialized researchers, and mail-in questionnaire
What is jewelry in this research?
Jewelry in this research refers to ornamental products made of gold or platinum, some decorated with diamonds, gems and pearls. Also included in this category are jewelry watches and those jewelry products all or part of them made of silver or with semiprecious stones.


Contact Us
©2019 Yano Research Institute Ltd. All Rights Reserved.
The copyright and all other rights pertaining to this report belong to Yano Research Institute.
Please contact our PR team when quoting the report contents for the purpose other than media coverage.
Depending on the purpose of using our report, we may ask you to present your sentences for confirmation beforehand.