Dental Device and Material Market in Japan: Key Research Findings 2020
Yano Research Institute (the President, Takashi Mizukoshi) has conducted a survey on the dental device and materials market in Japan, and found out the trend by item, the trend by the market players, and the future perspectives.
Transition of Dental Device and Material Market in Japan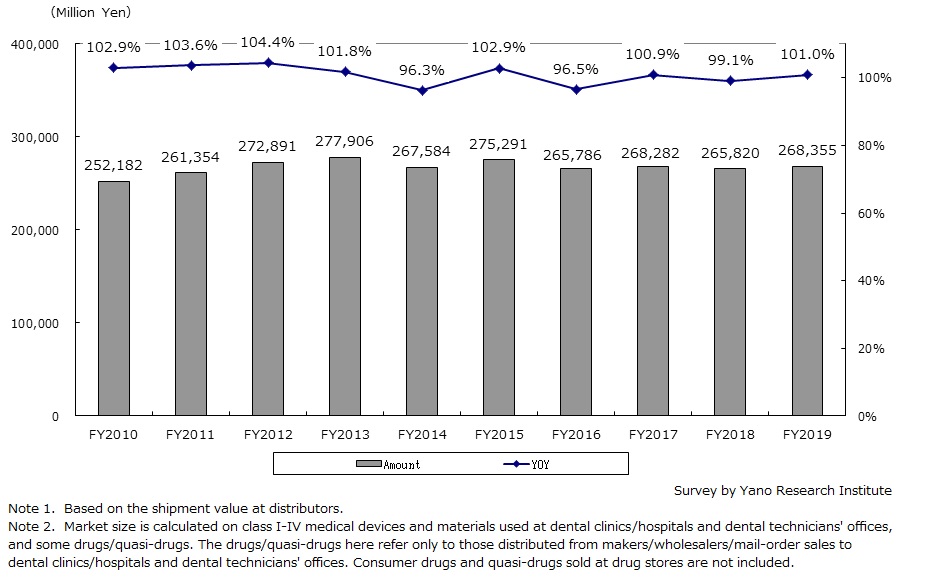 Market Overview
Domestic dental device and material market is estimated to have increased by 1.0% from the preceding fiscal year (based on the shipment value at distributors) to reach 268,355 million yen for FY2019. Viewing by item, the dental device market attained 94,937 million yen (down 0.8% YOY), the preventive dentistry products market 24,063 million yen (up 3.7% YOY), the dental material market 121,964 million yen (up 2.1% YOY), the dental drug market 6,580 million yen (up 0.3% YOY), and the dental implant market 20,810 million yen (down 0.7% YOY).
In the dental material market, all-ceramic and zirconia materials for restoration of CAD/CAM crown, resin materials for repairing/processing cut surface, and bonding materials remained strong. The dental implant market shrunk slightly because of stagnation in delivery price, although the market resulted flat to slight increase based on volume.
In addition, by reason of oral care for patients in the field of medical care garnering attention and mail-order sales selling well, the preventive dentistry product market have been invigorated.

Noteworthy Topics
Influence of COVID-19
Originally, the number of patients and revenue at dental clinics tend to increase in March compared to other months. Because of this trend, no obvious COVID-19 impact was brought to fore. However, actually the number of patients decreased little by little between March to early April, due to cancelling of treatments as well as postponements of medical checkups and appointments by preventive dentistry patients. When a state of emergency was declared in April, the number of patients clearly dropped; patients coming to clinics are estimated to have decreased by 20 to 30% compared to the same month of the previous year, or even worse. Impact of the pandemic became noticeable first among dental clinics in residential districts as medical checkups and preventive dentistry appointments were postponed, then at urban clinics located near train stations, as more people started remote work/work from home.
To cope with the novel Coronavirus crisis, Japan Dental Association made an announcement in August "Directives Version 1 for Dental Treatment amidst COVID-19", while government took action such as approving advance payment of medical service fees for medical examinations conducted in May, and providing "Fund to Prevent Spread of Infection" (subsidy) and "Bonus for Healthcare Professionals Coping with COVID-19" (monetary reward) for medical/dental institutions. Funds can be applied to all kinds of measures to prevent spread of infection except for labor cost, and it includes framework for loans without interest and unsecured loans. As the state of emergency was lifted, patients gradually come back: Nevertheless, since the number of people infected is on the rise again, an outlook is still very uncertain.
While impact of the novel coronavirus is anticipated to last long, and because characteristically it takes time for dental clinics to increase number of patients to whom they create long-term relationships with, they need (1) application for subsidies, (2) obtainment of working capital, (3) application for postponement of tax payment, (4) creation of infection control manual, and (5) considerations for staffing to adapt to decline in number of patients. Instead of simply selling products, manufacturers and distributors of related products will be required to establish systems to support the clinics comprehensively.


Future Outlook
Revision of dental service fees in April 2020 laid more emphasis on oral health management (maintenance/restoration) while it raised NHI points (National Health Index points) for basic medical fee, treatment, surgery, restoration of tooth crown and dental prosthetics. Bing at the forefront of serious aging society, it is assumed that oral changes occur among people due to systemic disorders like complications, side effects and aging, and they also face difficulties to conduct daily self-care activities. For this reason, the dental market is in need to be prepared for more complexities and risks in provision of dental treatments.
For FY2020, the domestic dental device and material market was expected to expand, based upon the raise in NHI points for basic medical fee and introduction of new technologies like CAD/CAM crowns for molar teeth which is now covered by insurance. However, because drop in the number of patients due to COVID-19 made serious impact on dental clinics, though growth in sales is expected with some infection control products, the entire market is projected to scale down for FY2020.


Research Outline
1.Research Period: April to August 2020
2.Research Object: Manufacturers and distributors of dental devices, dental materials, dental drugs, dental implants, and preventive dentistry products
3.Research Methogology: Face-to-face interviews by the expert researchers, interview via telephone, and literature research.
Dental Device and Material Market
In this research, the dental device and material market refers to 54 items listed below, the class I-IV medical devices and materials used at dental clinics/hospitals and dental technicians' offices and drugs/quasi-drugs. Nonetheless, the drugs/quasi-drugs here points to the items at dental clinics/hospitals and dental technicians' offices, which are distributed through makers/wholesalers/mail-order sales specialized in distribution to these institutions. Consumer drugs and quasi-drugs sold at drug stores are not included.


Dental device (chair units, power units, photo-polymerization resin irradiators, ultrasonic scalers, dental X-ray scanners, panorama X-ray scanners, dental CT scanners, dental imaging systems, microscopes, dental laser, dental high pressure steam sterilizers, electronic medical record / accounting systems, root canal treatment instruments, dental CAD/CAM systems), dental materials (composite resin, bonding material, glass ionomer cement for filling, compomers, acrylic resin for denture base, lining materials for denture base, acrylic resin teeth, hard resin teeth, all-ceramic restorations, synthetic hard resins for crowns[resin materials for repairing/processing cut surface], porcelain-fused-to-metal crown, coalescent material/adhesive materials, impression materials/embedding materials, dental metals, material/device for orthodontics), dental drugs(dental local anesthetic, fluoride mouth rinse, periodontics treatment materials, whitening materials), dental implant (artificial dental root, dental regenerative medical products), preventive dentistry products (toothbrushes, interdental brushes, electric toothbrushes, mouth washers, tooth pastes, food [gum, tablets], PMTC products, floss, fluorine gel for home use, denture cleansers, water mouth cleaners, denture brushes).


<Products and Services in the Market>
Dental device, dental material, dental drug, dental implant, and preventive dentistry products
Contact Us
©2019 Yano Research Institute Ltd. All Rights Reserved.
The copyright and all other rights pertaining to this report belong to Yano Research Institute.
Please contact our PR team when quoting the report contents for the purpose other than media coverage.
Depending on the purpose of using our report, we may ask you to present your sentences for confirmation beforehand.