Cosmetic OEM Market in Japan: Key Research Findings 2020
Yano Research Institute (the President, Takashi Mizukoshi) conducted a survey of the domestic cosmetic OEM market and found out the current status, the trends of market players, and the future outlook.
Transition and Forecast of Domestic Cosmetic OEM Market size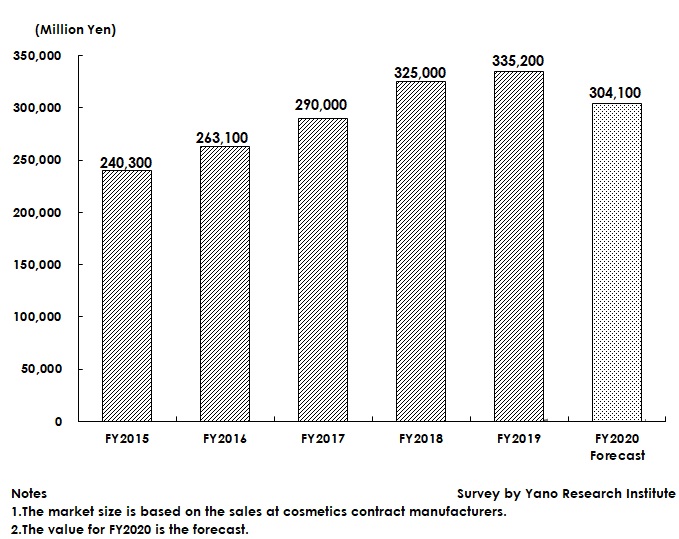 Market Overview
The domestic cosmetic OEM market in FY2019 was 103.1% of the size of the previous fiscal year, generating 335,200 million yen, based on the sales at the businesses, but the growth rate was the second lowest level over a decade starting from FY2010.

The market expansion was caused by 1) the domestic OEM market being invigorated by enforcement of the revised Pharmaceutical Affairs Act, 2) increased consumption of Japanese cosmetic products by the overseas visitors, 3) and expanded demand for Japanese cosmetics distribution business overseas, i.e. outbound business, including cross-border e-commerce.

However, there emerged some concerns in FY2019 such as 1) slowdown of inbound tourism demand mainly due to China's new ecommerce law 2) major cosmetics brand makers strengthening domestic production, and 3) excess supply by cosmetic OEMs due to improved production abilities. The above factors, together with COVID-19 pandemics reducing the demand for cosmetic products in and out of the country, led the cosmetic OEM market to take a downturn.

Noteworthy Topics
Influence of COVID-19 Pandemics
By March 2020, new coronavirus (COVID-19) infections have expanded in Japan and throughout the world.

This has brought about decreased consumption, as economic activities slowed down and general people stayed at home, and has affected negative impacts to supply chains such as delay in import and export caused by restricted travelling in and out of the country. These factors have inflicted a blow to the domestic cosmetics market and to the cosmetic OEM market.


Future Outlook
The domestic cosmetic OEM market size for FY2020 is expected to decline to 90.7% of that of the preceding year to end up with 304,100 million yen, because the market has been on the fall since the latter half of 2019, and because COVID-19 pandemics reducing general consumption and causing self-restraint in business activities by enterprises.

However, the market size in FY2021 and beyond is projected to improve, as new coronavirus expected to be subdued and general consumption to recover as restriction of travelling in and out of the country to be lifted, which is expected to increase the demand for cosmetics once again. The cosmetic OEM market is expected to reach 360,000 million yen by FY2024, 107.4% of the size of FY2019.


Research Outline
1.Research Period: April to June, 2020
2.Research Object: Cosmetic OEMs, manufacturers of cosmetic containers, and raw materials, cosmetic makers, and other related enterprises and organizations
3.Research Methogology: Face-to-face interviews, survey via telephone, mail-in-questionnaire, and literature research
The Cosmetic OEM Market
The cosmetic OEM market in this research indicates a market where commission manufacturers produce items such as skincare, makeup, hair-care, and other cosmetic products based on the requests from the clients who are cosmetic brand makers and the companies that entered the market from other industries. The market mainly comprises of contract manufacturing, cosmetic containers market (makers and dealers of containers), and cosmetic raw material market (raw material makers and traders).


<Products and Services in the Market>
Cosmetic products (skincare, makeup, hair-care, and other cosmetic products) cosmetics containers, cosmetic raw materials
Contact Us
©2019 Yano Research Institute Ltd. All Rights Reserved.
The copyright and all other rights pertaining to this report belong to Yano Research Institute.
Please contact our PR team when quoting the report contents for the purpose other than media coverage.
Depending on the purpose of using our report, we may ask you to present your sentences for confirmation beforehand.