Work Style Reform Solutions Market in Japan: Key Research Findings 2020
Yano Research Institute (the President, Takashi Mizukoshi) has conducted a survey on the domestic market of work style reform solutions, and found out the trends by product category in major 7 domains, the trends by market players, and future outlook. ​
Transition and Forecast on Work Style Reform Solutions Market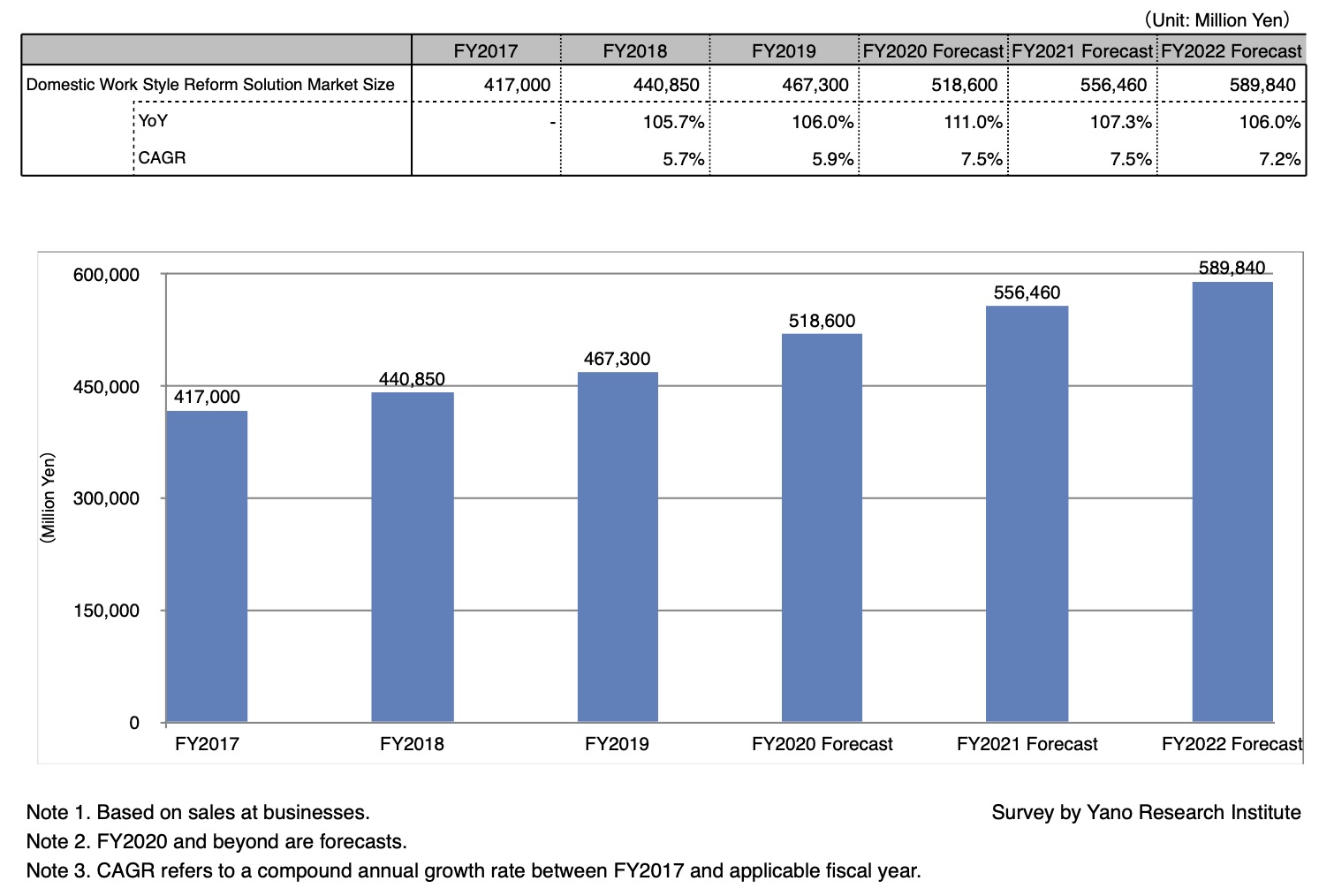 Market Overview
Domestic work style reform solutions market attained 467,300 million yen for FY 2019, up 6.0% from the previous fiscal year. Aa

Telework environment was fully prepared during FY2019, mainly among enterprises in Tokyo Metropolis to manage operations during the Tokyo Olympic and Paralympic Games 2020. Moreover, when Typhoon Faxai hit Japan in September 2019, JR and private train operators in Kanto region carried out a planned mass transit service suspension which made it physically impossible for people to commute. The incident increased the number of companies to consider various work style reform solutions from the viewpoint of Business Continuity Planning. Meanwhile, as a legal cap was set on overtime work hours in the labor reform law which came into force in April 2020, SMEs began to install management solutions, primarily for work hour management and attendance management. ​

Noteworthy Topics
Services Related to Health and Productivity Management
Health and Productivity Management (H&PM) is an approach that considers health management of employees from a corporate management perspective and promotes it strategically. Corporations had proceeded to introduce services related to H&PM from the view point of compliance, corporate brand enhancement, and recruitment of top-class personnel. In recent years, a variety of services is expanding against a backdrop of the Stress Check Program that was made obligatory and establishment of the Certified Health and Productivity Management Organization Recognition Program by Ministry of Economy, Trade and Industry. As a measure for the outbreak of novel coronavirus, demand for H&PM services is expected to rise in FY2020 and beyond.


Most companies used to grasp physical and mental health conditions of their employees by meeting them daily, presupposing the work style based on face-to-face communication. However, in the social and economic activities assuming the novel coronavirus, needs increased for employee health management method that requires no direct contact. Concrete implementation cases are such as a use of wearable device for health management without direct contact, introduction of pulse survey (quick survey sent out to employees frequently to solicit their feedbacks) or employee sentiment analysis solution as mental health measures, and holding of health related events or trainings for the purpose of maintaining/promoting mental and physical health. ​


Future Outlook
The domestic market of work style reform solutions for FY2020 is projected to increase by 11.0% from the preceding fiscal year, generating 518,600 million yen, and expand to 589,840 billion yen by FY2022. Development of measures for the novel coronavirus is assumed to have major impact on the growth of the work style reform solutions market hereafter.


Affected by the roll out of a "Basic Set of Policies on Handling COVID-19 Infections"(February 25, 2020) and issuance of the Declaration of the State of Emergency (April 7 and 16 of the same year), implementation of telework mainly as work-from-home expanded rapidly after March 2020. Accompanying the expansion of telework, introduction of systems and services such as web meeting systems, enterprise social network/business chat, thin client/virtual client (VDI)*, and online file sharing services are on the rise.


In addition to the work-from-home, application of IT/digitization for social economic activities like online classes and online sales activities are gathering attention. Since investments for adoption of IT is expected to increase at enterprises and educational institutions from the perspectives of Business Continuity Plan (BCP), the market of work style reform solutions are assumed to continue expanding further.


*Thin client/virtual client (VDI): Thin client system is a network system based on the use of computers that run from the resources stored on a central server instead of a local hard drive, so as to concentrate applications and data storages in the centralized server. Virtual client (Virtual Desktop Infrastructure) is a type of thin client implementation that uses virtualization technology software to provide a unit of "virtual desktop" for each user.


Research Outline
1.Research Period: December 2019 to May 2020
2.Research Object: Work style reform solution providers etc.
3.Research Methogology: Face-to-face interviews by the specialized researchers, interviews via telephones/emails, and literature research.
Work Style Reform Solutions Market in Japan
As an enabler for work style reform promoted by the government, utilization of ICT (information communication technology) has an important role, in addition to legislation and enhancement of social infrastructure. In this research, the work style reform solutions are defined as solutions/services/products in following 7 domains that uses ICT to improve employees' work style: (1) environment (facility/equipment) related solutions, (2)telework/mobile work related solutions, (3)work-support solutions; (4)communication/information sharing solutions, (5)document digitization/paperless solutions, (6)HR/personnel management/general affairs/health & productivity management solutions, (7) industry-specific and individual solutions. Market size is calculated based on the sales at businesses.


<Products and Services in the Market>
(1) Environment (facilities/equipment) related solutions: hot desking, sound masking/background music services, bulletin boards (digital signage), share office/co-working space; (2) Telework/mobile work-related solutions: thin-client/virtual client (VDI: Virtual Desktop Infrastructure), BYOD (Bring Your Own Device), MDM (Mobile Device Management); (3)Work-support solutions: CRM/SFA, business card management system, workflow, RPA (Robotic Process Automation), expense settlement system; (4) Communication/information sharing solutions; video/web meeting system, groupware/enterprise information portal, enterprise social network/business chat, cloud PBX; (5)Document digitization/paperless solutions; document storage/archive/digitization/filing services, multifunction machine services, digital authentication/digital certification; (6) HR/personnel management/general affairs/health and productivity management: work visualization/overtime control, attendance management (presence management) systems, EAP (Employee Assistance Program), human resource management system (competence management), health instruction/health support, employee engagement enhancement, B2E services for offices (business services for employees in offices); (7) Industry-specific and individual solutions; store management operations, reception services (reception systems), facility tour using VR/3D systems, bathroom vacancy management systems, etc.
Contact Us
©2019 Yano Research Institute Ltd. All Rights Reserved.
The copyright and all other rights pertaining to this report belong to Yano Research Institute.
Please contact our PR team when quoting the report contents for the purpose other than media coverage.
Depending on the purpose of using our report, we may ask you to present your sentences for confirmation beforehand.