e-Learning Market in Japan: Key Research Findings 2020
Yano Research Institute (the President, Takashi Mizukoshi) conducted a survey on the domestic e-learning market and found out each trend of B2B and B2C markets, the trend of market players, and the future outlook.
Transition of E-Learning Market Size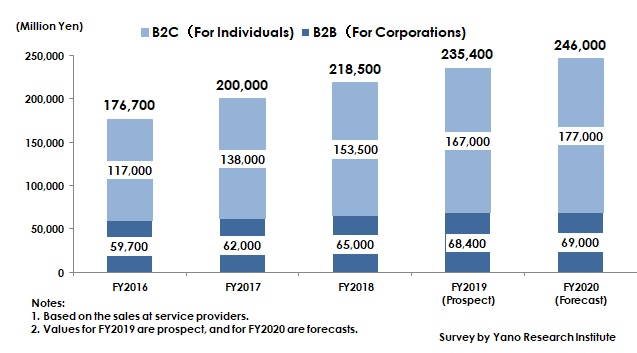 Market Overview
The domestic e-learning market for FY2019 is projected to rise by 7.7% from the previous fiscal year to attain 235,400 million yen, among which both of B2B for corporate bodies and B2C for individuals are expected to continue expanding, with the former likely to rise by 5.2% to achieve 68,400 million yen and the latter by 8.8% to 167,000 million yen.

With regard to the B2B market, the number of user companies has steadfastly increased, because of invigorated investment to personnel training at companies due to favorable economic conditions, enforcement of the Workstyle Reform Act having encouraged companies to streamline their work processes, and wider recognition of e-learning as one of general learning styles. On the other hand, some service providers face an issue of declining prices for LMS (learning management systems) as well as for learning contents caused by fiercer competition.

Because of various factors such as wider acceptance of learning styles using smartphones, tablets, and SNS, improvement in telecommunication technologies having brought about evolvement in services to provide, and emerge of new learning services using AI, the B2C e-learning market has increased the users, and has encouraged making an environment for e-learning to be one of the general learning services. Also, some learning services combined with e-learning have been increasing, such as explanations via movie or online coaching inserted into the lesson curriculums, aiming at deepening the learners' understanding, which is likely to diversify even further. On the other hand, the e-learning business for individual learners has challenges of how to differentiate from tons of free-of-charge learning services on the web, and of from where to earn profits as a business. ​​

Noteworthy Topics
Development of Services using AI Including Adaptive Learning Invigorating
In recent years, provision of learning services using AI technologies (machine learning, speech recognition, automatic language processing, etc.) have been invigorated. Currently, learners' comprehension level and proficiency degree are analyzed by AI to be reflected in the field of acquiring language skills, forecasting examination questions, study advices, being motivated for learning, and some AI-used learning services including adaptive learning which is to provide optimal learning services to each learner.

As market penetration of AI-used learning services is anticipated to increase hereafter, the characteristics of such services including efficiency (time-saving), availability to optimize the contents by each learner, and the ability to reduce burden for teachers and instructors, are to be recognized further. Therefore, demand for AI-used learning services is to increase especially at cram schools and preparatory schools. In addition, demand of English classes using AI's speech recognition technology is likely to expand, due to their efficiency and user-friendliness, English learning becoming the compulsory education at fifth and sixth grades of primary school students, and promotion of "Global and Innovation Gateway for All" project* at Ministry of Education, Culture, Sports, Science and Technology.

* A project to provide a computer per student and the high-speed network environment for using the computer.


Future Outlook
The domestic e-learning market for FY2020 is projected to rise by 4.5% from the preceding fiscal year to attain 246,000 million yen. Both the markets of B2B and B2C are expected to continue expanding, with stronger demand for remote educations stemming from novel coronavirus infections that increased the number of e-learning users furthermore.

However, because of suppressed investment to HR training can be expected at enterprises, and because growth in the number of users does not proportionately increase the monetary based growth, due to the prices for LMS (Learning Management Systems) and learning contents on the decline, the e-learning market for B2B for FY2020 is projected to rise only by 0.9% from the previous fiscal year to reach 69,000 million yen.

Meanwhile, the B2C market is in uncertain status, with no prospect for the end of novel coronavirus infections and for "usual" social lives to come back. Under such circumstances, however, the influence to e-learning is projected to be small, as cram schools and preparatory schools are likely to proactively provide visual media education and web-based interactive classes instead of face-to-face teaching, in order to prevent "three Cs" i.e., closed space, crowded places and close human contact. Therefore, the e-learning market for B2C for FY2020 is projected to rise by 6.0% from the preceding fiscal year to attain 1,770,000 million yen.


Research Outline
1.Research Period: January to March, 2020
2.Research Object: e-learning system developers, architect, and distributors, e-learning contents developers and providers, companies managing and providing business training and seminars using e-learning (operators of private preparatory schools, language schools and business trainers), learning software developers, producers, and distributors, etc.
3.Research Methogology: Face-to-face interviews by the expert researchers, survey via telephone/FAX/email, and literature research
The e-Learning Market
The e-learning market in this research refers to a form of education services provided through internet and other networks. The learning methods using gaming devices and software for PCs are not included. The e-learning contents range extensively from business, academic subjects, languages, IT technologies, qualification acquisition, to various cultural and general knowledges.


<Products and Services in the Market>
LMS (Learning Management Systems), e-learning contents, e-learning operation and services
Contact Us
©2019 Yano Research Institute Ltd. All Rights Reserved.
The copyright and all other rights pertaining to this report belong to Yano Research Institute.
Please contact our PR team when quoting the report contents for the purpose other than media coverage.
Depending on the purpose of using our report, we may ask you to present your sentences for confirmation beforehand.