Corporate Training Service Market in Japan: Key Research Findings 2019
Corporate Training Service Market for FY2018 Continue Expanding
Yano Research Institute (the President, Takashi Mizukoshi) has conducted a survey on the domestic corporate training service market and has found out the market trends, the trends of market players, and the future perspectives.
Transition and Forecast of Corporate Training Service Market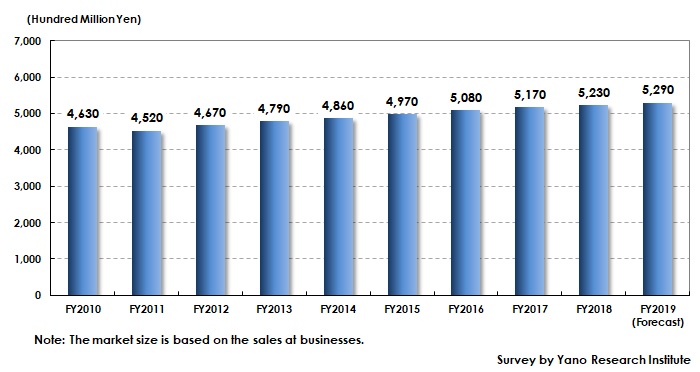 Market Overview
The corporate training service market size for FY2018 rose by 1.2% to attain 523,000 million yen, showing stable expansion, though the growth rate has been slightly on the fall.

The market expansion for the past few years has been driven by the growing needs of educating newly-hired, against a backdrop of more companies keen to recruit new graduates. The trend of which has continued on for FY2018. While the environment of personnel recruitment has been in difficult condition, the companies have been eager to invest in employee training and education. Therefore, providing different curriculums according to the ranks, such as the training for relatively young and mid-level employees, for next-generation leaders, for middle management, and for executive candidates, have been continuously demanded. In addition, the training and seminars with the topics of workstyle reform, which includes improvement in productivity and work efficiency, have been much in demand, the tendency of which continued also in FY2018 to contribute to the market expansion.

Strong demand for training services has been shown by SMEs, prospering the corporate training service providers. The training services at SMEs are usually those disclosed programs and those that use eLearning, but there are some companies found out to carry out customized contents suited to their conditions.

When observing the sales performance at each of corporate training service providers, the majority of them have successfully improved their performance. However, FY2018 was different in that some enjoyed good performance while the others suffered from bad conditions, indicating severer competition in progress.

Noteworthy Topics
ELearning has attained a giant leap as it increased convenience through: Diversification of learning tools with smartphones and tablets generalized; Progress of cloud environment; Evolution of video contents and more. In addition, since it is easy to introduce from the viewpoint of expenses, eLearning has started being used by those businesses that have large number of stores and bases, or those that have their base in rural areas, and those relatively difficult to make employees get together in one place.


ELearning used in training services has been on the rise, in a more diversified manner, such as in the form of a program comprised of eLearning only, or as a part of a group training contents, and as a follow-up of a training, and etc. Also, there emerged and has been invigorated is "Microlearning," that provides relatively small learning units by using a several minutes of video contents.


Future Outlook
The corporate training service market size for FY2019 is likely to increase by 1.1% to achieve 529,000 million yen, as each corporate training service provider showing stable demand for educating newly-hired just like the tendency in recent years.


Research Outline
1.Research Period: April to June, 2019
2.Research Object: Corporate training service providers, user companies and organizations
3.Research Methogology: Face-to-face interviews by the expert researchers, survey by telephone and email, and literature research
Corporate Training Services
Corporate training services are those training and education provided by external businesses for user companies as their corporate training services. This research does not include in-house corporate training and education, but includes those training services provided by subsidiaries to their parent and/or group companies.


Contact Us
©2019 Yano Research Institute Ltd. All Rights Reserved.
The copyright and all other rights pertaining to this report belong to Yano Research Institute.
Please contact our PR team when quoting the report contents for the purpose other than media coverage.
Depending on the purpose of using our report, we may ask you to present your sentences for confirmation beforehand.