Shipment Value of Domestic Sporting Goods for 2018 Likely to Attain 1,536,540 Million Yen, 104.0% on a Year-to-Year Basis
Yano Research Institute (the President, Takashi Mizukoshi) has conducted a survey on the domestic sporting goods market and has found out the market trend by category, the trends of market players, and the future outlook.
Transition of Domestic Sporting Goods Market by Category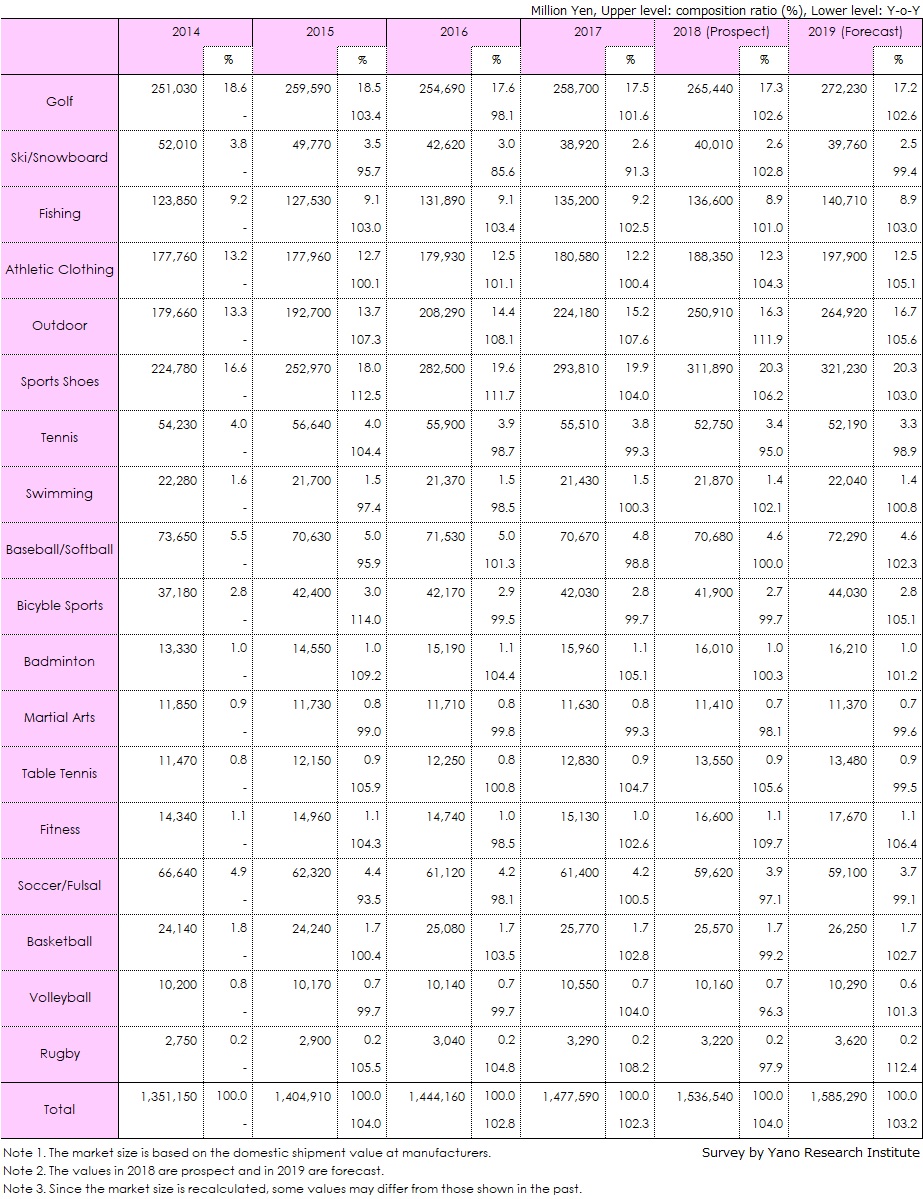 Market Overview
The domestic sporting goods market size in 2018, based on the domestic shipment value, is projected to increase to 1,536,540 million yen, 104.0% of that of the previous year. Though the market environment of goods for team sports (i.e., soccer & futsal and basketball) has been stagnant, the sales of sports shoes and outdoor goods with larger market sizes has continued being favorable, expected to drive the entire market growth for the fourth consecutive years.

Noteworthy Topics
Various companies in and outside the industry seem to be interested in sports and are trying to enter the market, looking for new business opportunities, now that Tokyo Olympic and Paralympic Games for 2020 approaching.


In addition to decreasing population, domestic retailers are suffering from excessive number of stores, which indicates how sports retail business is very much matured. In spite of the situation, the enterprises outside the sports market as well as the overseas retailers seem to consider that there still are business opportunities only if they can exert their price competitive power: Decathlon (a large retailer from France) and WORKMAN Plus+ (an SPA brand) have entered the market, while Don Quijote Co., Ltd., (a discount chain store) as well as some electronic retail stores have some sales floors selling various kinds of sporting goods that pursue mainly low prices. Therefore, excessive competition in the sporting goods retail market is likely to be ever fiercer.


Future Outlook
The domestic sporting goods market size in 2019 (based on the domestic shipment value) is forecasted to increase by 103.2% on a year-to-year basis to achieve 1,585,290 million yen. Because the period from 2019 to 2021 is referred to as the "Golden Sports Years" during which a series of international sporting events are planned to take place, more people are expected to casually enjoy sports and watch the games and matches in their daily lives. In addition to increasing opportunities for people to wear sports shoes and apparel, inbound tourism is likely to contribute to expansion of the sporting goods market.


Research Outline
1.Research Period: January to March 2019
2.Research Object: Sporting goods manufacturers, importers, wholesalers, and retailers
3.Research Methogology: Face-to-face interviews by the expert researchers, and mail-in questionnaire
Sporting Goods Market
The sporting goods market in this survey indicates the market of equipment and goods used in the following 18 sports categories: Golf, Ski/Snowboard, Fishing, Athletic clothing, Outdoor, Sports shoes, Tennis, Swimming, Baseball/Softball, Bicycle sports, Badminton, Martial arts, Table tennis, Fitness, Soccer/Futsal, Basketball, Volleyball and Rugby. The market size is calculated based on the shipment value (domestic shipment) at manufacturers.


Among the categories shown above, "Athletic clothing" includes clothing for training, running and other field athletics, and lifestyle (casual wear). "Sports shoes" include running shoes, walking shoes, multi-purpose shoes (including casual shoes), kids' shoes, and sports sandals.


Contact Us
©2019 Yano Research Institute Ltd. All Rights Reserved.
The copyright and all other rights pertaining to this report belong to Yano Research Institute.
Please contact our PR team when quoting the report contents for the purpose other than media coverage.
Depending on the purpose of using our report, we may ask you to present your sentences for confirmation beforehand.