IT Investment in Japan: Key Research Findings 2018
Yano Research Institute (the President, Takashi Mizukoshi) has conducted a survey on the domestic IT investment at domestic private enterprises and the future trends.
Figure 1: Transition and Forecast of IT Market Size at Domestic Private Enterprises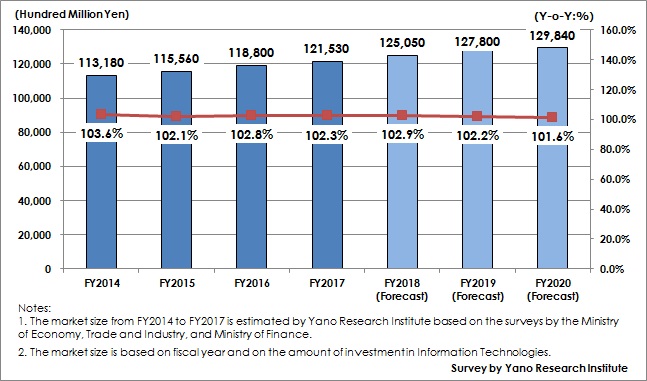 Market Overview
The market size of IT (including both hardware and software) at domestic enterprises in FY2017 was estimated to rise by 2.3% on a year-on-year basis to reach 12,153,000 million yen. The market is projected to rise by 2.9% on the same basis to achieve 12,505,000 million yen by FY2018, by 2.2% to attain 12,780,000 million yen by FY2019, by 1.6% to reach 12,984,000 million yen by FY2020.

The market size in FY2017 was expected to decline as the demand of upgrading and development of mission-critical systems at financial institutions and other companies had reached the peak in FY2016. However, the system integration business at large IT vendors has continued being stable in FY2017, due to higher profitability at enterprises, large-scale systems having been refurbished and improved, and the attempts of workstyle reforms having performed steadily.

Noteworthy Topics
The factors that increased IT investment in FY2018 are as follows: Replacement of PCs associated with the support of Windows7 coming to an end in January 2020; Planning of or has been conducting the replacement of mission-critical systems such as accounting, production, and sales. Also, there were some enterprises that augmented the infrastructure for promoting workstyle reforms.

Investment in IT is likely to continue in FY2019 and beyond due to some attempts of digital transformation having started being in progress at enterprises and businesses, in order to provide new values by using digital technologies. AI and IoT are the keys to encourage digital transformation, but, so far many enterprises have kept on repeating PoC which has increased IT investment to a certain level but not to the level to bring about business reforms. Nevertheless, the questionnaire that has taken place in the research showed that increasing number of companies seems to conduct planned investment for digital transformation in FY2018 and later, indicating a sign of such investment to be in progress.

Other than that, more investment in IT systems can be expected in the service industry in order to cope with Tokyo Olympics and Paralympics.


Research Outline
1.Research Period: From July to October, 2018
2.Research Object: Domestic private companies, organizations and public institutions
3.Research Methogology: Mail-in survey to private companies, organizations, and public institutions, and literature research
What is the IT Investment Market Size at Domestic Private Enterprises?
Size of the IT investment market at domestic private enterprises in this research is calculated based on the amount of investment in IT at domestic private enterprises, being added with the information based on the surveys by the Ministry of Economy, Trade and Industry, and Ministry of Finance, together with the results of the questionnaire to domestic companies regarding IT investment conducted by Yano Research Institute.
*Period of Questionnaire Conducted: July to August 2018; Target Audience of the Questionnaire: 528 domestic private companies and public institutions; Methodologies: Mail-in Questionnaire.


Contact Us
©2019 Yano Research Institute Ltd. All Rights Reserved.
The copyright and all other rights pertaining to this report belong to Yano Research Institute.
Please contact our PR team when quoting the report contents for the purpose other than media coverage.
Depending on the purpose of using our report, we may ask you to present your sentences for confirmation beforehand.