07/27/17
DIY Retail Market in Japan: Key Research Findings 2017
Research Outline
Yano Research Institute has conducted a study on the domestic DIY retail market with the following conditions:
Research period: From April to June, 2017
Research targets: Retailers, manufacturers and wholesalers in the business of DIY hardware stores and industries
Research methodologies: Face-to-face interviews by the expert researchers, surveys via telephone//FAX/mail, and literature search
What is the DIY Retail Market?
With regard to the DIY retail market size in this research, the actual values from FY2010 to FY2016 are quoted from the materials at Japan DIY Industry Association, whereas the forecast values in FY2017 are estimated by Yano Research Institute.
Summary of Research Findings
Domestic DIY Retail Market in FY2016 Continues Being At Same Level, Marginally Failing to Attain 4-Trillion-Yen Mark
According to Japan DIY Industry Association, the domestic DIY retail market in FY2016 has managed to attain positive growth, with its size achieving 3,985 billion yen, 100.8% of that of the previous fiscal year. Though the market size has failed to reach 4 trillion-yen mark by narrow margin, the market has been stable due to increasing demand of those high-end and expensive products including home refurbishing, and to the effort of arousing more demands by establishing new store styles at each of DIY hardware stores. While reorganization in the forms of capital alliances and M&A has been on the way in the DIY retail market, because of fiercer competition with retailers within and outside the industry, DIY hardware stores have been striving to generate new markets by hammering out new product strategies targeting women and younger generations different from the existing customers, or by developing those specialty stores for the professionals or those that provide consumers with experiencing something, by acquiring inbound tourism demand to attract tourists from abroad, and by expanding new services focusing more on online sales.
Expanding Customer Base by Strengthening Approaching to New Customers Different from Existing Customers
DIY hardware stores have been working on expanding the customer base by making more approaches to new customers different from the existing customer base, in such a way as to provide sufficient lines of products for women and for families and etc. In addition, rather than focusing on operating such orthodox or proper DIY stores which the DIY businesses have long been paid attention to, they have recently been eager to focus more on general consumers to let them enjoy shopping in a more casual manner. Such attempts have also contributed to increasing new demands and growing the customer base.
Domestic DIY Retail Market Size for FY2017 Projected to Attain 3,998 Billion Yen, 100.3% of Previous Fiscal Year
The domestic DIY retail market size in FY2017 is expected to attain 3,998 billion yen, 100.3% of the size of the preceding fiscal year, because of eagerness of opening new stores primarily at large DIY hardware stores stemming from their steady sales performance, as well as because of prosperity in new forms of store development.
Figure & Table 1: Forecast and Transition of Domestic DIY Retail Market Size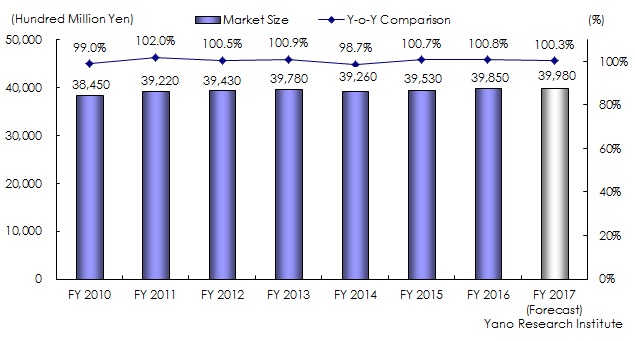 Published Report
*The information provided in the "Research Summary" is what is as of the date of announcement and could be altered or renewed without any prior notice.
Contact Us