07/04/17
Small and Medium Hydropower Generation Market in Japan: Key Research Findings 2017
Research Outline
Yano Research Institute has conducted a study on the domestic small and medium hydropower generation market with the following conditions:
Research period: From April to June 2017
Research targets: Small-and-medium size hydropower generation businesses, power generation facility/device makers, consultants, and civil engineering works companies
Research methodologies: Face-to-face interviews by the expert researchers, surveys via telephone/email, and literature research
What is Small and Medium Hydropower Generation?
Small and medium hydropower generation in this research indicates generation of micro (less than 100kW power), mini (100kW-1,000kW), and mid-small (1,000kW to 30,000kW) hydroelectric power.
Summary of Research Findings
Small and Medium Hydropower Generation Market, Launched in FY2014, Projected to Expand to 59.3 Billion kWh by FY2030
Since the launch of FIT (Feed-in-Tariff) in 2012, those hydropower generation plants that generate less than 30,000kWh of electricity (i.e., small and medium hydropower), among various renewable energy sources, have been qualified for FIT for the next 20 years. Domestic hydropower plants had rarely been newly constructed since 1960s, but the support of FIT scheme has encouraged new exploration and redevelopment of small and medium hydropower generation, which led to rapid establishment of the market in FY2014. Electricity generated by small and medium hydroelectric power in FY2016 rose to 49.0 billion kWh, 104.0 % on Y-o-Y basis, and is expected to expand to 51.1 billion kWh by FY2020 and 59.3 billion kWh by FY2030.
Generation of FIT-Applied Electricity Reached 2 Billion kWh and Electricity Bought by FIT Scheme Rose to 52.3 Billion Yen in FY2016
After being eligible of FIT which has encouraged small and medium hydroelectric power to be newly explored and redeveloped, FIT-applied small and medium hydropower generated, among all of such hydropower, to grow to 133.3% of that of the previous year to attain 2 billion kWh, and FIT purchase amount has increased to 52.3 billion yen, 133.8% of that of the previous fiscal year. FIT-applied hydropower generated and FIT purchase amount are projected to achieve 4 billion kWh and 100 billion yen respectively by FY2020, and 11.9 billion kWh and 230 billion yen respectively by FY2030. The majority of such domestic increment of hydropower generated is expected to stem from small-and-medium size hydropower plants, which is sure to be boosted further by FIT for the future.
Rising Tendency Continues as 85 Thousand kW of Generation Capacity at Plants Newly Completed in FY2016 and 124.5 Billion Yen of Construction Fee
The small-and-medium size hydropower plant construction market size (based on the applicable fiscal year completed, generation capacity, and construction fee) in FY2016 has attained 85 thousand kWh for the generation capacity and 124.5 billion yen for the construction fee. The market is likely to be on the rise, with the expectation of the market size to achieve 105 thousand kWh and 168 billion yen by FY2020, and 200 thousand kWh and 270 billion yen by FY2030.
Figure & Table 1: Transition and Forecast of Small-and-Medium-Size Hydropower Market Size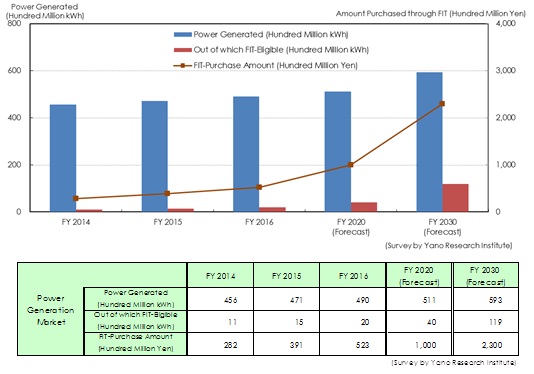 Figure & Table 2: Transition and Forecast of Small-and-Medium-Size Hydropower Plant Construction Market Size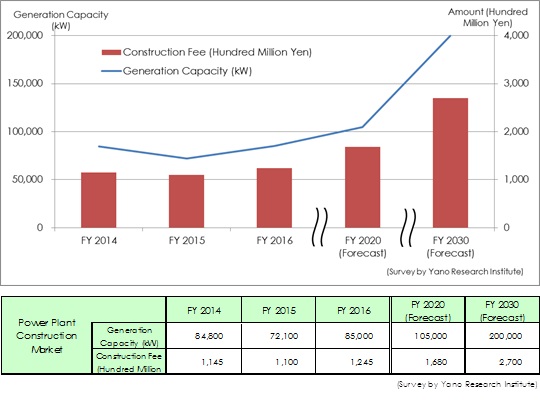 Published Report
*The information provided in the "Research Summary" is what is as of the date of announcement and could be altered or renewed without any prior notice.
Contact Us