01/27/16
Big Data in Retail Industry in Japan: Key Research Findings 2015
Research Outline
Yano Research Institute has conducted a study on IT and Big data in the domestic retail industry with the following conditions:
Research period: From November to December, 2015
Research target: Domestic leading retailers
Research methodologies: Surveys via telephone
What is the Research on IT and Big Data in Retail Industry?
Yano Research Institute conducted a telephone research to the domestic leading retailers (department stores, supermarkets, specialized stores, co-op, and etc.,) occupying the top sales ranking, with regard to data utilization through POS, customers, and e-commerce websites, and some attempts of big data utilization.
Summary of Research Findings
Retailers Hope to Utilize IT and Data for Encouraging Existing Customers to Visit More
When asked to 173 retailers regarding which domain/field or what task the data utilization should be applied to, the largest number of response was for improvement of visit frequency by the existing customers, which dominated 61.8%, followed by for product merchandizing which occupied 53.2%, and for raising average purchase amount per customer, 50.3%. Conversely, the companies seem to have less interest in utilizing data to the future issues such as O2O (online to Offline) and attainment of omni-channel, which respectively accounted for 11.0% and 15.6%.
Only 6.9% Retailers Eager to Try Utilizing Big Data
When asked to 173 retailers regarding eagerness of utilizing big data, only 6.9% responded that they are actually pressing ahead with big data utilization, which shows that the issue has not been addressed by the most retailers. Although there are 20.2% of respondents that recognize big data utilization as important though they are yet to make any attempts, 42.8% of enterprises regard the big data issue to be low priority. 28.9% have no plan to do anything for it. When totaling the percentages as of today, over 70% of retailers are not too eager for big data utilization.
Figure 1: Tasks or Business Domain that Retailers Wish to Use Big Data for in Future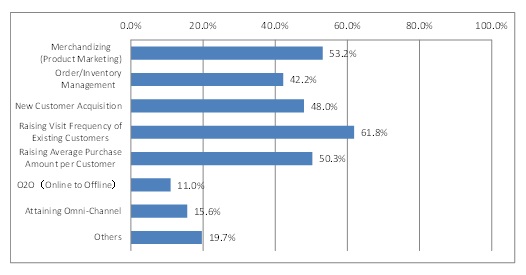 Figure 2: Eagerness of Big Data Utilization at Retailers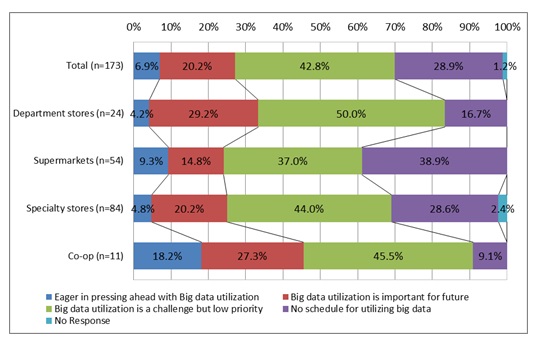 Published Report
*The information provided in the "Research Summary" is what is as of the date of announcement and could be altered or renewed without any prior notice.
Contact Us