09/09/15
DIY Retail Market in Japan: Key Research Findings 2015
Research Outline
Yano Research Institute has conducted a study on the domestic DIY retail market with the following conditions:
Research period: From May to July, 2015
Research targets: Retailers, manufacturers and wholesalers who have business with DIY hardware stores and industries
Research methodologies: Face-to-face interviews and surveys via telephone/e-mail/FAX, literature search
Summary of Research Findings
Domestic DIY Retail Market Size Continues Being Even or Declining Slightly, Yet to Reach Almost-There 4 Trillion Yen
According to Japan DIY Industry Association, the domestic DIY retail market size in FY2014 declined at 3,926 billion yen, 98.7% of the size in the previous fiscal year.
This negative growth was due to the aftereffect from the last-minute surge just before consumption tax increase. Surge of demands that started from fall of 2013, especially those high-end and expensive products including house refurbishing/improvement have suddenly died down after the end of March 2014. There is no denying that the domestic DIY retail market have concerns over decreasing demands because of declining population from the mid-to-long term view, and over fierce sales competition among GMS, supermarkets, drugstores, 100-yen shops, and other retailers selling similar products taking similar store styles. Considering decreasing number of new stores to open and sales per store are on the decline, the market is projected to keep being even or scale down slightly year by year.
Efforts to Increase Growth Opportunity include Development of PB Products, Diversification of Store Styles, and Exploration of New Sales Channels
The environment of domestic DIY retail market is likely to become even more serious due to declining population and scathing competition with other retailers. Therefore, some attempts to increase business opportunities by each of DIY companies are indispensable and have been drawing attention. Such efforts include developing PB/original products to differentiate with other companies, or establishing original store styles when opening new stores, and expanding new sales channels including online.
Domestic DIY Retail Market Size for FY2015 Projected to Attain 3,965 Billion Yen, 101.0% of Previous Fiscal Year
Harsh market environment and soaring construction fees are basically preventing the DIY companies from opening new stores. However in FY2015, some large companies are enjoying favorable sales and are showing positive attitude of opening new stores. Also, many companies are estimating their sales for FY2015 to increase slightly from the previous fiscal year. Considering these factors, the domestic DIY retail market in FY2015 is expected to rise to 101.0% of the size of the preceding fiscal year to attain 3,965 billion yen.
Figure & Table 1: Forecast and Transition of Domestic DIY Retail Market Size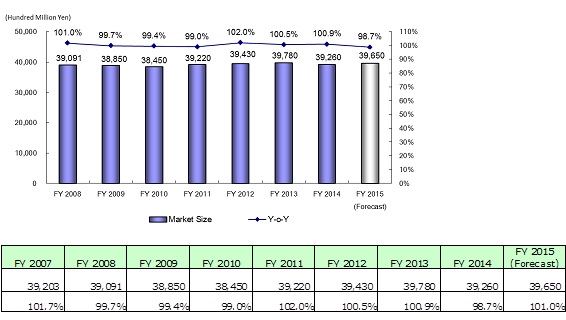 Published Report
*The information provided in the "Research Summary" is what is as of the date of announcement and could be altered or renewed without any prior notice.
Contact Us