Male Beauty Products and Services in Japan: Key Research Findings 2023 Male Beauty Market for FY2022 Projected to Recover due to Behavioral Deregulation after Pandemic
Yano Research Institute (the President, Takashi Mizukoshi) carried out research on domestic male beauty market and found out the market trend by category, trend of market players, and future perspectives.
Market Size Transition and Forecast on Male Beauty (Total 5 Categories)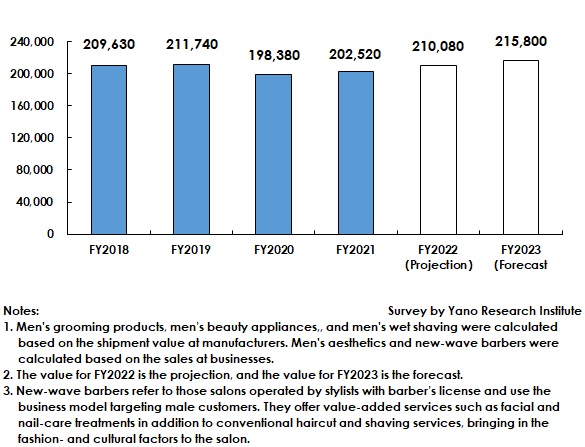 Market Overview
The male beauty market (total five categories) for FY2021 generated 202,520 million yen, 102.1% of the size of the previous fiscal year. Although the market had shrunk in FY2020 due to behavioral restrictions amid the corona crisis, the recovery, though failed to reach the pre-corona level, was because of increased online communications that drove up the recognition of grooming and beauty by men.

The details of the FY2022 market size were as follows: Men's grooming products attaining 125,000 million yen at the top of the five categories, followed by men's beauty appliances reaching 36,220 million yen, men's wet shaving 18,150 million yen, new-wave barbers 12,850 million yen, and men's aesthetic 9,300 million yen.

Noteworthy Topics
Men's Grooming Products Market Driving Entire Male Beauty Market
Male grooming products used to target beauty-conscious young men, but the corona crisis triggered those middle-aged men to take care of how they looked, which expanded the awareness and the use of male beauty products, leading the market to continue growing. Expanding use of male grooming products by middle aged men was caused by the frequently held online meeting employing digital devices, which increased the opportunities to confirm how they looked and improved the recognition of haircare and skincare. This increased demand for the brands geared to middle-aged men. As for young male customers, those taking measures to prevent from skin problems stemming from face masks amid the corona crisis, and those taking care of their skins daily were increasing, affected by social media and influencers. Though limited, there observed were rising demand for male base make-up mainly by young people.

Higher demand for male grooming products expanded the sales floors at department stores and cosmetic-specific stores and attracted attention through featured stories at online retailing websites. Some websites specifically categorized male beauty products. The improved awareness and demand encouraged the retailers to expand the sales floors and to increase the product lineups. With deeper understanding of male grooming products by the sellers could expect further expansion of sales floors and enhancement in sales promotions.

There also were increasing interests in South Korean skincare products. While men's fashion magazines featured South Korean cosmetics, launch of men's items at major South Korean cosmetics manufacturers and development to Japanese market were observed. How far these brands would affect the Japanese market was unknown, but they were doubtlessly attracting attention. Advancement of South Korean male cosmetic brands to the Japanese male beauty market, where enlightenment to male users on grooming still needed, could be said as an element to drive prosperous market.


Future Outlook
The male beauty market size for FY2022 was projected to expand to 210,080 million yen, 108.7% of the preceding fiscal year. Continued from FY2021, it was expected to see the market size recovery because of improved beauty consciousness triggered by the corona crisis, behavioral deregulation, and increased opportunities for going out.

The market size for FY2023 is forecasted as 215,800 million yen, 102.7% of the previous fiscal year. With all the momentum to expand the male beauty market centered on men's grooming products, the market has challenges to improve further awareness and expand the number of users. When considering that enlightenment takes time, the male beauty market is projected to grow at moderate speed.


Research Outline
1.Research Period: December 2022 to April 2023
2.Research Object: Male beauty market players, other related companies, associations
3.Research Methogology: Face-to-face interviews (including online) by expert researchers, surveys via email, literature research.
About Male Beauty Market
The male beauty market in this research refers to total of the following five categories: Men's grooming products. men's aesthetics, men's beauty appliances, men's wet shaving, and new-wave barbers. The market size is calculated based on the sales of the products and services for each of the market categories.
New-wave barbers refer to those salons operated by stylists with barber's license and use the business model targeting male customers.
They offer value-added services such as facial and nail-care treatments in addition to conventional haircut and shaving services, bringing in the fashion- and cultural factors to the salon.


<Products and Services in the Market>
Men's grooming products, men's aesthetic products and treatment. Men's beauty appliances (electric shaver, hair clipper, nose hair cutter), wet shaving (replacement blade razor, disposable blade razor), treatment and product sales at barbers
Contact Us
©2021 Yano Research Institute Ltd. All Rights Reserved.
The copyright and all other rights pertaining to this report belong to Yano Research Institute.
Please contact our PR team when quoting the report contents for the purpose other than media coverage.
Depending on the purpose of using our report, we may ask you to present your sentences for confirmation beforehand.