Digital Transformation for Financial Institutions in Japan: Key Research Findings 2022 Domestic IT Market Size for Financial Institutions in FY2021 Generated 3,636,900 Million Yen
Yano Research Institute (the President, Takashi Mizukoshi) carried out a survey on the domestic digital transformation solution market for financial institutions, and found out the investment amount on IT at financial institutions, and future perspectives.
Transition and Forecast of Domestic IT Market Size for Financial Institutions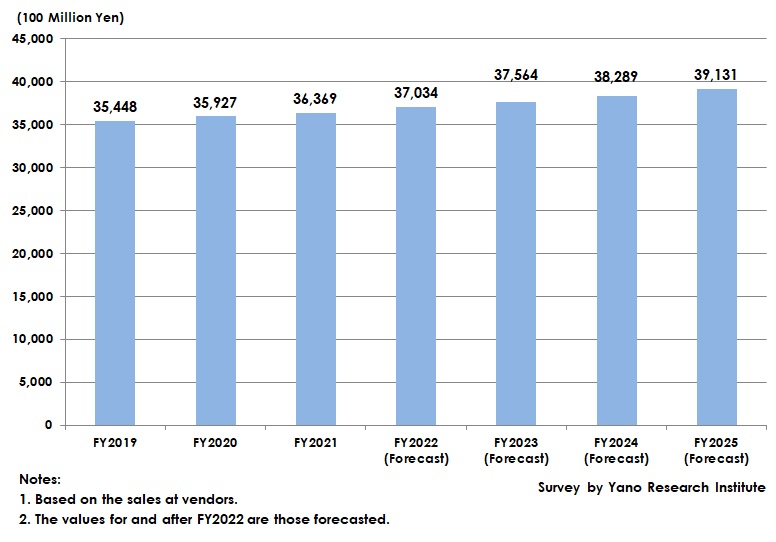 Market Overview
The FY2021 domestic IT market for financial institutions based on sales at vendors has been estimated to have generated 3,636,900 million yen. The trend has remained mostly flat in recent years, as financial institutions have completed system upgrades and responses to open APIs.

On the other hand, the coronavirus infections have triggered the recognized importance of contactless, digitalized, and online transactions, making digitalization promotions to shift to implementation phase, which is expected to drive the market expansion hereafter. The environment surrounding financial institutions has been changing recently to a predicament, with accelerated decreasing population, smaller number of children in combination with aged population, and a lingering low-interest rates, added with spread of coronavirus infections.

Each IT vendor enjoys robust sales, because of increasing demand for development of security platforms and infrastructure for banks, and for support for digital transformation. As the need for different industries to enter financial services has been rising, cloud for streamlining the financial work in addition to network constructions, data analysis, infrastructure are likely to increase for the future.

Noteworthy Topics
Digitalization in Customer Contact Points Accelerating
As the coronavirus crisis has triggered shifting to online trading at financial institutions and reduced visits by customers, digitalizing the point of contact with customers is likely to accelerate. Because the demand for being contactless has been on the rise, Financial SIers are providing various solutions such as online trading, enhanced apps functions, etc.

For young population who are regarded to prefer trading via web and apps, financial institutions are enhancing the app UI & UX. As it contributes also in improvement of user-friendliness, it is a field eagerly invested.

Solutions extensively range from a simple adjustment in an app UX to installation of cutting-edge technologies. Especially, increasingly used are those solutions encouraged by invigorated online transactions and sales. Those solutions such as eKYC and electronic contract services that perform online identity verification enable those conventional face-to-face transactions to be done online, and are likely to remain being in high demand.


Future Outlook
The domestic IT market size for financial institutions in FY2025 is projected to expand to 3,913,100 million yen.

Many financial institutions, in their mid-term management projects, plan to promote optimization and digitalization of their stores and channels. Store integration and abolishment, and expansion of channels require enhancement in apps and paperless attempts at stores, which can be the factors for market expansion. In addition, due to rising intentions to shift to cloud and open banking APIs, investment in digitalization is projected to expand furthermore.


Research Outline
1.Research Period: September 2021 to July 2022
2.Research Object: SIers and Solution vendors for financial institutions
3.Research Methogology: Face-to-face interviews (including online) by expert researchers, and literature research
About Domestic IT Market for Financial Institutions
Financial institutions are required to invest in IT in order to build mission-critical systems and to maintain robust security. In recent years, they also actively work on digital transformation in response to the demand for open API and online transactions.

This research has studied SIers and solution vendors that work for financial institutions to find out the willingness to invest in digital transformation at financial institutions, and has defined the IT investment amount at financial institutions as the "domestic IT market size for financial institutions", calculated based on the sales at vendors.


<Products and Services in the Market>
Digital Transformation, digitalization, digital transformation solutions aiming at contactless, unattended, analysis through apps and data analysis for financial institutions
Published Report
Contact Us
©2021 Yano Research Institute Ltd. All Rights Reserved.
The copyright and all other rights pertaining to this report belong to Yano Research Institute.
Please contact our PR team when quoting the report contents for the purpose other than media coverage.
Depending on the purpose of using our report, we may ask you to present your sentences for confirmation beforehand.