Beverage Market in Japan: Key Research Findings 2022 Beverage Market in FY2021 Upturned to Expansion for First Time in Three Years
​Yano Research Institute (the President, Takashi Mizukoshi) carried out a survey on the domestic beverage market and found out the market trends by beverage category and by sales channel, trends of market players, and future outlook.
Transition and Forecast of Beverage Market Size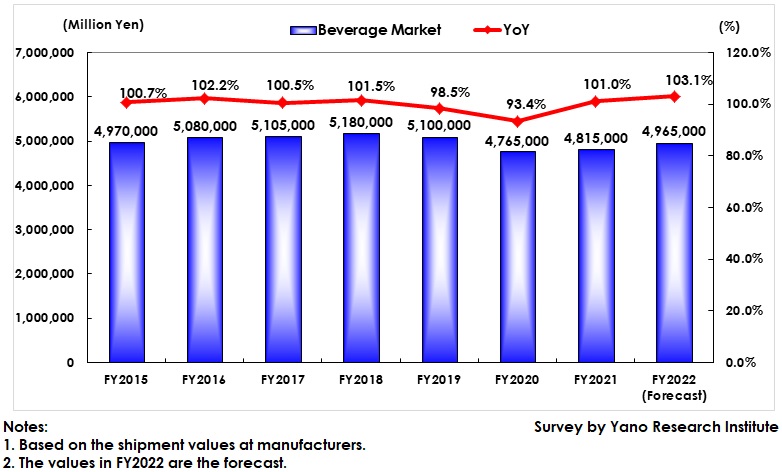 Market Overview
The domestic beverage market size (including milk and milk-based drinks) in FY2021, based on the shipment values at manufacturers, upturned to expansion for the first time in three years to 101.0 percent of the previous fiscal year at 4,815,000 million yen.

Although having attained market recovery in FY2021, the expansion was not as large as expected. The foremost reason for this was the lingered coronavirus crisis, which prevented flowing of people, causing beverage consumption to stagnate. The Tokyo Olympic & Paralympic Games that had been thought to boost beverage consumption failed to do so, as the events were eventually held without audience with some exceptions.

Noteworthy Topics
Invigorated Diverse Promotions, Mainly Online, Induced Favorable Sales in New Products
Due to expansion of coronavirus infections, FY2020 saw beverage manufacturers having failed to execute promotions that they had planned, such as new product releases and some marketing activities. It became a significant challenge for them to how to appeal the product values in the conditions when people avoided going out.

With accumulated know-how from trial-and-error attempts in the previous fiscal year, various promotions directed at consumers, mainly through online, were carried out in FY2021. As a result, while existing brands stood out for being focused on than usual years in FY2020 which slowed down the sales of new products, FY2021 saw new products releases in conjunction with sales promotions, which brought about hot-selling products.


Future Outlook
Although there is no knowing when the coronaviruses end, as restrictions on population flows have started being alleviated, allowing travels and events with thorough infection prevention measures to be available, the beverage market (including milk and milk-based drinks) in FY2022 is expected to rise by 3.1% to 4,965,000 million yen, the growth for two years in a row.

In addition, if favored by weathers in the summertime, the peak season, beverage consumption may considerably improve by increased events such as traveling and going back to hometowns, the market size of 5 trillion yen can be broken through for the first time since FY2019.


Research Outline
1.Research Period: April to June 2022
2.Research Object: Beverage manufacturers, retailers, and etc.
3.Research Methogology: Face-to-face interviews by the expert researchers (including online), surveys via telephone, questionnaire, and literature research
What is the Beverage Market?
Beverages indicate some drinks with the alcohol content less than 1 percent, packed in those containers that people are able to drink directly from, such as PET bottles, cans or paper containers.

The beverage market in this research indicates the market of carbonated drinks, coffee drinks, mineral water, beverages with fruit juice contained, various types of teas (Japanese tea, English tea, Oolong tea, etc.,) sports & functional drinks, nutritional drinks (including energy drinks,) drinking milks, fermented lactic-drinks, drinking yoghurt, soy milk, etc.


<Products and Services in the Market>
Carbonated drinks, beverages with fruit or vegetable juices, coffee drinks, tea drinks, mineral waters, sports & functional drinks, drinking milks (Beverages not included are regular coffee, instant coffee, and hand-brewed tea)
Contact Us
©2021 Yano Research Institute Ltd. All Rights Reserved.
The copyright and all other rights pertaining to this report belong to Yano Research Institute.
Please contact our PR team when quoting the report contents for the purpose other than media coverage.
Depending on the purpose of using our report, we may ask you to present your sentences for confirmation beforehand.