Linen Supply Market in Japan: Key Research Findings 2022 Linen Supply Market Size for FY2021 Slightly Rose to 397,100 Million Yen
Yano Research Institute (the President, Takashi Mizukoshi) carried out a survey on the domestic linen supply market, and found out the market trends by application and at market players and future perspectives.
Linen Supply Market Size Transition and Forecast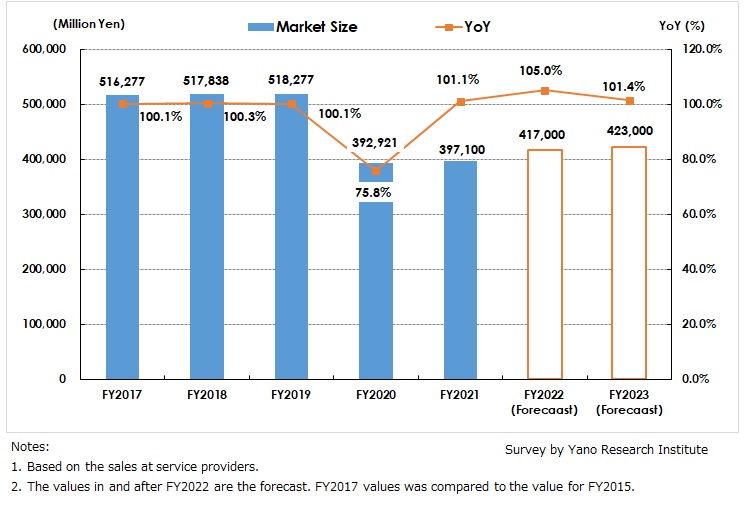 Market Overview
Linen supply in this research indicates the services to lend linen products to businesses such as accommodation facilities including hotels, foodservice businesses including restaurants and diners, hospitals, amusement facilities, factories, etc., with cleaning services included.

The linen supply market in FY2021 based on the sales at businesses upturned from the previous fiscal year by 1.1% to 397,100 million yen.

Until FY2019, the market had been levelling off or slightly on a rise, but the situation changed completely by the COVID-19 pandemic.

As influence of the pandemic continued even after FY2021, the linen supply market faced unprecedented predicament. By the latter half of 2021, however, widespread vaccinations and thorough infection prevention measures gradually reduced the new infection cases and caused relaxation in self-distancing, which resumed "Go to campaign" promotions to have encouraged traveling and made the lifestyles about to return to pre-pandemic statuses. Nevertheless, expansion of omicron variants caused the government to take the semi-state of emergency measures once again in 2022, bringing about another hard time. Later, as new infection cases subdued, there were Golden Week holidays for the first time in three years without any traveling regulations, which prospered many tourist spots. This was expected to revive each category in the market.

Noteworthy Topics
COVID-19 Preventive Measures in Linen Supply Industry
Because of influence of the COVID-19 pandemic, hotel-linen supply services are facing more difficulty in negotiations for price revisions and for reviewing contracts. Also, a series of postponements in hotel construction projects have led the services to continue being in a grave condition, but, a sign of gradual recovery is observed after FY2022.

As a measure to prevent from infections among delivery staff and personnel within factories, etc., hospital linen service providers have started refusing to accept disinfected linens, and begun asking medical institutions for primary disinfection.

The industry as a whole has been severely impacted by the uncertain outlook stemming from COVID-19 crisis, as some client companies voluntarily restrained from doing business temporarily in the situation where no forecast on when the pandemic would end. In addition, issues like securing of manpower and soaring material prices have caused some companies to withdraw from linen supply market, regardless of the business size. On the other hand, there are some cases of companies entering the market from different industries, and some attempts for linens to be used for new areas.

In addition, the prices of raw materials for various products have skyrocketed, which has also had an impact. The need to revise prices has also increased the burden on sales staff.

Even when the coronaviruses are subdued in the future, it is difficult to expect recovery in hotel occupation in a short-term perspective due to deterioration in business environment and changes in business styles. Yet, linens are the focus of attention for hygiene management, and there will be greater demand for products and services that meet various needs for hygiene management in the future.


Future Outlook
The linen supply market in FY2022 based on the sales at businesses is projected to rise to 417,000 million yen, 105.0% of the previous fiscal year.

As a main factor, recovery in hotel linens seems to affect considerably. It is because the maximum number of travelers from abroad will be raised, as the government has lifted the regulations and started accepting foreign tourists in June for the first time in almost two years. If the border measures to prevent spreading of infections in Japan will be relaxed hereafter, foreign travelers will increase gradually, which is expected to affect favorably not only to hotel linens but also to other categories. How much the influence will be is still a mystery, but the market is projected to recover if the demand by Japanese nations in weekends revives and extends to expansion of demand in weekdays.


Research Outline
1.Research Period: March to May, 2022
2.Research Object: Domestic leading linen suppliers, the wholesalers and manufacturers of linen products and equipment for linen supplies, etc.
3.Research Methogology: Face-to-face interviews (including online) by the specialized researchers, mailed questionnaire, and literature search
Linen Supply Market
Linen supply market in this research indicates the market of services to lend linen products to businesses such as enterprises, stores and factories, with cleaning services included. The market size is calculated based on the sales at service providers.

The market is classified into nine categories including 1) Hotel Linens (linens for hotels, Japanese inns and other accommodation facilities,) 2) Hospital Linens (bedclothes and other linens for hospitals, clinic, and nursery homes,) 3) Food Linens (linens and uniforms for restaurants, diners, and foodservice businesses,) 4) Service Linens (towels and uniforms used at sauna, Japanese style public bathes and spas, aesthetic salons, fitness clubs, etc.,) 5) Industrial Linens (uniforms of factories and offices, etc.,) 6) Traffic Linens (Seat covers used for Shinkansen bullet trains and limited express, and sheets, pillow cases, and curtains used for sleeping cars, ships, and airplanes), 7) Diapers (linen diapers for children and elderly), 8) Rental Hand Towels (hand towels used at restaurants, sports facilities including golf ranges and golf courses, and amusement facilities including karaoke, pachinko parlors, and bowling alleys, etc.,) 9) Dust Control (mops and other dusting materials for households, doormats, cabinet towels and other linen rental service for industrial facilities).


<Products and Services in the Market>
Hotel linens, hospital linens, food linens, service linens, industrial linens, traffic linens, diapers, rental hand towels, and dust control
Contact Us
©2021 Yano Research Institute Ltd. All Rights Reserved.
The copyright and all other rights pertaining to this report belong to Yano Research Institute.
Please contact our PR team when quoting the report contents for the purpose other than media coverage.
Depending on the purpose of using our report, we may ask you to present your sentences for confirmation beforehand.