Corporate Venture Capital in Japan: Key Research Findings 2022 Here Presents 8 Requirements to Deal in Corporate Venture Capital
Yano Research Institute (the President, Takashi Mizukoshi) has carried out a survey on corporate venture capital (CVC), and presents the essential requirements for major businesses to deal in CVC.
8 Essential Requirements to Deal in Corporate Venture Capital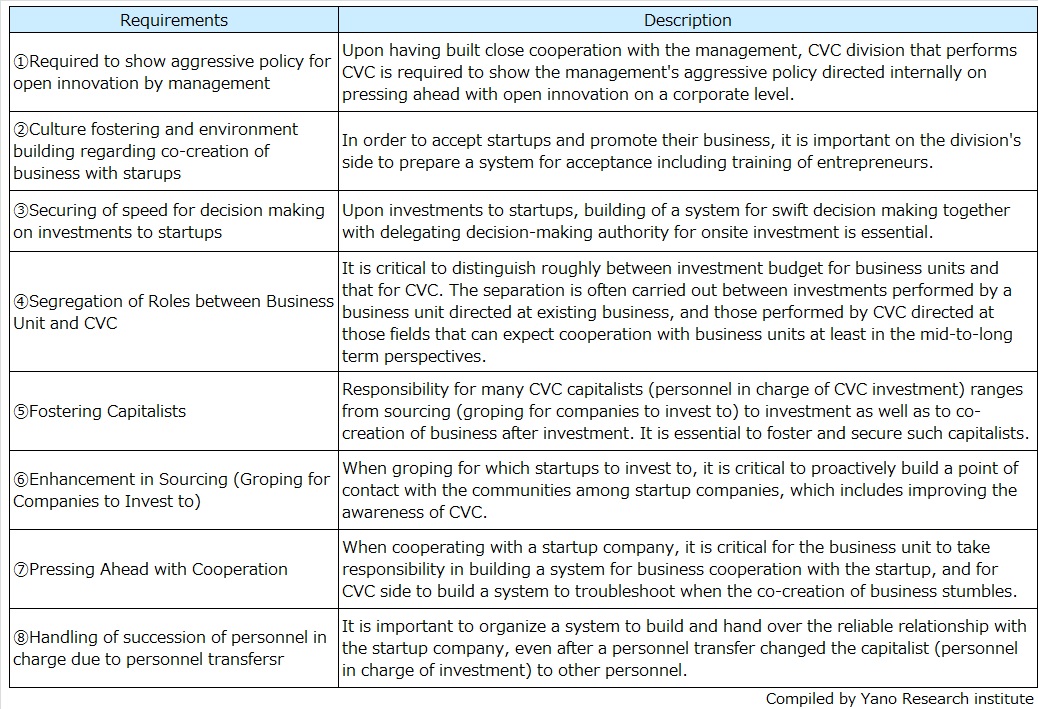 Summary of Research Findings
Operating companies, especially major such companies, are engaged in corporate venturing activities in the forms of mergers and acquisitions (M&A) and business alliances with startup companies, aiming to strengthen existing business and create new one. Corporate venturing activities are categorized largely into two: Investments, and business alliances not associating with investments. In this research, "corporate venture capital (CVC) activities" are defined as the investments to startups by operating companies themselves or by their investment subsidiaries. Limited partnership investment (an investment to startups via fund investment) is not included in the definition of this research, because limited partnership investors usually have no authorities in final decision making.

As a role of CVC, it provides necessary support for startups to help solve their challenges (procurement of funds, exploration of sales channels, development of technologies, etc.) by means of not only investments but also of collaboration on procurement, sales, as well as technologies, etc.. if necessary. Through such attempts, it earns strategic returns (profits) by obtaining technology licenses, generating new business, and forming personnel relationships with the startups communities.

Yano Research Institute has identified eight essential requirements for permanent engagement in CVC, as shown in the table above.

Noteworthy Topics
When Pursuing Strategic Returns, It Should Assume Financial Returns
There are two kinds of benefits when dealing in CVC, which are strategic returns and financial returns (mainly the profit gains by selling stocks). Even though either return can be pursued depending on the objectives of the CVC, the research has found out that financial returns should be considered as a prerequisite when pursuing strategic returns.

Research Outline
1.Research Period: December 2021 to June 2022
2.Research Object: Businesses dealing in investments in startups, corporate venture capital (CVC) businesses, CVC supporting companies, startup companies
3.Research Methogology: Face-to-face interviews (including online) by expert researchers, survey via telephone & email, and literature research
About Corporate Venture Capital
Corporate venture capital (CVC) in this research refers to the investments by CVC division of a company that invest in startups, and investment business by independent CVC subsidiaries.


<Products and Services in the Market>
Corporate Venture Capital (CVC)
Published Report
Contact Us
©2021 Yano Research Institute Ltd. All Rights Reserved.
The copyright and all other rights pertaining to this report belong to Yano Research Institute.
Please contact our PR team when quoting the report contents for the purpose other than media coverage.
Depending on the purpose of using our report, we may ask you to present your sentences for confirmation beforehand.