Emergency Foods Market in Japan: Key Research Findings 2021 Domestic Emergency Foods Market for FY2021 Projected to Rise to 121.0% of Previous Fiscal Year to 31,300 Million Yen
Yano Research Institute (the President, Takashi Mizukoshi) has conducted a survey on the domestic market of emergency foods, and found out the trends by product segment, the trends of market players, and future perspectives.
Transition and Forecast of Emergency Foods Market Size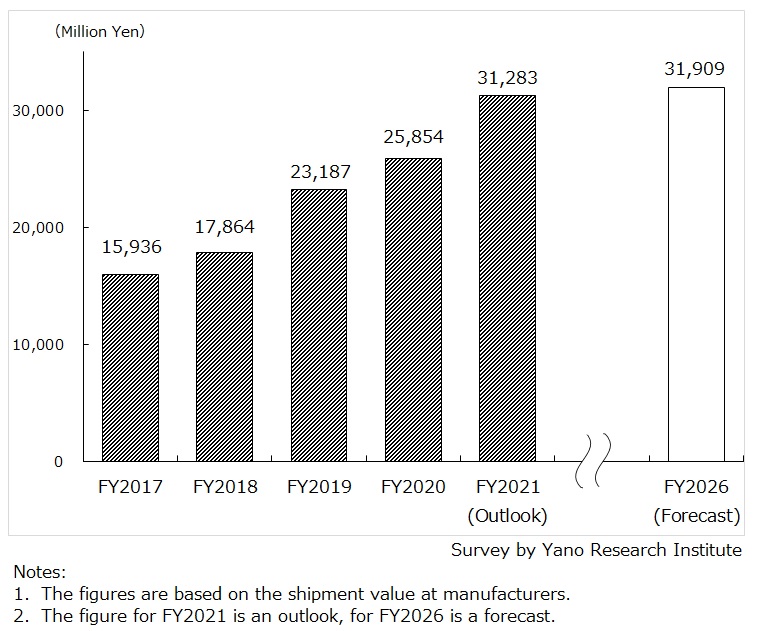 Market Overview
Size of the domestic emergency foods market is valued at 25,854 million yen for FY2020, up 11.5% from the previous fiscal year, based on the shipment value at manufacturers. As a tenth year after the Great East Japan Earthquake, various media ran special features on disaster prevention in FY2021, which reminded people of natural disaster threat and increased awareness once again to prepare for possible disaster.

As emergency foods with a shelf life of 5 years purchased after the Great East Japan Earthquake reach a replacement period for a second time, higher demand for emergency foods is expected for FY2021. Therefore, the market for FY2021 is projected to generate 31,283 million yen, 121.0% of the preceding fiscal year.

In terms of sales channel, the emergency foods market has a uniqueness in that retailers do not sell, i.e., the trading companies specialized in emergency products sell directly to end customers like local governments, major private companies, hospitals, nursing homes, etc. Nonetheless, compared to the previous survey (carried out in FY2019), demand for stocking emergency foods at home has grown in accordance with the penetration of work from home in last couple of years. For this reason, the market share of online sales to general customers has been rising. The market share of emergency foods by sales channel (FY2021 outlook) is represented by trading firms (direct sales), online sales, and supermarkets/mass retailers, in descending order.

Noteworthy Topics
Only 68% of Hospitals and Nursing Homes Have Concrete Contingency Plan for Natural Disaster
In connection with this research, a corporate questionnaire survey was conducted from January to February 2022 on emergency food stockpiling, targeting a total of 151 respondents, including local governments, major private companies, hospitals/ nursing homes (special care and aged care facilities) in Tokyo (23 wards), 20 government-designated cities, and 62 core cities.


The survey revealed that 88.2% of private companies and 82.0% of local governments have specific emergency measures based on a business continuity plan (BCP), while only 68.0% of hospitals and nursing homes have such measures in place (based on a single answer/closed question). The result shows that although private companies and local governments are leading the way in preparation for disaster, many hospitals and nursing homes are yet to be prepared.


Future Outlook
In accordance with an approach known as rolling stock (a way of stocking up foods to prepare for time of emergency) advocated by the Cabinet Office, local governments passed guidelines suited to the current situation in each region as well as ordinances regarding the measures to support stranded persons. At the same time, they are insisting private companies and facilities to stock emergency supplies. Meanwhile, though bidding is the most common procurement method to secure volume and variety of emergency supplies, the survey indicated that local governments are also concluding supply agreements with local food manufacturers and supermarkets as a way to underpin the emergency system to supply beverages and rice balls to local residents/evacuees in the event of a disaster.


Nevertheless, because private companies in regional centers and core cities prioritize safe return to home more than preparing emergency supplies, many of them do not have any stocks. Considering that supply shortage is anticipated in the event of a large-scale disaster, it is necessary to promote importance of stockpiling emergency supplies while ensuring the supplies nationally. The domestic market of emergency foods is forecasted to grow marginally to 31,909 million yen by FY2026 (102.0% of the market size for FY2021).


Research Outline
1.Research Period: November 2021 to February 2022
2.Research Object: Emergency food businesses (food manufacturers, trading company specialized in emergency supplies), large clients (administrative organizations, medical institutions, private companies) etc.
3.Research Methogology: Face-to-face interviews by the specialized researchers (including online interview), surveys by telephone, and mailed questionnaire.
Emergency foods in this research refer to the foods for stock in case of emergencies, with longer best-before dates than foods alike. They are processed foods with expiration date of 36 months or longer in room temperature. Specifically, it indicates cooked rice, bread and rolls, noodles, biscuits, prepared food (ready-to-eat meal), sweets, soups, stored water, and beverages.


<Products and Services in the Market>
Cooked rice, bread and rolls, noodles, biscuits, prepared food (ready-to-eat meal), sweets, soups, stored water, and beverages
Contact Us
©2021 Yano Research Institute Ltd. All Rights Reserved.
The copyright and all other rights pertaining to this report belong to Yano Research Institute.
Please contact our PR team when quoting the report contents for the purpose other than media coverage.
Depending on the purpose of using our report, we may ask you to present your sentences for confirmation beforehand.