Pachinko Parlor Operators in Japan: Key Research Findings 2021 Pachinko Parlor Operators Plunged into the Red in FY2020
Yano Research Institute (the President, Takashi Mizukoshi) has estimated the average values on major indices of 132 pachinko parlor operators based on their financial statements and found out the trends in sales/profit.
Transition of Pachinko Parlor Operators' Business Performances (average of 132 companies for transition in 3 years)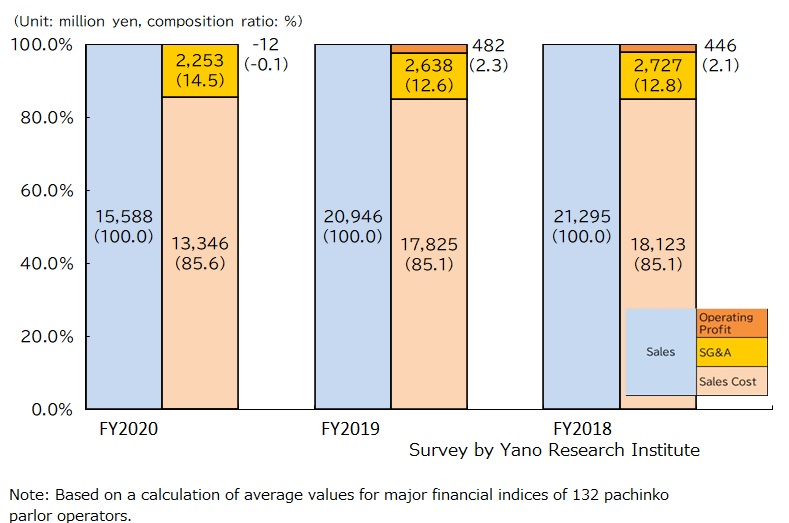 Summary of Research Findings
This research is based on a calculation of average values for major financial indices of 132 pachinko parlor operators extracted randomly from 2,392 pachinko parlor operators nationwide that are listed in the "YANO Pachinko Database". Analysis on business performance transition is conducted for 3 years from FY2018 to FY2020.



Noteworthy Topics
Trends of Sales/Profit at 132 Pachinko Parlor Operators
[Sales & Sales Cost]

The average sales of pachinko parlor operators for FY2020 dropped by 25.6% from the previous fiscal year to 15,588 million yen. Impact of COVID-19 and gaming machine replacements caused the significant decline in sales. Meanwhile, the average sales cost sustained composition ratio of 85% over the past few years; for FY2020, it rose by 0.5 points to 85.6%.

[Gross Margin]

The average gross margin for FY2020 declined to 2,241 million yen, down 28.2% from the previous fiscal year. Although companies held down their sales cost to secure gross margin, composition ratio of gross margin fell by 0.5 percentage points. The companies are struggling to cope with the sharp drop in sales.

[SG&A]

The average SG&A expenses for FY2020 decreased to 2,253 million yen, down 14.6% from the preceding fiscal year. On the other hand, the composition ratio of SG&A rose by 1.9 points year on year to 14.5%.

Purchasing cost of gaming machines is included in the SG&A. The composition ratio of SG&A has been over 10% for long time, weighing on pachinko parlor operators. Under the provisions of the Gaming Machine Guidelines revised in February 2018, pachinko parlors are required to replace old gaming machines with new gaming machines by the end of January 2022. Composition ratio of SG&A rose slightly, because even though the companies cut down SG&A in accordance with the drop in sales, they couldn't drive down the cost of machine replacements. As the replacements will be in the final phase in FY2021, the increase of SGA continues to put a squeeze on profits.

[Operating Profit]

For many years, the operators increased profit by cutting down the sales cost and SG&A. However, the companies incurred an average of 12-million-yen loss due to decline in sales in FY2020 owing to temporary closures of parlors ordered by the government during the COVID-19 crisis.

Research Outline
1.Research Period: September to December 2021
2.Research Object: Pachinko parlor operators
3.Research Methogology: Data aggregation and analysis by our specialized researchers on "YANO Pachinko Database"
Data aggregation and analysis by our specialized researchers based on "YANO Pachinko Database" 
This research is conducted on 123 pachinko parlor operators chosen randomly from a total of 2,392 pachinko parlor operators nationwide listed in the "YANO Pachinko Database". Analysis of business performance transition is based on average values of major financial indices in their financial statements over 3 years from FY2018 to FY2020.

Target pachinko parlor operators include 12 major companies (operating more than 20 parlors), 26 second-tier companies (operating 10 to 19 parlors), 43 mid-size companies (operating 4-9 parlors), and 53 small-size companies (operating 1-3 parlors) chosen randomly while making sure the business sizes vary. Average number of parlors operated by the 132 companies is 7.5 parlors.

Nevertheless, it should be noted that giant operators that have been expanding the number of parlors rapidly are excluded from aggregation. Such operators include Maruhan, Dynam, Undertree, Gaia, NEXUS, and Niraku.


<Products and Services in the Market>
Pachinko parlor operators, pachinko parlors
Contact Us
©2021 Yano Research Institute Ltd. All Rights Reserved.
The copyright and all other rights pertaining to this report belong to Yano Research Institute.
Please contact our PR team when quoting the report contents for the purpose other than media coverage.
Depending on the purpose of using our report, we may ask you to present your sentences for confirmation beforehand.