Publishing Industry in Japan: Key Research Findings 2021 Publishing Companies Making Attempts to Drive Sales of Books, Magazines, Graphic Novels, and Digital Media
Yano Research Institute (the President, Takashi Mizukoshi) has conducted a survey on the domestic publishing market and found out the trends of publishing companies and other enterprises related to publishing business.
Trends at Publishing Companies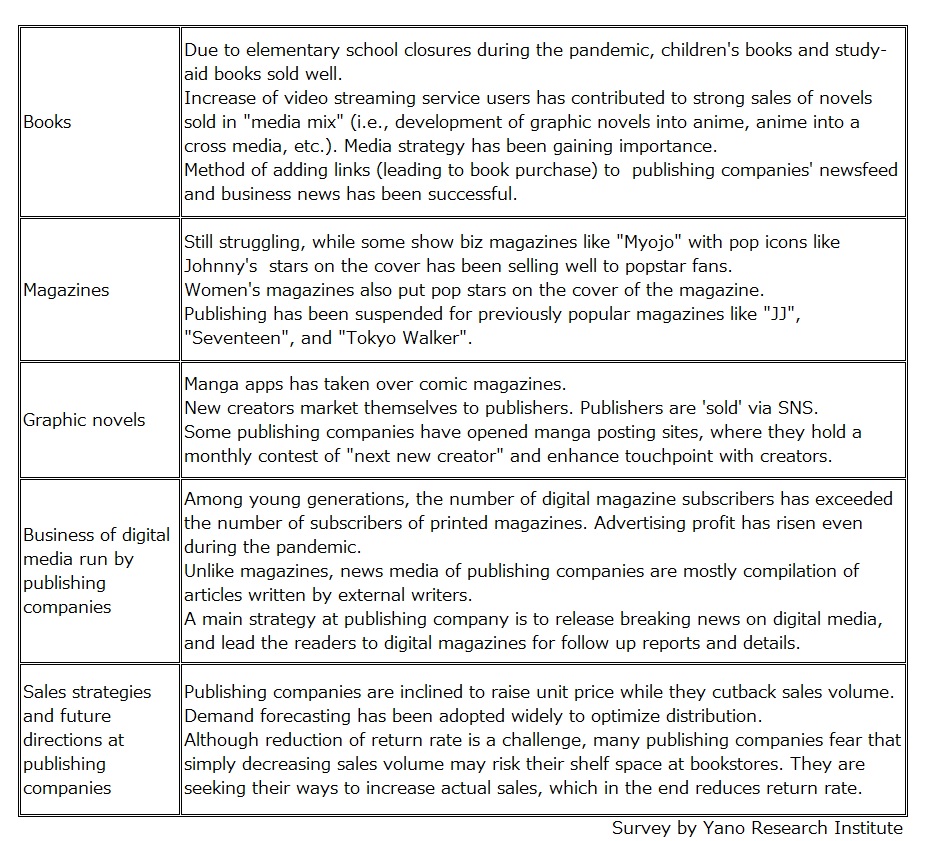 Summary of Research Findings
Despite the shrinking trend in recent years, the domestic publishing market sustained its growth for 2020. The industry was boosted by strong sales of graphic novels (manga tankoubon), driven by mega-hits such as "Demon Slayer" (Kimetsu no Yaiba).

In the last several years, the publishing market had been scaling down due to a decline of magazine sales. It is also true that book sales also diminished, though the level of decline had not been as sharp as that for magazines, while sales of graphic novels (as a total of tankoubon and comic magazines) struggled as well. Nevertheless, the market made an upward turn in 2019. The explosive popularity of manga books made up for the drop in magazine sales, and together with the stable sales of books, overall sales of the publishing market was lifted in 2020.

Although fast-growing, size of the graphic novels market in 2020 has not reached the level of 10 years ago. In addition, while growth of the graphic novels market depends heavily on mega-hits, it is hard to believe that a mega-hit series like "Damon Slayer" follows one after another. It is doubtful to think that the publishing market size will recover to the level back in the old days.

Noteworthy Topics
Manga Reader Apps Take Over Comic Magazines
Fueled by the increase of manga reader app users, the graphic novels market is growing rapidly. Applying the same strategy as how gaming apps make profits and retain users, manga apps have been increasing users not only among hardcore comic fans but also among 'light-users', the segment that plays mobile games in their spare time like while commuting to work. They use the manga app as an alternative to mobile games. This trend has been contributing to the expansion of the graphic novels market.

Manga apps adopt freemium model, offering one free story daily for membership, while charging for additional contents if user wants to read more. Because the contents are updated daily, user retention rate is extremely high. Moreover, as users are inclined to read new series, such as those exclusive to the apps, while they read what they intended to read, manga reader apps now serve as an advertisement of graphic novels, the role which used to be played by conventional comic magazines. Furthermore, posting digital advertisement on manga reader apps gives an advantage to publishing companies greatly, as it promotes both their manga apps and graphic novel series.

Research Outline
1.Research Period: July to October 2021
2.Research Object: Publishing companies, distribution agencies, etc.
3.Research Methogology: Face-to-face interviews by the expert researchers (including online), interview by telephone, and literature research
<Products and Services in the Market>
Books, magazines (monthly magazine, weekly magazine), graphic novels (magazines and tankoubon [trade paperback]), electronic books
Contact Us
©2021 Yano Research Institute Ltd. All Rights Reserved.
The copyright and all other rights pertaining to this report belong to Yano Research Institute.
Please contact our PR team when quoting the report contents for the purpose other than media coverage.
Depending on the purpose of using our report, we may ask you to present your sentences for confirmation beforehand.