Insurance Shops Market in Japan: Key Research Findings 2021 Insurance Shops Market for FY2020 Estimated to Reach 196,500 Million Yen, Up 8.0% YoY
Yano Research Institute (the President, Takashi Mizukoshi) has conducted a survey on the domestic insurance shops market, and has found out the market trends, the market size (based on the newly contracted annualized premium of insurance products according to the fiscal year of each of businesses), number of new contract deals, and future perspective.
Transition of Insurance Shops Market Size (Based on Newly Contracted Annualized Premium of Insurance Products)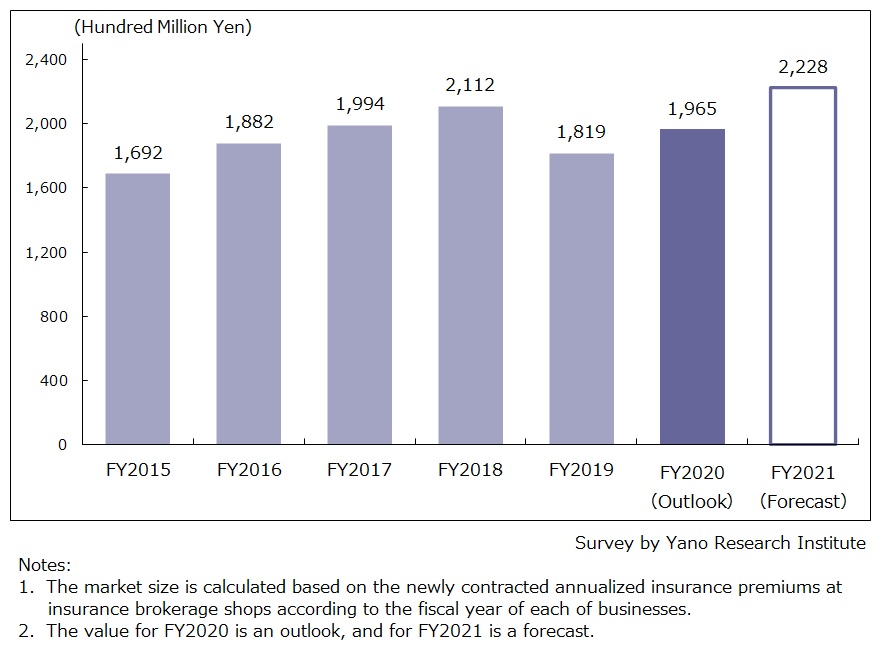 Market Overview
As the insurance shops primarily sell insurance policies to customers in person, the market was deeply impacted by the spread of COVID-19 in FY2019. Nevertheless, as online consulting started to penetrate from the spring of 2020, it met contactless needs at customers and therefore increased the number of consultations. With more insurance policies made available completely online, customer events resumed with thorough anti-infection measures, and online seminars attracting prospective customers, the number of new contracts expanded, particularly medical insurance. For these reasons, the market size of insurance shops for FY2020 (based on newly contracted annualized premium of insurance products) turned for the better; it rose by 8.0% from the preceding fiscal year to reach 196,500 million yen. The number of new contracts is estimated to have grown to 2.06 million deals, up 7.9% year on year.

Noteworthy Topics
Urgent Demand for Enhancing Customer Touchpoint and Going Hybrid
The COVID-19 crisis affected life insurance industry from the latter half of FY2019 to first half of FY2020. Now, a year has passed since contactless customer engagements started at life insurance companies, such as online consultation by their sales reps, and online consultations are introduced at insurance shops.


In January 2021, the Insurance Business Act and part of the Supervision of Insurance Companies was revised to expand the number of insurance products that can be solicited and sold completely online at the insurance shops. The revision promotes digital transformation (DX), improving convenience for customers. By making proactive attempts in developing infrastructure for contactless sales and accelerating 'going hybrid', i.e., combining in person sales method and contactless method, not only insurance shops but life insurance companies also expect improvements in productivity, efficiency, new customer development, and customer retention.


In the situation where DX is promoted, it is imperative for life insurance companies and insurance agencies to cooperate/strengthen relationships develop systems for contactless sales engagement. Moreover, continuous effort to cope with the demand of customer segments that are disconnected from the internet and of segments that insist on face-to-face communication, as well as reinforcement of new customer touchpoint, remain as challenges.


Future Outlook
The Financial Instruments and Exchange Act amended in June 2020 has been renamed to Financial Services Intermediary Business Act, which came into effect in November 2021. The new legislation established the new business category called financial service intermediaries. It promotes transformation of financial services to meet rapidly changing customer needs in connection with the trend of going online, paperless, and cashless.


It is expected that the legislation invigorates the industry not only by opening opportunities for insurance shops to become the financial service intermediaries that can offer various financial products and services as a one-stop service, but also by promoting new market entries from other industries.


Despite the influence of the COVID calamity, against the backdrop of the legislative changes, insurance shops have the potential to grow sales further in FY2021 by implementing 'hybrid' sales engagement methods (incorporating both face-to-face and contactless consultations), and by responding to the customer needs for products and services that can address the problems of longer life expectancies, which indicate building assets or making savings last longer. The insurance shops market is projected to generate 222,800 million yen for FY2021, up 13.4% year on year, by concluding 2.34 million new contract deals.


Research Outline
1.Research Period: August to October 2021
2.Research Object: Companies and startups in insurance business, such as conventional life insurance companies, online insurance companies, insurance shop operating companies, and insurance company agents operating online insurance services and/or insurance-related websites
3.Research Methogology: Face-to-face interviews by the expert researchers (including online interviews) and literature research
What are the Insurance Shops?
In this research, the insurance shops refer to independent agents that sell policies from multiple insurers, and the market size is calculated based on the newly contracted annualized insurance premiums at insurance shops according to the fiscal year of each of businesses.


<Products and Services in the Market>
Life and non-life (general) insurance for individuals, life and non-life (general) insurance for enterprises
Contact Us
©2021 Yano Research Institute Ltd. All Rights Reserved.
The copyright and all other rights pertaining to this report belong to Yano Research Institute.
Please contact our PR team when quoting the report contents for the purpose other than media coverage.
Depending on the purpose of using our report, we may ask you to present your sentences for confirmation beforehand.