Cram Schools and Preparatory Schools Market in Japan: Key Research Findings 2021  Cram Schools and Preparatory Schools Market Size in FY2020 Declined from Previous Fiscal Year to 924 Billion Yen
​Yano Research Institute (the President, Takashi Mizukoshi) carried out a survey on the domestic cram schools and preparatory schools market and found out the trends of entire market, market players, and perspectives.
Cram Schools and Preparatory Schools Market Transition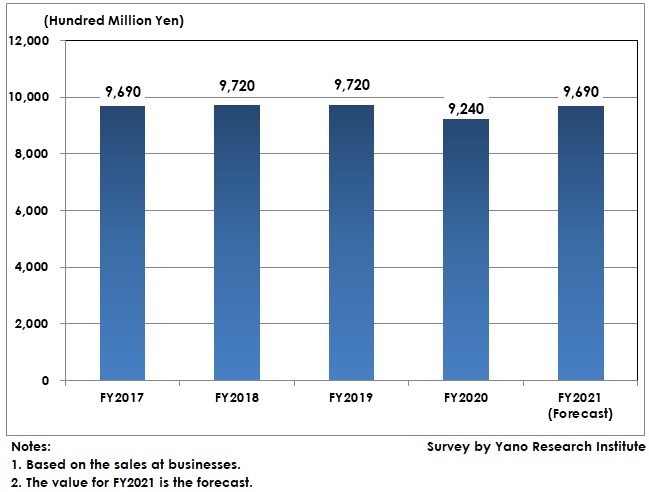 Market Overview
The market size of cram schools and preparatory schools reached 924000 million yen in FY2020, a decline by 4.9 percent from the previous fiscal year.

Cram schools and preparatory schools for this fiscal year had to temporarily close the schools due to the COVID-19 pandemic, which led them to pay back or discount (or make special price treatment in) the tuition fees, and had to refrain from or voluntarily restrain recruitment of students mainly in the springtime, and to decrease the number of classes for summer courses because of the shortened period of summer holidays at schools. The influence of the pandemic was particularly significant during the period from April to May 2020, when all the businesses were forced to stop. Even after the lift of the state of emergency when students were allowed to go to cram schools and preparatory schools in the summer, which led the number of students to considerably upturn, urged by the sense of crisis and frustration for declined academic activities and delayed learning, the declined revenue in the spring of 2020 was not able to be complemented when observing the sales performance throughout the year.

Noteworthy Topics
Status of Using Online Classes and Digital Textbooks
Announcement of a state of emergency during April to May 2020 stemming from spread of COVID-19 infections restricted the students from going to cram schools and preparatory schools for taking classes. As a result, cram schools and preparatory schools have started deploying online classes, video classes, and digital text books free of charge to encourage the students to continue learning via their schools. This evolved the environment to implement learning classes using digital tools at cram schools and preparatory schools.

That said, however, after face-to-face classes became available as cram schools and preparatory schools have resumed, the number of students choosing face-to-face classes overwhelmed that of those choosing online. In addition, online classes have begun showing some issues of unfixed learning contents and somewhat doubtful effectiveness for improving scholarly abilities, difficulty in keeping the students get motivated to learn, and necessity to establish teaching methods applicable to online classes. On the other hand, generalization of online classes fueled major cram schools and preparatory schools to launch new online-class services directed at students in rural areas or overseas.

As for digital textbooks, there have been those that utilize AI (artificial intelligence) technologies, which enable to respond to each of students according to individual abilities, learning progress and degree of understanding. This has invigorated offering effective and efficient teaching services and is rapidly increasing the number of companies that provide related services. Development and provision of tutoring services utilizing digital textbooks embedded with AI are likely to expand furthermore for the future, because they are not dependent on human resources, as oppose to the ordinary learning class business having problems of securing excellent teaching staff and soaring personnel expenses.


Future Outlook
The market size of cram schools and preparatory schools for FY2021 is expected to upturn, as the regulations to commuting to cram/preparatory schools have been eased upon taking thorough measures against infections, and as many of the schools are showing success in attracting customers.

Nevertheless, recovery of the demand for supplementary lessons which is less urgent than demand for higher education is showing a delay. In addition, the fifth wave of the COVID-19 pandemic is overwhelming the country as of August 2021, which may lead to a stricter restriction to business activities that can negatively affect the market for the concerned fiscal year.


Research Outline
1.Research Period: May to August 2021
2.Research Object: Companies operating cram schools or/ and preparatory schools
3.Research Methogology: Face-to-face and online interviews by the expert researchers, survey via telephone and emails, and literature research
About Cram Schools and Preparatory Schools Market
Cram schools and preparatory schools market in this research refers to the market that consists of the companies operating and providing educational guidance services to the students in primary schools, junior high schools and high schools aiming to help them advance to the next-stage educational institutions or to provide them supplementary classes. The market size is calculated based on the sales at businesses.


<Products and Services in the Market>
Cram Schools and Preparatory Schools
Contact Us
©2021 Yano Research Institute Ltd. All Rights Reserved.
The copyright and all other rights pertaining to this report belong to Yano Research Institute.
Please contact our PR team when quoting the report contents for the purpose other than media coverage.
Depending on the purpose of using our report, we may ask you to present your sentences for confirmation beforehand.