Polypropylene Market in Japan: Key Research Findings 2021 Shipment Volume of Polypropylene in 2021 Increased to 2,474,900 Tons, 106.1% of Previous Year
Yano Research Institute (the President, Takashi Mizukoshi) carried out a survey on the domestic polypropylene market, and found out the trends by resin and by application, the trends of market players, and future perspectives.
Transition and Forecast of Polypropylene Market Size by Application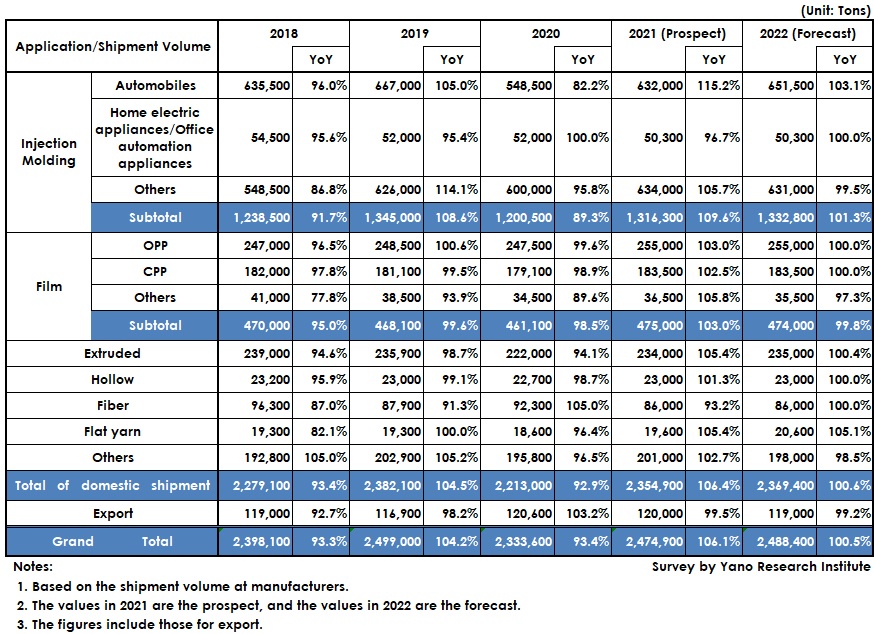 Market Overview
In 2020, many industries were affected by the spread of COVID-19 infections, which reduced the domestic polypropylene (PP) market size to 93.4 percent of the previous year to 2,333,600 tons. Although stay-home demand in the COVID-19 calamity increased the consumption of polypropylene-used products such as sanitary materials including masks and protective clothing, daily commodities including plastic clothing cases, and gardening supplies, decrease in the number of vehicles manufactured reduced the application to automobiles, which occupy large ratio, and diminished the entire market size.

Noteworthy Topics
Domestic Polypropylene Manufacturers Press Ahead with Scrap & Build, Aiming to Improve Production Efficiency of High Value-Added Products
Domestic polypropylene manufacturers have been propelling "scrap and build" attempts, aiming to improve production efficiency of high value-added products. This caused to stop the operations of facilities for slurry and some small-to-mid size production facilities, because of their inferiority in production efficiency.

Prime Polymer Co., Ltd. has announced the construction of a gas-phase-method facility planned to be operated by 2024 within the premises of its Ichihara Plant aiming to achieve 200-thousand-tons per year production. Japan Polypropylene Corporation is moving toward "scrap and build" implementation to their manufacturing facilities, which has reduced its production capacity by 26 thousand tons per year during the period between September 2019 and February 2021. Sumitomo Chemical Co., Ltd. was considering investing in the facility with 100 thousand tons per year of the production capacity to start operation in around 2018, but the changes in business environment influenced by the moves to go plastic-free, in addition to globally soaring construction expenses in the COVID-19 calamity the company decided to continue considering the best effective plans including reexamination of the projects.


Future Outlook
The domestic polypropylene market size in 2021 is forecasted to increase by 6.1 percent from the previous year to 2,474,900 tons. The market size is likely to return to the level of that in 2019, driven by the applications to automobiles which are clearly on the way to recovery.

It is expected for the domestic polypropylene manufacturers to develop the applications that can only be attained by polypropylene by studying high functions and high added values rather than quantitative expansion of general-purpose products.


Research Outline
1.Research Period: April to July, 2021
2.Research Object: Polypropylene manufacturers
3.Research Methogology: Face-to-face and online interviews by the expert researchers, and literature research
What is The Polypropylene Market?
Polypropylene is one of generally-used resin, made from the combination of propylene monomers. The polypropylene market size in this research is calculated based on the shipment volume at domestic manufacturers.


<Products and Services in the Market>
Polypropylene (PP), PP compound
Contact Us
©2021 Yano Research Institute Ltd. All Rights Reserved.
The copyright and all other rights pertaining to this report belong to Yano Research Institute.
Please contact our PR team when quoting the report contents for the purpose other than media coverage.
Depending on the purpose of using our report, we may ask you to present your sentences for confirmation beforehand.