Human Capital Management (HCM) Market in Japan: Key Research Findings 2021 Driven by COVID-19, Domestic HCM Market Grew to 48,260 Million Yen for 2020, Up 13.6% from Preceding Year
Yano Research Institute (the President, Takashi Mizukoshi) has conducted a survey on the domestic market of HCM, and found out the trends at providers and at user enterprises, as well as the future perspective.
Transition and Forecast of HCM License Market in Japan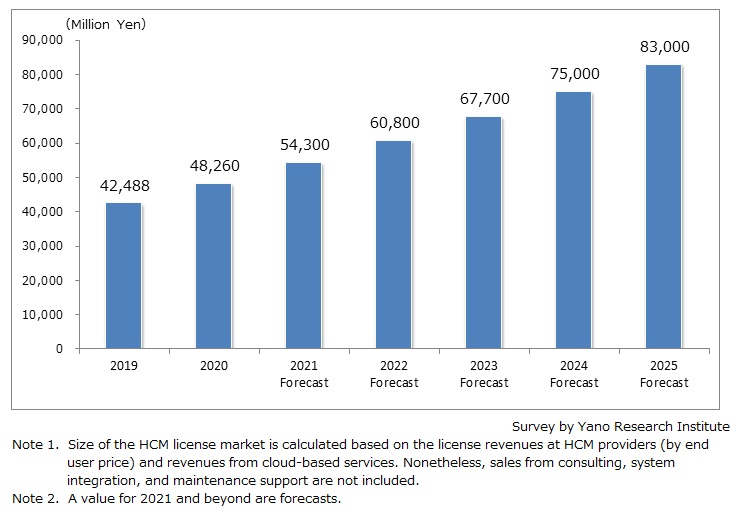 Transition and Forecast of Talent Management Systems Market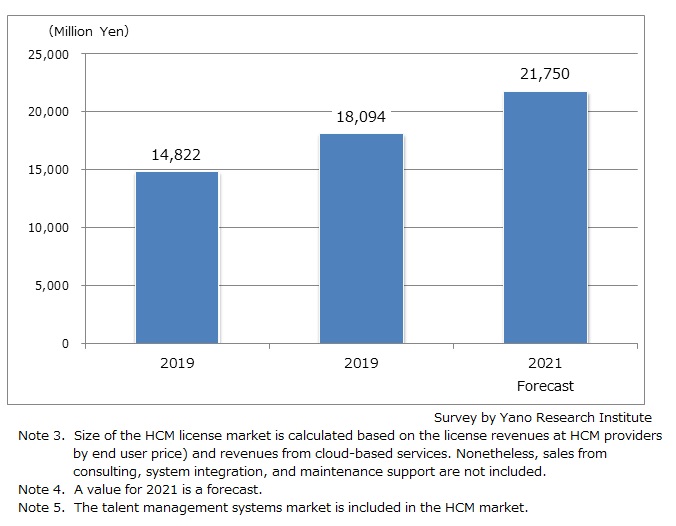 Market Overview
The domestic HCM (Human Capital Management) license market grew by 13.6% from the preceding year to attain 48,260 million yen for 2020.
Behind the rapid growth are the positive effects of COVID-19 crisis, on top of continuous growth of the market driven by streamlining of business workflows, adoption of strategic human resource management, and promotion of digital transformation (DX) at user enterprises. The situation attributes to the spread of remote work during COVID-19 calamity, which accelerated digitization to carry out business operations online, and to systemize HR operations that had been done on paper or by on-premises Excel worksheets. While increasing number of enterprises face challenges in employee evaluation, health management, and employee engagement, it can be said that the deployment of HCM served as their solution.
Although introduction of HCM systems were put on hold, postponed, or cancelled at some companies in 2020, the negative impact was limited; the HCM market grew as positive effects of COVID-19 calamity exceeded its negative impact.

Noteworthy Topics
Talent Management Systems Market
The talent management system is a solution product for employee relations, including personnel data management, hiring process management, objectives management, manpower planning, and compensation management. The market of talent management systems for 2020 rose to 18,094 million yen, up 22.1% from the previous year.
In 2020, vendors that specialized in talent management systems enjoyed good sales in particular. Since these dedicated vendors provide products that are reasonable to install and easy to manage, they won customers, chiefly SMEs. Moreover, as they focus on improvements of UI (user interface) and UX (customer experience), fans are increasing; the number of user companies deploying the systems and products sales are both on the rise. In recent years, with an expansion of talent management system installations, the providers are building credibility, increasing medium to large enterprise clients steadily.
While attempts continue among user enterprises to streamline business operations and incorporate strategic human resource management, it is speculated that the demand for talent management systems stay strong for forthcoming years. The talent management systems market for 2021 is projected to grow by 20.2% from the previous year to reach 21,750 million yen.


Future Outlook
The HCM license market for 2021 is forecasted to rise by 12.5% year on year to generate 54,300 million yen. Despite the ongoing influence of novel coronavirus, positive effects are expected to overpower negative impacts for the HCM market, just like what happened in 2020.
In addition, it is anticipated that COVID-19 crisis stimulates the HCM market even further by accelerating the trends of streamlining business operations, incorporating strategic human resource management, and promoting digital transformation.


Research Outline
1.Research Period: December 2020 to April 2021
2.Research Object: Providers of HCM solutions
3.Research Methogology: Face-to-face interviews by the expert researchers, survey by telephone, and literature research
HCM Market
HCM refers to various system products (solutions) that enable the concept of Human Capital Management (HCM).
In this research, size of the HCM license market is calculated as a total of (1) human resources/payroll solutions, (2) talent management solutions, and (3) people analytics solutions, based on the license revenues at HCM providers (by end user price) and revenues from cloud-based services.
Nevertheless, sales from related services such as consulting, system integration, and maintenance support are not included.


<Products and Services in the Market>
(1) Human resources/payroll solutions (human resource management, payroll management, attendance management, authorization workflow, etc.), (2) Talent management solutions (personnel data management, hiring process management, objectives management, manpower planning, compensation management, etc.), and (3) People analytics solutions
Contact Us
©2021 Yano Research Institute Ltd. All Rights Reserved.
The copyright and all other rights pertaining to this report belong to Yano Research Institute.
Please contact our PR team when quoting the report contents for the purpose other than media coverage.
Depending on the purpose of using our report, we may ask you to present your sentences for confirmation beforehand.