Widely-Distributed Confectionery Market in COVID-19 Calamity in Japan: Key Research Findings 2021 Widely-Distributed Confectionery Market Size for FY2020 Forecasted to Decline by 1.6% on YoY to 2,023.2 Billion Yen
Yano Research Institute (the President, Takashi Mizukoshi) carried out a survey on the domestic widely-distributed confectionery market and found out the trends by product category, trends of market players, and future outlook.
Transition and Forecast of Widely-Distributed Confectionery Market Size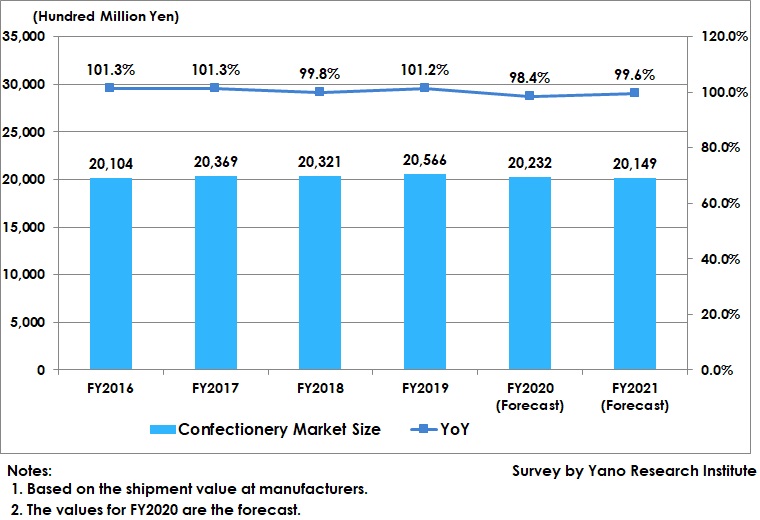 Market Share by Product Category in FY2019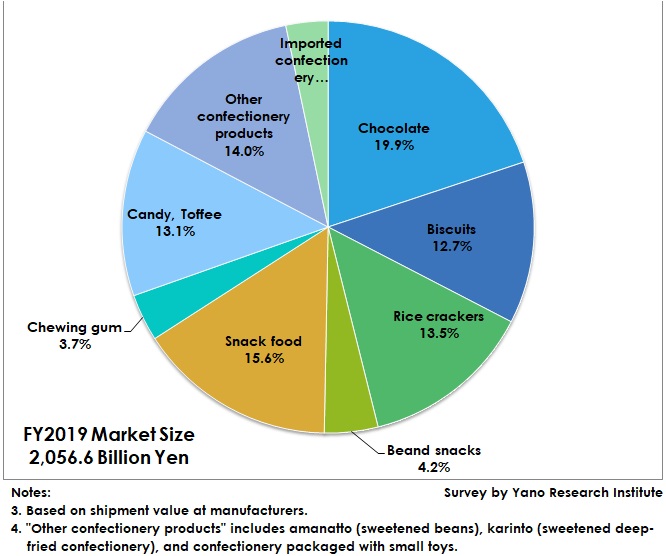 Market Overview
The market conditions of widely-distributed confectionery in FY2019 were overall good, with most of the product categories such as chocolate, biscuits, rice crackers, snack food, candies/toffees, and imported confectionery, having exceeded the previous-year results. Beans snack food, chewing gums, and other items were below the preceding-year results, but remained at a slight decline at the latter half of 90% on a YoY basis. As a result, the widely-distributed confectionery market size for FY2019, based on the shipment value at manufacturers, grew from the previous fiscal year to 2,056.6 billion yen.

FY2020 was affected by COVID-19 infections since April, the beginning month of the fiscal year for many companies, from which people were asked to stay home as much as possible and the sales of widely-retailed confectionery consumed at home rapidly increased. At this time of the year when it was supposed to be a good season for a pleasure trip, the rising rate of people staying home turned out fine for confectionery products intended to be consumed at home, but it was a heavy blow for those confectionery products usually well consumed during traveling, such as those pocket size, or those packed in small packages, in cups or in pouch containers, and those local-specialty confectionery.

In addition, as remote working spread mainly in the metropolitan areas, demand for products directed at office workers took damage. Rice crackers and sweet bean products that are usually eaten with tea at tea time, or consumed in the occasions when people get together with close friends or with relatives whenever they go back to their hometowns, have been stagnant in the COVID-19 calamity.

Noteworthy Topics
Influence of and How to Deal with Spreading COVID-19 Infections
When a state of emergency was announced from April to June 2020, general consumption from staying at home grew rapidly, which overall worked well for most of the sales of widely-distributed confectionery. Nevertheless, while those products sold at supermarkets showed stable sales, the sales of confectionery sold at convenience stores became stagnant, because of decrease in demand at offices and in number of convenience store users, as people were recommended for remote working and to stay home.

Later, when the schools resumed from the latter half of June, the sales conditions differed by product. Biscuits sold well even after July, and snack food and beans snack products that go well with alcohol also continued their strong sales. On the other hand, among various snack foods, those contained in cup containers or pouch containers convenient to be consumed at pleasure trips or at offices showed sluggish sales. Rice crackers usually bought when people gather also suffered from stagnant sales. The sales of candies and toffees usually bought during a travel were sluggish throughout the year.


Future Outlook
For FY2020, domestic demand for widely-distributed confectionery has been overall stable as people stayed longer hours at home, but the pocket-size snack food and portable confectionery products that are supposed to be eaten while traveling have suffered from sluggish sales. Also, retailed confectionery for souvenirs is forced to face considerable decline. These factors led the widely-distributed confectionery market size to be forecasted to scale down by 1.6% on a YoY basis to 2,023.2 billion yen.

The market size for FY2021 can fluctuate between expansion and shrinkage, depending on both the positive and negative factors such as expanding demand in the COVID-19 calamity and scale down of souvenir confectionery. The market size forecast in this research has been calculated almost without considering the positive influence of the Tokyo Olympic and Paralympic games, because inbound tourism demand (demand by tourists from overseas) and demand by sightseeing customers as well as by game audiences can hardly be expected, even when the event takes place.


Research Outline
1.Research Period: November 2020 to January 2021
2.Research Object: Manufacturers of widely-distributed confectionery, wholesalers, trading companies, and related organizations
3.Research Methogology: Face-to-face interviews by the expert researchers, survey via telephone and email, and literature research
The Widely-Distributed Confectionery Market
Widely-distributed confectionery refers to room-temperature confectionery products including chocolate, biscuits, rice crackers, beans snack food, snack food, chewing gums, candies/toffees, imported confectionery and other items sold via wholesalers at retail channels such as mass merchandisers, supermarkets, convenience stores, drugstores, and discount shops.


<Products and Services in the Market>
chocolate, biscuits, rice crackers, beans snack food, snack food, chewing gums, candies/toffees, other confectionery products (tablet confectionery, amanatto (sweetened beans), karinto (fried confectionery), and confectionery packaged with small toys.) imported confectionery, etc.
Published Report
Contact Us
©2021 Yano Research Institute Ltd. All Rights Reserved.
The copyright and all other rights pertaining to this report belong to Yano Research Institute.
Please contact our PR team when quoting the report contents for the purpose other than media coverage.
Depending on the purpose of using our report, we may ask you to present your sentences for confirmation beforehand.