Consumer Survey on Health Food in Japan: Key Research Findings 2021 20.5% of Male Young Generation, 24.0% of Elderly Population, 24.5% of Female Older Generation Started Taking Health Food for Boosting Immune Systems, Affected by COVID-19 Pandemic
Yano Research Institute (the President, Takashi Mizukoshi) carried out a consumer survey on health food, FOSHU (Foods for Specified Health Uses) and Foods with Function Claims, and analyzed the health conditions of consumers aging from 20s to 70s and demand for functional food.
Status of Taking Health Food (Supplement)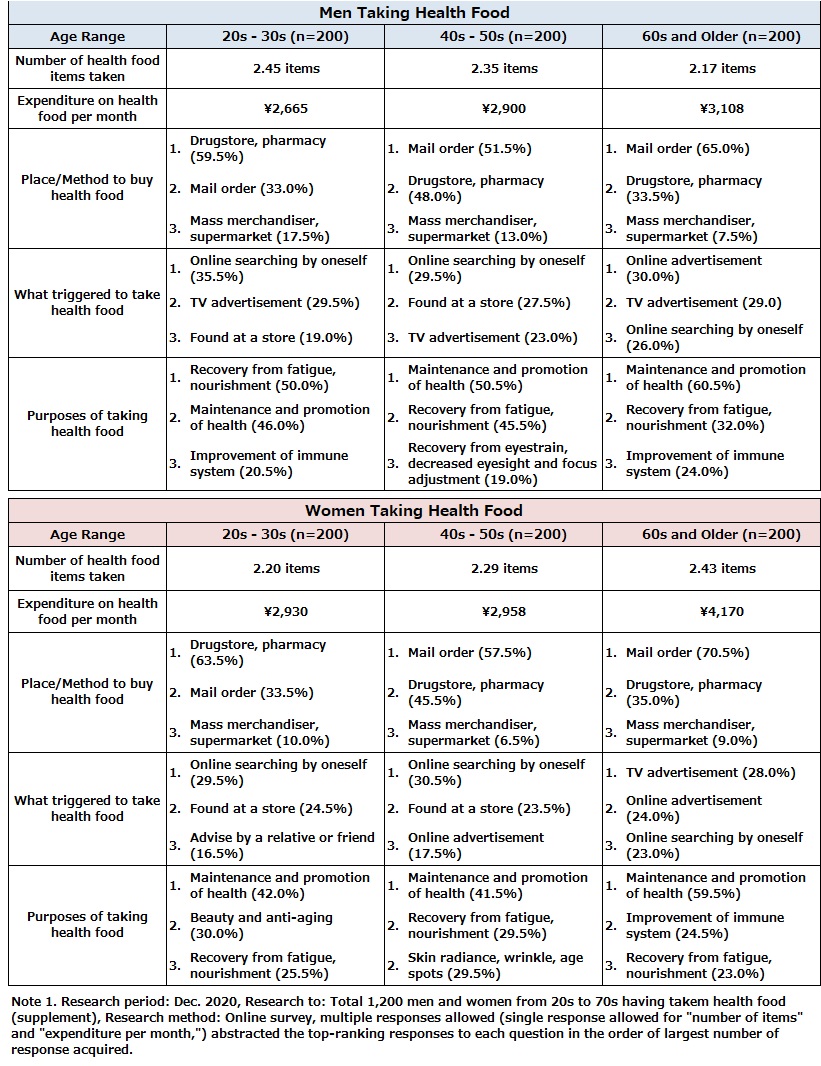 Interest in and Status of Taking Food with Function Claims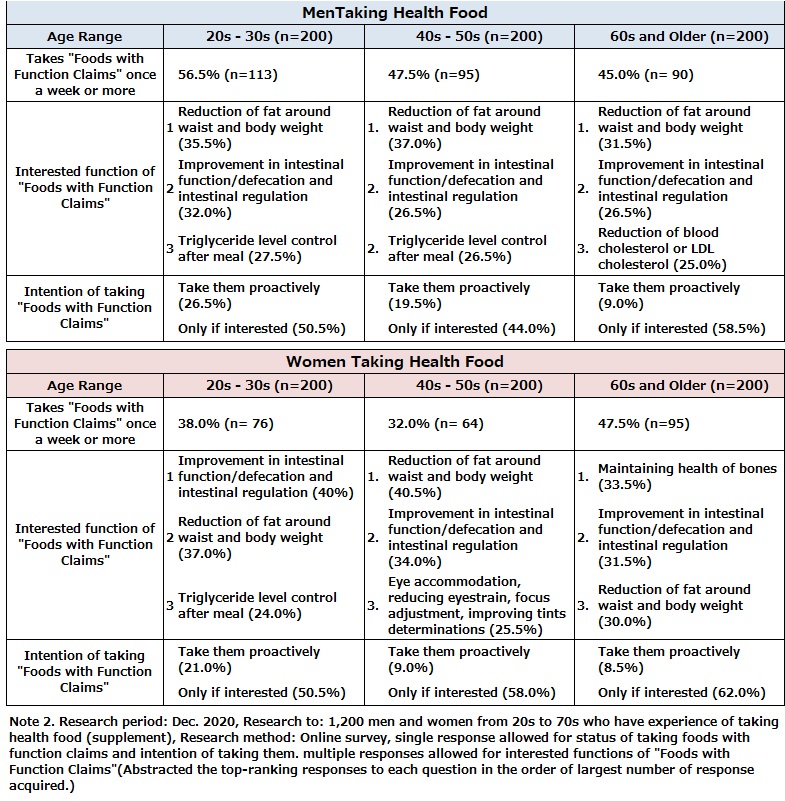 Summary of Research Findings
A consumer survey on health conditions and usage of health food was carried out in December 2020 to 1,200 men and women with the age ranges between those in their 20s and 70s who have an experience of taking health food. In the preliminary survey (n= 3,424), those male respondents without any experience of taking health food (supplement) accounted for a little over 40% and female respondents less than 40%. The rest of about 60% was the total rate of those that take health food "currently" "sometimes" or "only when needed." Among those respondents "currently" taking health food, young male respondents in their 20s attained the smallest ratio at less than 20%, while female respondents in their 60s/70s or older (elderly population) occupied the largest ratio, a little less than 40%.

This report compared the results by categorizing the respondents into six sections (attributes): Age ranges between 20s and 30s, 40s and 50s, 60s and 70s or older, and gender between male and female.

Among male respondents, the largest number of health food items taken was by young generation (20s to 30s) at 2.45 items on average, and the largest expenditure was paid by elderly population (60s to 70s or older) at 3,108 yen. On the other hand, female respondents tended to take more items and spend more money on health food as they get older, with the monthly expenditure for health food exceeding 4,000 yen.

Regarding where to purchase health food, young generation opted to buy at drugstores and pharmacies (male 59.5%, female 63.5%), while high ratio of middle population (40s to 50s) used mail order systems (male 51.5%, female 57.5%), and elderly population used mail order systems at even higher ratios (male 65.0%, female 70.5%.)

For the response for "what trigged to take health food," "Online searching by oneself" occupied the largest ratios by both males and females of young and middle generations, while "Online advertisement" occupied the largest ratio by male elderly respondents and "TV advertisement" by female older respondents. Meanwhile, the second largest response was "online advertisement" accounting for 24.0% by female respondents belonging to older generation, which indicate that longer hours at home increased the opportunities to use internet even among older generation, which has increased the opportunity for health food to be purchased via internet advertisement.

For the purpose of taking health food, improvement of immune systems accounted for 20.5% by male young generation, 24.0% by male older generation, and 24.5% by female elderly population, all exceeding 20% most probably because of COVID-19 pandemic.

Noteworthy Topics
Food with Function Claims Being Focused on for Reducing Fat around Waist and Intestinal Improvement
Among 1,200 men and women having an experience of taking health food, the most frequent users of food with function claims (more than once a week) were male young generation accounting for 56.5%, followed by male middle generation and female older generation (both accounting for 47.5%), and followed by male older generation accounting for 45.0%. Among the female respondents, those in older generation accounted for a little less than 50%, remarkably higher percentage than other generations.

The functions of Food with Function claims that people are interested in were as follows: Male respondents, regardless of age ranges, tended to be most interest in "reduction of fat around waist and of body weight," which accounted for 35.5% by young generation, 37.0% by middle generation, and 31.5% by elderly population, followed by "improvement in intestinal function/defecation and intestinal regulation" which accounted for 32.0% by young generation, 26.5% by middle population, and 26.5% by older generation. On the other hand, female respondents in elderly population were most interested in maintaining the bone health (33.5%), indicating high attention to osteoporosis, while younger generations tended to focus on fat around the waist or intestinal regulation.

Both male and female respondents showed high intention to take food with the functions claims with the functions that they are interested in: 40 to 50% by male respondents of all generations, and 50 to 60% by female respondents.

Research Outline
1.Research Period: December 2020
2.Research Object: Total 1,200 men and women from 20s to 70s who take health food currently, sometimes, or only when needed (600 each of men and women, 200 each of every age range)
3.Research Methogology: Online consumer survey (questionnaire)
What is Health Food?
Health food in this research indicates the food in the forms of tablets, capsules, powder, or bottled liquid, aiming for health maintenance and promotions, and beauty.


<Products and Services in the Market>
Health food (supplement), foods with function claims, Foods for Specified Health Uses (FOSHU)
Contact Us
©2021 Yano Research Institute Ltd. All Rights Reserved.
The copyright and all other rights pertaining to this report belong to Yano Research Institute.
Please contact our PR team when quoting the report contents for the purpose other than media coverage.
Depending on the purpose of using our report, we may ask you to present your sentences for confirmation beforehand.