Agrochemical Formulations Market in Japan: Key Research Findings 2020
Domestic Agrochemical Formulations Market Size in FY2019 Reached 324,600 Million yen, 100.6% on YoY, but Likely to End Up with 321,400 Million Yen in FY2020, 99.0% on YoY
Yano Research Institute (the President, Takashi Mizukoshi) carried out a research on the domestic agrochemical market, and found out the market trends of agrochemical formulations by demand category (farmland, non-farmland, home gardening), by type (pesticides, bactericide, insect-fungicides, herbicides, microbial pesticide and biotic pesticide,) the trends of market players, and the future perspectives.
Transition and Forecast of Agrochemical Formulations Market Size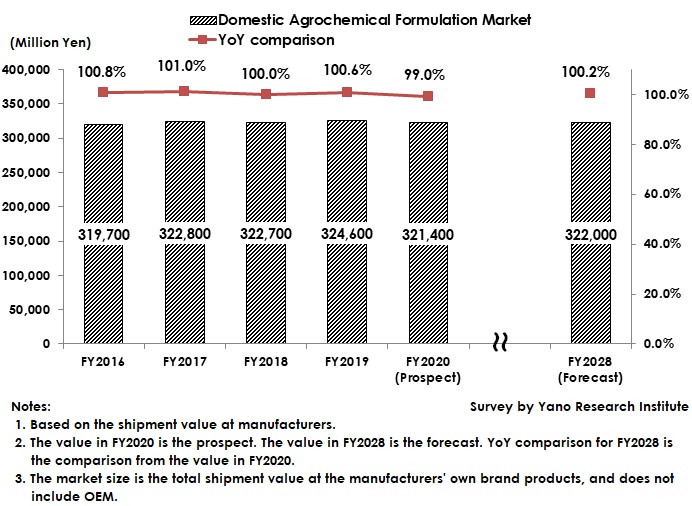 Market Overview
The domestic agrochemical formulations market size in FY2019, based on the shipment value at manufacturers, reached 324,600 million yen, 100.6% of the size of the previous fiscal year. Despite decreasing crop acreage of paddy rice and extreme weathers including torrential rains and typhoons in the same fiscal year, pesticides and bactericides for farming, herbicides for farming as well as for paddy rice all grew. The COVID-19 infections that started in the final period of 2019 led agrochemical manufacturers to voluntarily restrain from site-visit sales and also to respond to the request of ahead-of-schedule shipment, so as to prepare for potential stagnation in logistics and distributions. Nevertheless, the negative influence to the market seemed to be limited.

Noteworthy Topics
Development of Agrochemical Formulations for Drones Becoming Brisk
Because of global development and acceptance of drones for farming, there has been a growing tendency of agriculture using so called "mesomountainous" lands instead of using only flatlands.

Smart agriculture, utilizing robot technologies, ICT, and other cutting-edge technologies, has attracted attention also in Japan, as it enables labor saving and high-quality production, which led drones to spread. In the situation where the number of farming families keeps on decreasing due to aging and manpower shortage, drones have a potential to reduce labor burden and improve work efficiency. Driven by governmental support such as deregulations and adoption expenses partly aided by subsidy, adoption of agricultural drones has been on the increase.

In order to adapt to a drone which usually has limited loading capacity, agrochemical formulators have been developing highly effective formulations that work with a small dosage. They have strived for developing efficient products, such as granules that can scatter efficiently when sprinkling even in the water, rather than dust which may float in the air, unnecessarily.


Future Outlook
The domestic agrochemical formulations market size for FY2020 is expected to end up with 321,400 million yen, 99.0% of the size of the previous fiscal year. Despite deregulation and unified effort by public and private sectors for penetration of smart agriculture for the past few years, the agrochemical market has started sensing bottoming out, as crop acreage keeps on decreasing.

Because the negative conditions such as decreasing crop acreage and declining use of agrochemical likely to continue even after FY2020, the agrochemical formulations market is expected to stay leveling off. The market size is projected to reach 322,000 million yen by FY2028, 100.2% of the size of FY2020.


Research Outline
1.Research Period: August to November 2020
2.Research Object: Market players of agrochemical formulations (agrochemical manufacturers, pharmaceutical formulators, and trading companies), organizations and government offices related to agrochemical formulations, etc.
3.Research Methogology: Face-to-face interviews by the expert researchers, surveys via telephone, and mailed questionnaire
Agrochemical Formulation Market
The Agrochemical formulation market in this research refers to the market of pesticides, bactericide, insect-fungicides, herbicides, microbial pesticide and biotic pesticide.


<Products and Services in the Market>
Agrochemical, agrochemical formulations (pesticides, bactericide, insect-fungicides, herbicides, microbial pesticide and biotic pesticide)
Contact Us
©2019 Yano Research Institute Ltd. All Rights Reserved.
The copyright and all other rights pertaining to this report belong to Yano Research Institute.
Please contact our PR team when quoting the report contents for the purpose other than media coverage.
Depending on the purpose of using our report, we may ask you to present your sentences for confirmation beforehand.