Market of Data Scientists and Other Data-Analysis Personnel in Japan: Key Research Findings 2020
Number of Data-Analysis Related Personnel Expected to be 89,800 People by FY2020, and to Reach 141,900 by FY2023
Yano Research Institute (the President, Takashi Mizukoshi) carried out a survey on how many personnel there are in Japan who work as data scientists, or other data-analysis related occupation, and found out the current status, the trends of such personnel by job type, and the future outlook.
Forecast of Domestic Size of Data-Analysis Related Personnel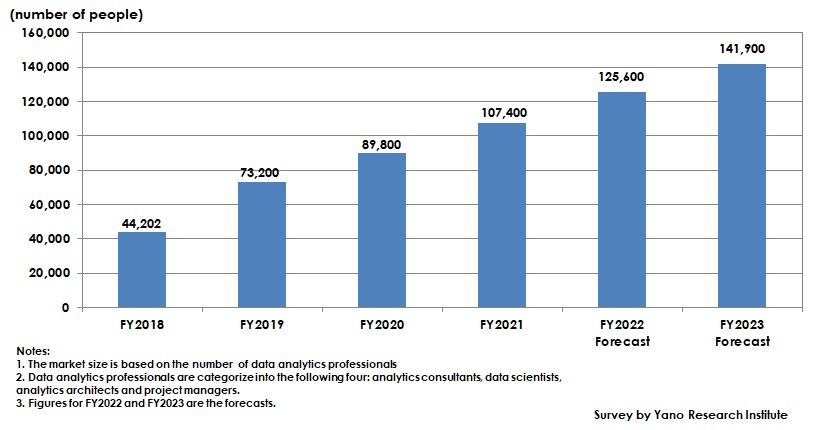 Market Overview
In the status where various sensors and smart devices have been widely accepted, enabling many companies to collect vast amount of data to be organized and analyzed for solving problems and bringing about unprecedented knowledge and information, more companies have hammered out to adopt data-driven management for utilizing data analysis for decision making. This has led some personnel for data analysis to draw attention, such as data analysis consultants, data scientists, data analysis architects, project managers, among which data scientists seem to be the most respected.

Currently, the environment surrounding personnel for data analysis has been improving: The legal system is about to be prepared for protecting and utilizing personal data as well as industrial data including trade secrets; short and mid-term educational reforms have been in progress for generating distinguished human resources, as can see from Cabinet Office's "AI Strategy 2019." Such educational reforms include revisions in the Courses of Study for elementary and secondary schools, and some universities enhancing education of data science by establishing the department as well as graduate schools for data science.

With regard to businesses, some enterprises have embarked on organizing a data-analysis project team, starting with recruitment of mid-career professionals. However, the candidates qualified for the job are, all in all, very limited. Therefore, companies have initiated educating and training their existing science-oriented employees including system engineers through continuing education, aka recurrent education.

*Recurrent education is the system to provide the opportunity of education and/or training for business people within or outside the company (often at some educational institutions like universities and other companies).

Noteworthy Topics
Acceleration Observed in IT Businesses to Build a Structure to Secure Distinguished Human Resources, and in User Companies to Utilize More Data
Chiefly at major IT businesses, some recruitment programs targeting mid-career professionals and graduate-school students with remarkable results for high annual salaries have been implemented to firmly secure good human resources. For new graduates, various in-house education courses have been provided, including some classes for "Python," a programming language suitable for data analysis.

On the other hand, user companies, including those in the manufacturing industry and retailers intending to shift to data-driven management, have positioned data scientists as their instructors for such shift. Such companies tend to encourage their employees at various sites to take data-analysis training, in conjunction with nurturing data scientists. Obviously, more companies have started using data scientists both for in-house and external activities, the former for enhancement of job efficiency and product improvement, and the latter for providing other companies with new data analysis solutions.

Also, educational businesses have accelerated their activities for educating data scientists at IT businesses and user companies. Mainly those companies established within universities or those businesses that excel in data analysis, have many educational programs certified by the authorities and place emphasis on bringing up data scientists against the backdrop of "Certification Issued for the Courses on IT-Skill Training to Meet the Era of the Fourth Industrial Revolution."


Future Outlook
The number of data-analysis related personnel is expected to reach 141,900 by FY2023.

As more data analysis projects are increasing, regardless of whether they have something to do with AI or IoT, the demand for data-analysis related personnel, i.e. data analysis consultants, data scientists, data analysis architects, and project managers, are likely to expand furthermore.

Because of the following reasons, the size of data-related personnel increases: Both IT businesses and user companies continue the vigorous adoption and education of personnel for data scientists; many tools for supporting data scientists emerge to make the education less difficult; and those architectures that implement business models into a system increase.


Research Outline
1.Research Period: October to December 2020
2.Research Object: Domestic IT businesses, businesses specific in analysis and the user companies, etc.
3.Research Methogology: Face-to-face interviews by our expert researchers, surveys via telephone and email, and literature research
What is Data-Analysis Related Personnel?
Data-analysis related personnel in this research is categorized into the following types of personnel that comprise a data analysis project: 1) Data Analysis Consultant (Involves with creating a data utilization strategy for the data analysis project) 2) Data Scientist (Involves with developing a model based on the analysis via data collection and programming language), 3) Data Analysis Architect (Involves with the phase of implementing the models developed by the data scientist to a system) and 4) Project Manager (Presides over the data analysis project). The market size has been calculated based on the number of personnel of the above-mentioned four types.


<Products and Services in the Market>
Data analysis consultant, data scientist, data analysis architect, project manager
Contact Us
©2019 Yano Research Institute Ltd. All Rights Reserved.
The copyright and all other rights pertaining to this report belong to Yano Research Institute.
Please contact our PR team when quoting the report contents for the purpose other than media coverage.
Depending on the purpose of using our report, we may ask you to present your sentences for confirmation beforehand.