Gift Market in Japan: Key Research Findings 2020
Domestic Gift Market Expected to Drop to 92.4% YOY for 2020 to Attain 9,884 Billion Yen
Yano Research Institute (the President, Takashi Mizukoshi) has conducted a survey on domestic gift market, and found out the trends by occasion, the trends by channel, the trends by item, the trends at market players, and the future perspectives.
Transition and Forecast of the Gift Market Size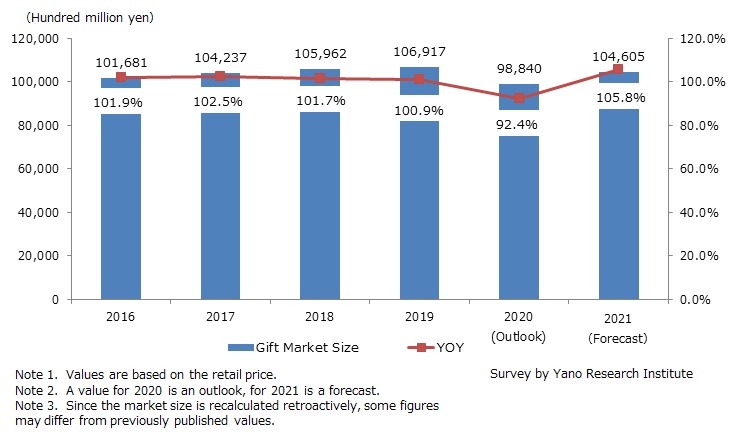 Transition and Forecast of the Mid-year Presents and Year-end Presents Market Size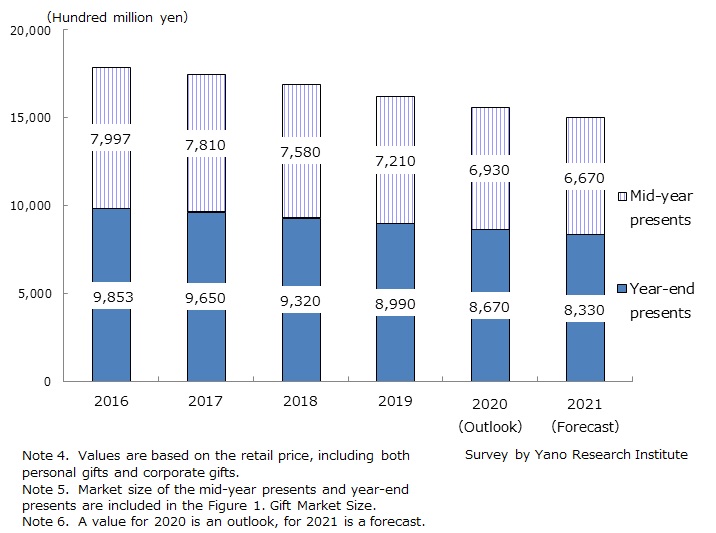 Market Overview
Size of the domestic gift market attained 100.9% of the previous year to reach 10,691.7 billion yen for 2019, while it expects to diminish to 92.4% year-on-year for 2020, yielding 9,884 billion yen.
Despite the shrinkage of formal gifts, which involves more of a customary element, 'gift giving' as a means of communication is inherited in a way that conforms to modern society, and it is gaining more significance especially for those on intimate terms. In recent years, the domestic gift market had shown moderate growth; however, for 2020, it was seriously impacted by the novel coronavirus. During the COVID-19 calamity, major occasions of formal gifts, such as wedding celebrations and funerals, were mostly cancelled, postponed, or scaled down, therefore significantly decreasing opportunities of gift giving. On the other hand, informal gifts such as casual presents given to close friends and families for birthdays, mother's day and father's day, enjoyed good sales. While voluntary lockdown made it difficult for people to see each other lightheartedly, gift giving is being utilized as a means of communication.

Noteworthy Topics
"Ki-sei-bo (Homecoming Gifts)": A New Demand that Sprung from COVID-19 Crisis
In recent years, the market of mid-year presents and year-end presents were on decline, due to diversification of lifestyle, transition in people's preference for a way of socializing, and the trend to do away with formalities. Nevertheless, the market witnessed an irregular trend in 2020. As the sales battle of the mid-year presents was right in the middle of the declaration of state emergency, the market saw new positive elements: For example, as a way of communication, some people sent mid-year presents to elderly parents and relatives instead of visiting them, and others look to treat themselves by purchasing relatively expensive products for themselves. This trend became even more eminent during the sales battle of the year-end presents, and it even coined the term "Ki-sei-bo", which refers to an act of sending year-end present (sei-bo) instead of homecoming (ki-sei).


Future Outlook
For 2021, the domestic gift market is projected to rise to 105.8% of the previous year, reaching 10,460.5 billion yen.
Although a trend of gifts for 2021 and onward will be largely dependent on when the pandemic will be over, once it becomes practicable for people to organize ceremonial events such as wedding celebrations/receptions and Buddhist mourning ceremonies, market recovery may be expected to some degree for gifts that have decreased sharply during the COVID-19 crisis, i.e. "gifts for wedding celebration", "presents given in return for wedding gifts", "wedding ceremony presents from the newlyweds (wedding favors)", and "koden-gaeshi (present given in return for funeral offering)/ hoyo-gaeshi (present given in return for annual Buddhist memorial service)". While formal gifts continue to dwindle by lifestyle diversification, changes in people's attitudes toward a way of socializing and skipping formalities, the gift market is assumed to make an upward turn with increased demands in accordance with an end of COVID-19 calamity.


Research Outline
1.Research Period: October to December 2020
2.Research Object: Wholesalers and makers of gifts, and retailers (department stores, GMS, specialty stores, mail orders)
3.Research Methogology: Face-to-face interviews by the expert researchers, survey by telephone, mailed questionnaire, and literature survey
What is the Gift Market?
In this research, the gift market refers to personal and corporate gifts/presents, including demands for mid-year presents and year-end presents.


<Products and Services in the Market>
The gifts include items given to recipients with an intention, such as to celebrate, to show gratitude, to greet, or to express an apology. Givers of the gifts include not only individuals but also corporate entities. Corporate gifts include products given to customers as novelty or campaign giveaway, as well as gifts given by employers to employees as anniversary gifts, company benefit gifts, or incentives.
Contact Us
©2019 Yano Research Institute Ltd. All Rights Reserved.
The copyright and all other rights pertaining to this report belong to Yano Research Institute.
Please contact our PR team when quoting the report contents for the purpose other than media coverage.
Depending on the purpose of using our report, we may ask you to present your sentences for confirmation beforehand.