Corporate Questionnaire on Use of SaaS for ERP, CRM, and SFA in Japan: Key Research Findings 2020
Researched on Usage Rate of Cloud-Based ERP, CRM, and SFA
Yano Research Institute (the President, Takashi Mizukoshi) carried out a mailed questionnaire to domestic private companies on the implementation rate of SaaS to their enterprise software such as ERP, CRM, and SFA.
Adoption Rate of SaaS and Plans to Adopt SaaS in the Next System Upgrade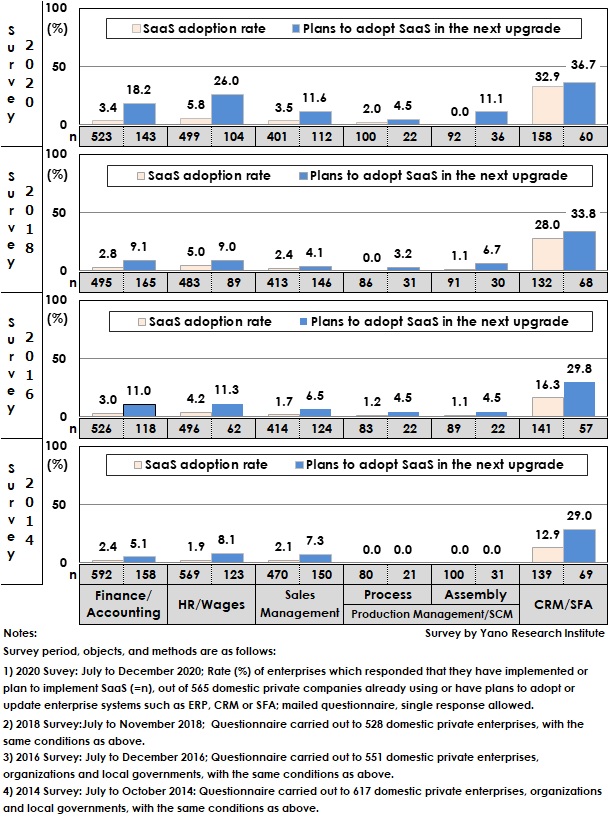 Market Overview
The questionnaire regarding adoption of ERP (finance/accounting, HR, sales administration, and production management/SCM), CRM and SFA was carried out targeting domestic private companies during the period between July and December 2020, which was responded back by 565 enterprises.

The survey this time showed a considerable rise in the rate of those companies that responded "Plans to adopt SaaS in the next upgrade." The adoption rate of software for finance/accounting increased to 18.2% in 2020, twice as large as 9.1% in 2018, and that of software for HR/wages rose to 26.0% in 2020, almost three times larger than 9.0% in 2018.

Although the rate of using SaaS for finance/accounting only accounts for 3.4%, and for HR/wages 5.8%, the survey indicates that more enterprises have become interested in SaaS.

Of the five categories, CRM/SFA earned the highest 36.7% of response rate for "Plans to adopt SaaS in the next upgrade," and the adoption rate of SaaS has reached 32.9%, already common to use SaaS for the categories.

Noteworthy Topics
Increasing Demand for Cloud In COVID-19 Calamity Gained Upper Hand
While ERP has stably shifted to cloud-based, the shift from 2014 to 2018 was little by little, and the research this time showed sharp growth in demand for cloud-based ERP.

The COVID-19 pandemic has driven many companies to use online and encouraged employees to work at home, which suddenly increased the demand for cloud services. This can also apply to ERP and other enterprise software, increasing the demand for SaaS due to its high convenience in the business environment during the COVID-19 calamity, the condition of which may continue even after the pandemic.


Future Outlook
Hereafter, SaaS is expected to be increasingly used for back office tasks (e.g. finance & accounting, HR & wages, etc.) because these tasks do not largely differ by company.

On the other hand, the tasks for sales administration, production management and SCM tend to largely differ by each company, so that there still are not many SaaS for such tasks. As the recent eagerness in users to use SaaS, some vendors are expected to strive to provide SaaS in response to such users.

For CRM and SFA, SaaS is projected to continue driving the market.


Research Outline
1.Research Period: July to December, 2020
2.Research Object: Domestic private companies
3.Research Methogology: Registered questionnaire mailed and literature search
Markets of ERP, CRM, and SFA
ERP is a software package to integrate and streamline corporate mission-critical processes across finance, HR, sales administration, production management and others, which used to be managed separately within the company.
CRM refers to software for the companies to build a CRM system aiming to improve customer management and services.
SFA refers to software for companies to manage and streamline the activities of their sales reps.

<About Corporate Questionnaire >
The questionnaire was sent to domestic private companies nationwide to find out the implementation status of ERP, i.e., mission-critical software regarding finance/accounting, HR/wages, sales administrations, and production management/SCM, of CRM and SFA. The survey also found out adoption of packaged software, SaaS, cloud platform (PaaS/IaaS), and in-house systems, the date and year adopted, any plans for update, satisfaction degree, intention to further invest in ERP and etc.


<Products and Services in the Market>
The systems for finance/accounting, HR/wages, sales administrations, production management/SCM, and those for CRM and SFA.
Contact Us
©2019 Yano Research Institute Ltd. All Rights Reserved.
The copyright and all other rights pertaining to this report belong to Yano Research Institute.
Please contact our PR team when quoting the report contents for the purpose other than media coverage.
Depending on the purpose of using our report, we may ask you to present your sentences for confirmation beforehand.