Domestic Traveling in COVID-19 Era in Japan: Key Research Findings 2020
Yano Research Institute (the President, Takashi Mizukoshi) carried out a survey on the trends of domestic tourism affected by the COVID-19 pandemic and found out the themes that represent the domestic traveling in the era "with COVID-19 infections" and disclosed the perspectives at major businesses together with their respective conditions and backgrounds.
Keywords for Tourism in COVID-19 Calamity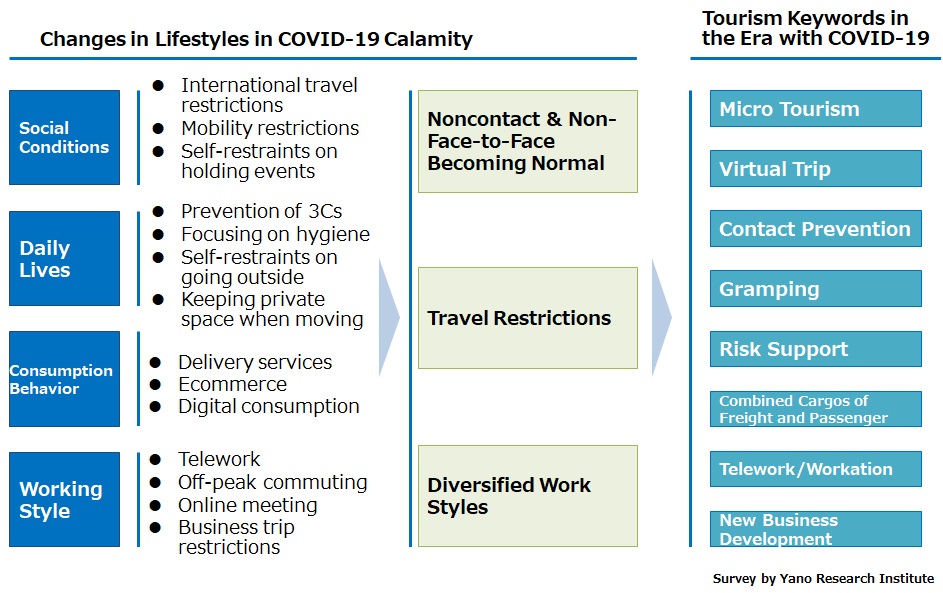 Directions of Business Development by Companies of Traveling and Tourism

Summary of Research Findings
According to "Survey on Tourism Consumption Trends" by Japan Tourism Agency, the domestic tourism consumption had been growing until 2019, due to recovery in the number of Japanese tourists traveling in Japan, increase of unit price per travel, and increase in the number of Japanese people traveling overseas and of people from abroad traveling Japan. In 2020, however, as the COVID-19 infections globally spread, the environment surrounding the tourism drastically changed.

Traveling and entry restrictions worldwide led to disappearance of both the visitors from overseas (inbound tourists) and Japanese travelers to overseas (outbound tourists), which gave a hard blow to the domestic tourism industry.

In the status where no sign of recovery is expected in inbound and outbound tourisms, the domestic travelers traveling Japan have become more important than before. According to the survey by Japan Tourism Agency, Japanese domestic tourism consumption attained 21.9 trillion yen in 2019, showing a gigantic market. Therefore, it can be said that stimulating domestic travelers to travel Japan, while establishing new tourism styles and services in the COVID-19 calamity, is effective for recovery of the tourism. It is also hoped that the domestic tourism demand would replace the conventional outbound demand.

Meanwhile, the Japanese companies in tourism are generating new business strategies one after another relating with the keywords "micro tourism" and "virtual trips." The fact that various services relating with these keywords have been offered since only a few months after April 2020 when traveling was self-restrained throughout the nation, shows how abundant the experience value of the tourism enterprises is, and how such experiences can be an enormous motivation power to achieve growth after the COVID-19 infections.

Although it is largely dependent on the spread status of COVID-19 infections and to the vaccine preparations, the tourism in new normal has started based on new traveling styles, boosted by "Go To Travel" campaign led by the government.

Noteworthy Topics
Key is to Provide Speedy Services According to Infection Statuses
In the initial phase of COVID-19 infections, those businesses that increased in the tourism were those that started offering new services to existing customers (B: New Product Development Strategy), those that offered the services by changing the target audience (C: New Market Exploration Strategy), and those that started brand new business (D: Diversification Strategy).

As for the business that provide existing services to existing customers (A: Market Penetration Strategy), the basis is to provide the tourism products and services that travelers can safely use, by taking thorough measures to prevent infections. In addition to this, the companies have begun generating and offering products and services that conform to the changes in social conditions in the COVID-19 calamity, such as "Telework Plans" and "Workation Plans" that have begun being provided by increasing number of accommodation businesses. Some travel agencies, tourism facility operators, and transportation companies have also generated their products regarding "Workations."

The case that most represents "B: New Product Development Strategy" is virtual trips. It is an online guide to some locations and is a new business for serving existing customers who cannot travel around in the COVID-19 calamity. There also are many tourism companies that newly built e-commerce websites to sell the local specialties.

The cases of "C: New Market Exploration Strategy" are represented by some accommodation businesses having started providing rooms not for individuals but for telework spaces for some companies, some transportation businesses, such as airline, railway, and express buses, having commenced transportation of perishables instead of passengers, and some taxi companies having started food delivery services.

Major companies with enough capital have already started "D: Diversification Strategy." Although some major travel agencies have tried to diversify their business even before COVID-19 infections, they still depend on travel business as their revenue bases. Now that the world is affected by the pandemic, it is imperative for them to diversify their business furthermore.

In the COVID-19 calamity where thorough measures must be taken to prevent infections when providing travel services, a travel agency can strengthen its management base by enhancing what it conventionally excels at, together with by developing its new business having started since the initial infection phase. As a market penetration strategy, some travel agencies try to meet the demand by generating and providing travel products and services with thorough infection-prevention measures taken in order for those eager-to-travel consumers to safely enjoy. Some even provides travel plans that include taking PCR tests.

As a case that developed from the new business in the beginning phase of infections, some travel agencies that started offering virtual trips now provide not only to individuals but to companies and schools. Also, there are some cases where accommodation businesses started opening satellite offices for corporate members. All these companies are striving to expand their tourism business in the COVID-19 calamity.

Research Outline
1.Research Period: June to October 2020
2.Research Object: Domestic travel agencies, companies in the business of accommodation, traffic, tourist facilities, and other business in tourism
3.Research Methogology: Face-to-face interviews by our expert researchers, survey via email/telephone, and literature research
The Domestic Tourism Market
The domestic tourism market in this research refers to domestic day trips and trips using accommodation by Japanese travelers. The tourism services for individuals and corporations by travel agencies are included in the market.


<Products and Services in the Market>
Domestic day trips by Japanese travelers,, domestic trips using accommodations by Japanese travelers, The tourism services for individuals and corporations by travel agencies
Published Report
Contact Us
©2019 Yano Research Institute Ltd. All Rights Reserved.
The copyright and all other rights pertaining to this report belong to Yano Research Institute.
Please contact our PR team when quoting the report contents for the purpose other than media coverage.
Depending on the purpose of using our report, we may ask you to present your sentences for confirmation beforehand.