RPA Market in Japan: Key Research Findings 2020 RPA Market Expanding Extensively: Market Size for FY2020 Projected to Rise by 37.6% YOY to Reach 72,900 Million Yen
Yano Research Institute (the President, Takashi Mizukoshi) has carried out a survey on the domestic market of RPA (Robotic Process Automation), and found out the market size, the market trends, and the future outlook.
RPA Market Size Transition and Forecast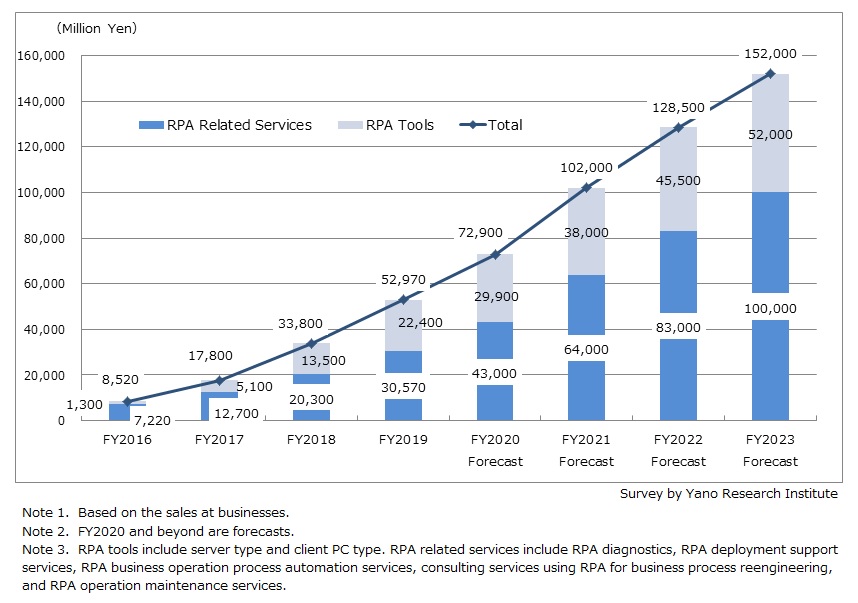 Market Overview
The RPA market for FY2019 is projected to grow to 52,970 million yen (up 56.7% YOY) based on the sales at businesses, in which sales of RPA tools account for 22,400 million yen (up 65.9% YOY) and RPA related services 30,570 million yen (up 50.6% YOY). Although penetration rate was already high among large companies, it was found out that the market is still expanding rapidly, and an upward trend stays strong.
The market size for FY2020 is forecasted to reach 72,900 million yen (up 37.6% YOY) with sales of RPA tools accounting for 29,900 million yen (up 33.5% YOY) and RPA related services 43,000 million yen (up 40.7% YOY). While the market continues to rise for FY2020, slowdown in growth rate is anticipated compared the previous fiscal year, as COVID-19 has curbed IT investments and limited business activities by RPA tool vendors, such as reducing face-to-face customer meeting opportunities.

Noteworthy Topics
RPA Moves to Next Phase: From 'Boom' to 'Full Scale Expansion'
Deployment of RPA boomed a couple of years ago, gathering great attention. Introduction of systems proceeded rapidly, and viewing from deployment rate at users, it can be said that it has already penetrated throughout large companies. However, at many companies, RPA is used in very small-scale, replacing only a small fraction of business operations.
While potential of the RPA market is large in essence, challenges remain because most user companies are still struggling to achieve mastery of RPA, and therefore have not been able to enjoy full advantage of deployment. User companies that successfully introduced such technologies are expanding the use of RPA through trials such as installation of company-wide server type RPA and proactive use of desktop RPA at field division. Although it is assumed that utilization and application of RPA at user companies moves into expansion phase from FY2020 and beyond, it will be critical for more user companies to feel successful about implementation of RPA.


Future Outlook
In the short to medium term, the trend is favorable for the RPA market.
As telework increased, more companies started to work on improving efficiency of their workflow, such as going paperless and promoting digitization by getting rid of using "hanko" seals (stamps). At companies experiencing downturn in business due to COVID-19 calamity, needs increased to reduce manpower and cost; meanwhile, at companies making an upturn due to rise in demand, utilization of RPA is also effective in order to carry out business processes promptly with current staff organization.
From FY2021 and beyond, it is assumed that the market expects further growth in the medium term, and by FY2023 size of the RPA market will expand to 152,000 million yen based on the sales at businesses, of which sales of RPA tools account for 52,000 million yen and RPA related services 100,000 million yen.


Research Outline
1.Research Period: Vendor survey: September to November 2020, User survey: July to September 2020
2.Research Object: Vendors: RPA tool vendors, consulting firms, system integrators, etc. Users: domestic private companies
3.Research Methogology: Vendor survey: Face-to-face interviews by the expert researchers and literature survey. User survey: Questionnaire by mail.
What is RPA Market?
RPA (Robotic Process Automation) is a technology involving software robots to automate simple work such as PC tasks done by humans or more complex business operations.
In this research, the RPA market indicates RPA tools (including both server types and client PC types) and overall RPA-related services, i.e. RPA diagnostics, RPA deployment support services, RPA business operation process automation services, consulting services using RPA for business process reengineering, and RPA operation maintenance services.





<Products and Services in the Market>
RPA tools, RPA related services
Contact Us
©2021 Yano Research Institute Ltd. All Rights Reserved.
The copyright and all other rights pertaining to this report belong to Yano Research Institute.
Please contact our PR team when quoting the report contents for the purpose other than media coverage.
Depending on the purpose of using our report, we may ask you to present your sentences for confirmation beforehand.