IT Investment in Japan: Key Research Findings 2020
Yano Research Institute (the President, Takashi Mizukoshi) carried out a survey on IT investment at domestic private enterprises for FY2020 and the future trends.
Transition and Forecast of IT Market Size at Domestic Private Enterprises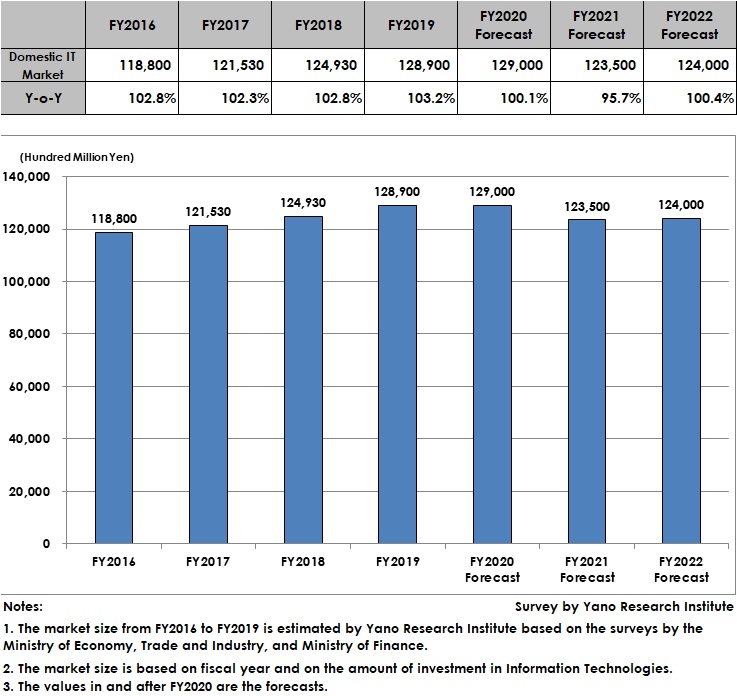 To Which Item IT Investment Increased or Decreased in COVID-19 Calamity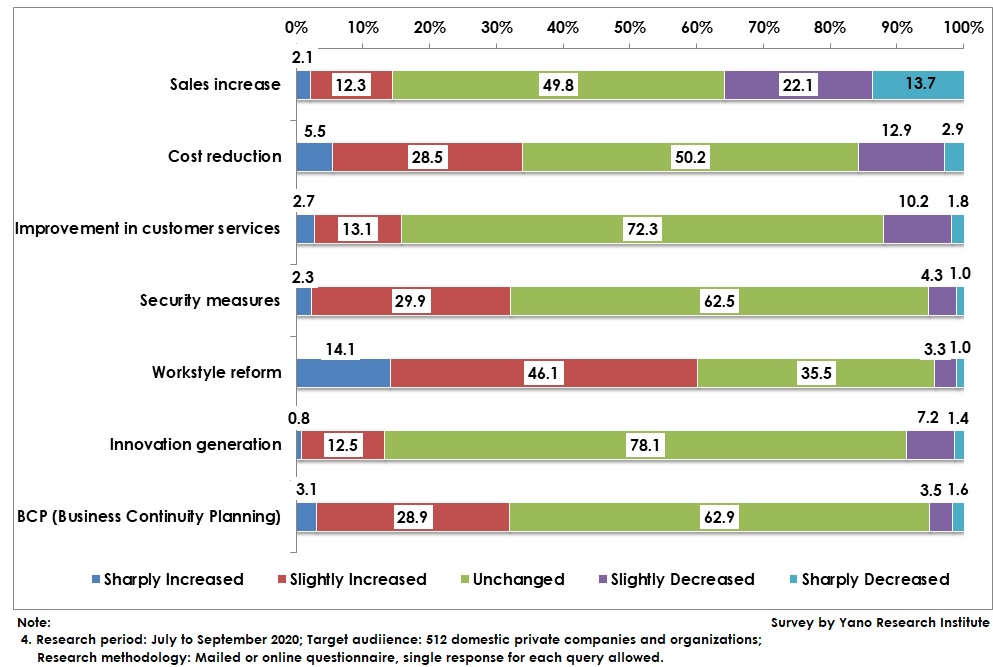 Market Overview
The market size of IT (including hardware, software and services) at domestic private enterprises in FY2019 was estimated as 12,890 billion yen, a rise by 3.2% on a year-on-year basis. The stable growth was caused by the companies reconstructing and updating of existing systems, upgrading of Windows7 to Windows10 due to expiration of maintenance support, and increased demand for responding to last-minute surge in demand just before the consumption tax hike and for coping with tax rate changes and revision of era name. Investment to DX (digital transformation) has been vigorous among major companies, but no significant changes have generated in small-to-middle-size companies.

Noteworthy Topics
COVID-19 Pandemic Encourages 60% of Companies to Increase IT Investment for Workstyle Reform
In the questionnaire, companies were asked about some changes affected by the COVID-19 pandemic in investment to IT, and 512 domestic private companies responded back. For the question, to which of the following items, i.e. sales increase, cost reduction, improvement of customer services, security measures, workstyle reform, innovation generation, and BCP that IT Investment increased or decreased in the COVID-19 calamity, the respondents were asked to choose one option from "Sharply increased" "Slightly increased" "Unchanged" "Slightly decreased" and "Sharply decreased" for each of the target items for IT investment.

As a result, total 60.2% of the respondents answered that IT investment for workstyle reform "Sharply increased" or "Slightly increased," which were the highest ratio among the items asked. After February 2020, many companies rapidly introduced telework and allowed their employees to work at home. This quickly expanded the demand for notebook laptops and web conference systems. As working styles and working places diversify in the COVID-19 calamity, IT investment for workstyle reform is expected to expand furthermore.


Future Outlook
The market size of IT (including hardware, software and services) at domestic private enterprises in FY2020 is forecasted to slightly rise by 0.1% on a year-on-year basis to reach 12,900 billion yen, but to decline by 4.3% to 12,350 billion yen in FY2021, and recover by 0.4% to attain 12,400 billion yen in FY2022.

In FY2020, while the COVID-19 pandemic has affected negatively to postpone or abandon some IT investment projects, it has also affected positively to have increased capital investment for improving telework environment, and overall implemented large-scale reconstruction of IT systems into open structure at some major companies as planned. When totaling up, the market size in FY2020 is projected to be the same level as the previous fiscal year.

As the sales slump at companies caused by COVID-19 infections is likely to become obvious, IT investment is forced to diminish, reflected in postponement or discontinuing of some non-essential or non-urgent systems and services. The market size in FY2021 is, therefore, projected to decline by 4.3% from the previous fiscal year.

After FY2022, against the backdrop of the global economy being expected to recover, full-scale adoption of 5G, promotion of workstyle reform, spread of AI and IoT due to progress in data utilization, and with all of the above requiring the security measures, the market is likely to gradually expand.


Research Outline
1.Research Period: July to October 2020
2.Research Object: Domestic private companies, etc.
3.Research Methogology: Mail-in registered questionnaire to private companies, and literature research
The IT Investment Market Size at Domestic Private Enterprises
Size of the IT investment market at domestic private enterprises in this research is calculated based on the amount of investment in IT at domestic private enterprises, being added with the information based on the surveys by the Ministry of Economy, Trade and Industry, and Ministry of Finance, together with the results of the questionnaire conducted by Yano Research Institute to domestic companies regarding IT investment.
*Period of Questionnaire Carried Out: July to September 2020; Target Audience: 565 domestic private companies and organizations; Methodologies: Mailed and online questionnaire.


<Products and Services in the Market>
IT investment at domestic private enterprises (hardware, software development from scratch, software package introduction and customization, outsourcing services for maintenance and operations, online services for ASP/cloud, access charges, consulting, etc.
Contact Us
©2019 Yano Research Institute Ltd. All Rights Reserved.
The copyright and all other rights pertaining to this report belong to Yano Research Institute.
Please contact our PR team when quoting the report contents for the purpose other than media coverage.
Depending on the purpose of using our report, we may ask you to present your sentences for confirmation beforehand.