Brands' Digital Marketing Strategies in Japan: Key Research Findings 2020
Yano Research Institute (the President, Takashi Mizukoshi) carried out a survey on the domestic brand marketing strategies at apparel and cosmetics industries and disclosed the trend by brand type, trend of leading companies, their directions and challenges, and future perspectives.
Comparison of Digital Marketing at Brands by Type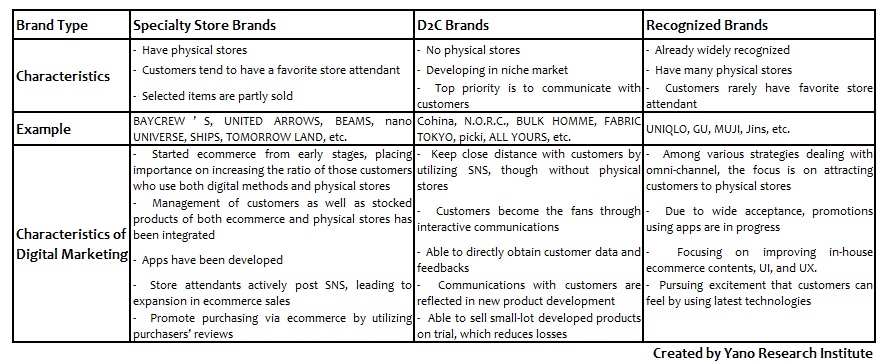 Summary of Research Findings
Shifting to digitization, which has been a sure thing for coping with advanced IT technologies causing some changes in social environment and alteration in consumers' purchasing activities in addition to progressive deflation and aging society coupled with decreased children, has at once accelerated by the rapidly established new lifestyles in the COVID-19 calamity.

Digital marketing strategies at apparel and cosmetics brands are in progress but differ by their positioning, products they deal in, how they are founded, and their business forms: There are those brands already widely recognized; those brands in niche market and are aiming at increasing brand awareness; those brands majorly using conventional physical stores; or those D2C (Direct to Consumer) brands recently attracting attention.

This research has categorized the apparel and cosmetic brands into the following three types: 1) Specialty store brands with the characteristics of making their employees into influencers and using of live commerce in progress, but also have the challenge to construct an assessment system, 2) D2C (Direct to Consumer) brands are characterized as those grown with digital marketing, though the sales size is small. They need to appeal to the mass hereafter and increase awareness, and 3) Recognized brands are those that press ahead with one-to-one marketing as well as omni-channel strategy by utilizing apps. This type of brands considers it important to develop ecommerce in China for sales expansion and to expand the market itself.

Noteworthy Topics
Regular Employees Becoming Influencers at Specialty Shop Brands
Many of in-house web pages (owned media) developed in the apparel and cosmetic industries used to be operated separately into in-house ecommerce website, brand website, and websites that provide contents. Today, most of the brands have integrated these websites, which brought about some advantages such as reduced human workload, easier connection with other in-house information, and easier guidance for buying the products. Each company regards ecommerce websites as a starting point of the digital strategy, which include improvement of UI (user interface) and UX (user experience) to conform to the operational policy and identity of each brand. At ecommerce websites, the ratio of users using both digital methods and physical stores is regarded important.

Activities particularly prominently seen in the COVID-19 calamity are on live videos/streaming on Instagram and live commerce by some brands. As the employees and sales staff at companies in fashion and cosmetic industries have already excelled at posting information on the latest products or the coordination using fashion items via Instagram and YouTube, it seems to have been quick to shift to videos and streaming. Currently, some brands are strengthening the strategy furthermore by training dozens of their willing employees to make them influencers. On the other hand, the challenge for such companies and brands is the way to assess their teams engaging in ecommerce, digital marketing and sales staff that are trying to press ahead with digital shift. There have been some divergences within a company or a brand in promoting digital shift, as staff at physical stores prevented from guiding customers to ecommerce for fear not to be deprived of customers from ecommerce, despite their awareness in importance of digital shift. Those companies and brands that considered this as critical issue and tackled with company-wide digital shift have achieved evolution and expansion.

Research Outline
1.Research Period: July to September 2020
2.Research Object: Companies and brands in the fashion industry and the cosmetics industry
3.Research Methogology: Face-to-face interviews by the expert researchers, surveys via telephone/email, questionnaire, and literature research
What are Digital Marketing Strategies at Brands?
The digital marketing strategies in this research refer to the communication strategies by the brands in the fashion industry and cosmetic industry to use the tools such as apps and SNS for digital communications and improvement of customer experiences, and to use ecommerce developed in-house or/and opening ecommerce stores at external online malls, as well as digital communications using web pages (owned media).


<Products and Services in the Market>
Instagram, Twitter, Facebook, TikTok, YouTube, Line, Other apps, In-house ecommerce and web pages, Utilization of external ecommerce malls by the brands in the industries of fashion and cosmetics
Contact Us
©2019 Yano Research Institute Ltd. All Rights Reserved.
The copyright and all other rights pertaining to this report belong to Yano Research Institute.
Please contact our PR team when quoting the report contents for the purpose other than media coverage.
Depending on the purpose of using our report, we may ask you to present your sentences for confirmation beforehand.