Beverage Co-Packer Market in Japan: Key Research Findings 2020
Yano Research Institute (the President, Takashi Mizukoshi) has carried out a survey on domestic beverage contract packer (co-packer) market, and found out the trends by area, the trends by product category, the trends at market players, and the future perspectives.
Transition of Beverage Co-Packer Market Size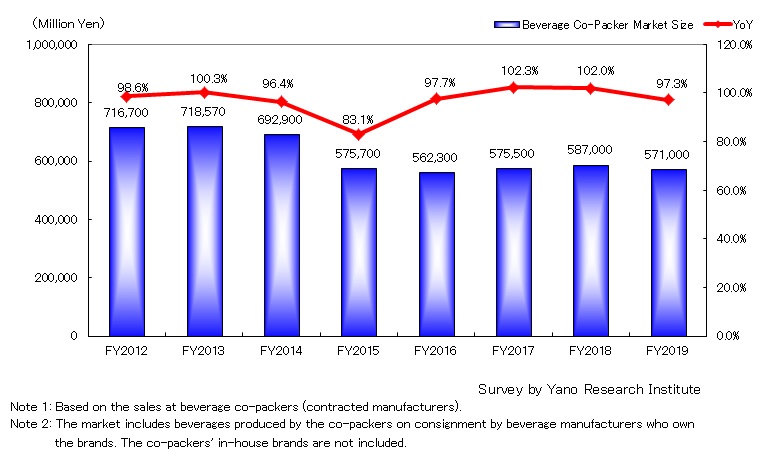 Market Overview
The domestic beverage co-packer market size for FY2018, based on the sales at beverage co-packers, grew to 587,000 million yen, 102.0% of that of the previous fiscal year, but for FY2019, it scaled down to 97.3%, yielding 571,000 million yen.

Expansion of the beverage market in FY2018 stemming from record-breaking heat waves drove the sales of beverage co-packers (hereafter referred to as "co-packers"), although the co-packers had no spare capacity to meet part of additional production request by beverage brand owners. Nevertheless, drop in the beverage market for the first time in five years affected the co-packer market for FY2019.

As co-packers are forced to play the role of a regulator for fluctuation in the beverage market, when the beverage market levels off or shrinks, it is likely to shrinks as well; in reality, ups and downs of the beverage market influence sales of the packers significantly. In FY2020, due to COVID-19 stay-at-home advisory and restrictions, sales at many co-packers declined at the level worse-than-average of the beverage market.

Noteworthy Topics
COVID-19 Impact on Beverage Co-Packer Market
Slowdown in the beverage market owing to COVID-19 also impacted the co-packer market significantly. The state of emergency associated with the spread of infection led brand owners to cancel consignments, which resulted in a sharp drop in production at co-packers, with some co-packers shutting down production line temporarily. Although orders recovered from June-early July, influence of cold summer and another wave of infection led to adjustments of production again. Had it been under normal circumstances, co-packers operate at full capacity during summer time. Tremendous impact was imposed on co-packers.


As beverage brand owners came to a conclusion that good sales of new products cannot be expected due to lack of active sales promotions in COVID-19 calamity, to secure sales, they started focusing on reinforcement of main brands produced in-house. As a result, co-packers are put at a disadvantage. The situation exposed the weakness of the co-packer market explicitly.


Future Outlook
In the situation where decline in medium-to-long term view is anticipated for the beverage market, environment for the beverage co-packer market is harsh and constant growth is hard to expect. Moreover, beverage brand owners are currently focusing more on in-house manufacturing, by increasing the ratio of in-house manufacturing on core items and items expecting demand in volume, such as carbonated beverages, tea drinks, and mineral waters. Because of this movement, volume of contracted manufacturing is assumed to diminish in a medium-to-long term perspective, and objects of contracted manufacturing will shift more to products that takes time to produce or products in small lot.


Nevertheless, since there are limits to in-house production at brand owners, decline in the co-packer market is assumed to stop in a couple of years. In addition, increase of PB (private brand) at retailers is a sales booster for co-packers. Although production of PB products at convenience stores and mass retailers are consigned generally to major beverage manufacturers, opportunities are expanding for co-packers as there are many cases that small-to-medium size retailers, retailers in country sides, and drugstore chains contract with co-packers.


Research Outline
1.Research Period: July-September 2020
2.Research Object: Beverage contract manufacturers (beverage co-packers), beverage manufacturers (brand owner companies)
3.Research Methogology: Face-to-face interviews by the specialized researchers, survey via telephone/email, and literature research
Beverage Co-Packer Market
The beverage co-packer market in this research indicates the market of beverage production by the packers on consignment from beverage manufacturers who own the brands. The co-packers' in-house beverage brands are not included.


<Products and Services in the Market>
Carbonated beverages, beverages with fruit juice, tea drinks, coffee drinks, mineral water, soy milks, vegetable juice, sports and functional drinks, milks, and other soft drinks.
Contact Us
©2019 Yano Research Institute Ltd. All Rights Reserved.
The copyright and all other rights pertaining to this report belong to Yano Research Institute.
Please contact our PR team when quoting the report contents for the purpose other than media coverage.
Depending on the purpose of using our report, we may ask you to present your sentences for confirmation beforehand.