General Printing Market in Japan: Key Research Findings 2020
Yano Research Institute (the President, Takashi Mizukoshi) has conducted a survey on the domestic general printing market and has found out the market trends by printing category and the future outlook.
Transition and Forecast of Domestic General Printing Market Size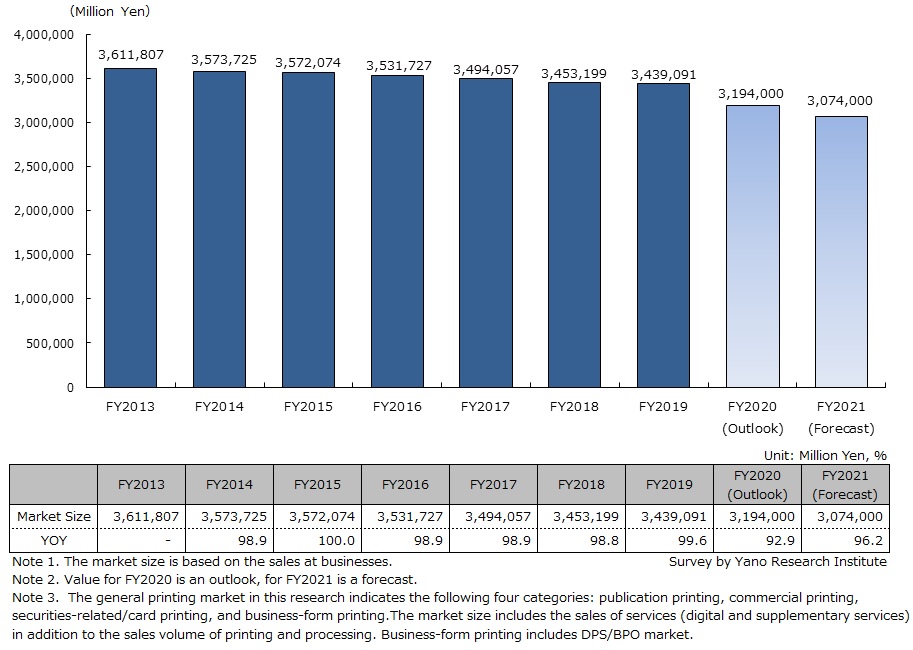 Market Overview
The FY2018 domestic general printing market decreased by 1.2% from the previous fiscal year to attain 3,453,199 million yen, based on the sales at businesses. While the level of decline was smaller in DPS (Data Print Service) and BPO (Business Process Outsourcing) market in business form printing and demand for disclosure-related printing rose due to ongoing boom of the securities market, the production printing market continued to scale down and commercial printing diminished due to significant demand shrinkage for printed materials.
Downturn trend slowed down but continued in FY2019 for the domestic general printing market: The market is projected to be down 0.4% from the preceding fiscal year to yield 3,439,091 million yen.
When looking at the sales by printing categories, publication printing and commercial printing followed the same trend as FY2018. Nonetheless, various government policies along with the raise of consumption tax to 10% amplified demand for cashless payment services, IC card services, and premium gift vouchers. Moreover, disclosure-related services continued to sell well, and despite sluggishness in the BPO market, the business-form market stayed flat and DPS market continued expanding. These positive factors are assumed to have mitigated shrinkage of the market.

*DPS is an inclusive service for creating notifications such as invoices and statements, which covers data processing, printing, fulfillment, and posting (mail out).



Noteworthy Topics
Impact of COVID-19 Infections
Spread of COVID-19 infections has had serious impact on the printing industry as well. Even big printing companies experienced 30 to 50% decrease in monthly sales for April and May 2020.
Although the level of influence varied by printing category, commercial printing was particularly affected; as people are restricted to go out, sales promotion demand decreased significantly.
In the field of commercial printing, shift to digital promotion is likely to accelerate, as online media capable of personalized approach will be valued as means to stimulate spending of consumers that have no choice but to stay home. Because of this trend, there is a strong possibility for sharper drop in printing demand.





Future Outlook
For FY2020, it is assumed that a steep decline is unavoidable for the general printing market. Since printing companies have not made sales forecasts due to influence of COVID-19, at this point, how far the market may fall is difficult to predict.
Considering the harsh situation of commercial printing, the largest segment of the general printing market, level of decline can be assumed as equivalent to that of Lehman Shock. However, as COVID-19 calamity also generated new demand, the decline may remain slight. The general printing market for FY2020 (based on the sales at businesses) is estimated to achieve 3,194,000 million yen, down 7.1% from the previous fiscal year. Whatever the case may be, printing industry may find FY2020 an increasingly difficult year.





Research Outline
1.Research Period: June to August 2020
2.Research Object: Printing companies and other related enterprises
3.Research Methogology: Face-to-face interviews by the expert researchers, surveys via telephone and mailed questionnaire
General Printing Market
The general printing market in this research indicates the following four categories: publication printing, commercial printing, securities-related/card printing, and business-form printing. The market size includes the sales of services (web and supplementary services) in addition to the sales volume of printing and processing. Business-form printing includes DPS/BPO market.





<Products and Services in the Market>
Publication printing, commercial printing, securities-related/card printing, and business-form printing (including DPS and BPO services)
Contact Us
©2019 Yano Research Institute Ltd. All Rights Reserved.
The copyright and all other rights pertaining to this report belong to Yano Research Institute.
Please contact our PR team when quoting the report contents for the purpose other than media coverage.
Depending on the purpose of using our report, we may ask you to present your sentences for confirmation beforehand.