Pharmaceutical Distribution Market in Japan: Key Research Findings 2020 Future Forecast on Development at Major Pharmaceutical Wholesalers by Analyzing Surge of New Waves in Drug Wholesalers
Yano Research Institute (the President, Takashi Mizukoshi) carried out a survey on the pharmaceutical distribution market and found out the trends of drug wholesalers and future perspectives.
Sales Transition at Four Major Pharmaceutical Wholesalers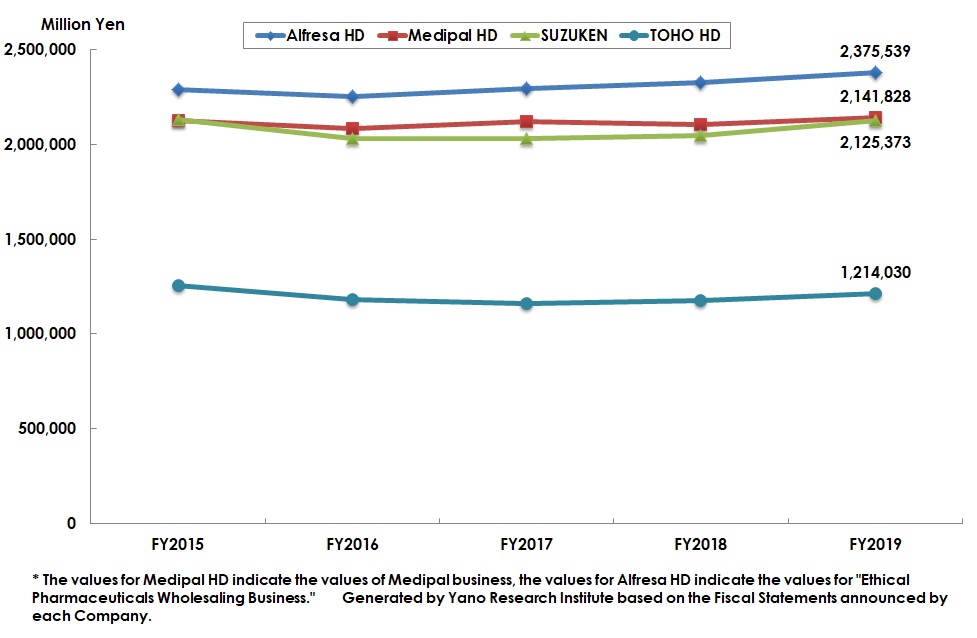 Transition of Operating Profits at Four Major Pharmaceutical Wholesalers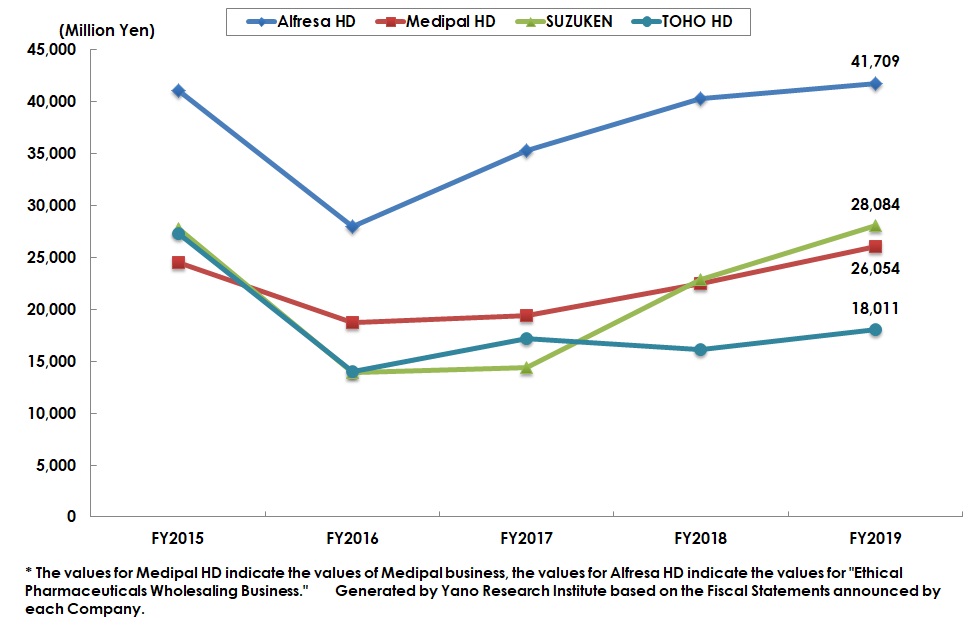 Summary of Research Findings
Expansion of COVID-19 infections significantly affected medical institutions and pharmacies in which the number of patients decreased, making the waiting rooms vacant as the months of March, April, and May went by. In particular, the patients of clinics for pediatrics and otolaryngology declined substantially. Business conditions in medical institutions and pharmacies have become harsher than ever before.

The business conditions at those pharmacies for small pediatrics and otolaryngology were just like the clinics, deteriorating with each passing month. At the regular press conference in June 2020, Japan Pharmaceutical Association made clear of preliminary results on 208 pharmacies: The number of patient receptions during this May dropped by 24.3% on a YoY basis, and the dispensing fee decreased by 11.6% on the same basis. The fees for drugs for 14 days or less fell considerably by 43.0%, while those for 31days or more increased by 4.1%, showing how patients hesitated to visit hospitals and clinics.

The business conditions more seriously damaged by COVID-19 pandemics than clinics and pharmacies are hospitals. Especially those accepting the patients of COVID-19 are facing a busines crisis due to the very reason of accepting such patients. In concrete terms, such hospitals are required to: 1) Secure sufficient number of beds for COVID-19 patients, resulting in limitation of receptions of general inpatients and outpatients, 2) Reduce the number of operations other than emergency ones, causing bed utilization rate to be below 80%, 3) Stop the health checkup business, 4) Increase expenses for taking measures against COVID-19 infections despite collection of the capital cannot be expected.

Noteworthy Topics
COVID-19 Pandemics Drove Drug Repositioning Development
Our country's pharmaceutical companies were lagged behind by major pharmaceutical companies in the U.S. and Europe in the field of DR (drug repositioning). Astellas Pharma Inc., Mitsubishi Tanabe Pharma Corporation and Daiichi Sankyo Company, Limited commenced "JOINUS®" (Joint Open INnovation of drUg repoSitioning) in October 2017, a joint research program to discover new therapeutic drugs using drug-repositioning compound libraries, but no prominent achievement made. Some other pharmaceutical companies and academic researchers studied DR, but the scale of their activities was not so large. Some academic researchers insisted that pharmaceutical companies in Japan should work more on DR, which led a number of medicines to be nominated, but no major changes occurred.

However, as COVID-19 infections expanded and as many countries in Americas and Europe began suffering from pandemics, medicines and vaccines became in need of development and provision as soon as possible. This caused pharmaceutical companies, universities, and R&D institutions worldwide to proactively work on DR to save time for drug development. Although there were close to 100 candidate medicines to treat COVID-19, only two medicines were actually granted marketing authorizations: Remdesivir which was developed to treat ebola epidemic by Gilead Sciences, Inc.; and Dexamethasone Taw, an effective steroid for rheumatism.

More candidates are needed to be authorized. The below medicines are the potential candidates: Futhan, medicine for pancreatitis by Nichi-Iko Pharmaceutical Co., Ltd.; Actemra, medicine for articular rheumatism by Chugai Pharmaceutical Co., Ltd.; Eritoran (E5564), medicine for severe sepsis by Eisai Co., Ltd.; TAK-888, advanced immunoglobulin preparation by Takeda Pharmaceutical Company Limited; and Foipan, medicine for chronic pancreatitis and also for reflux esophagitis after operation by Ono Pharmaceutical Co., Ltd. Among them, Actemra by Chugai and TAK-888 by Takeda are scheduled to apply for marketing authorization by the end of this year, while the result of clinical trials on Eritoran by Eisai is expected to be made clear. The clinical trial result for Foipan by Ono is also projected to be compiled by autumn 2020.

Research Outline
1.Research Period: September 2019 to July 2020
2.Research Object: Pharmaceutical companies, pharmaceutical wholesalers, medical institutions, dispensing pharmacies, administrative authorities, persons with relevant knowledge and experience and etc.
3.Research Methogology: Face-to-face interviews by the specialized researchers, and literature research
The Pharmaceutical Distribution Market
The pharmaceutical distribution market in this research indicates the market of distribution mainly of ethical drugs. The research contains the trends of pharmaceutical companies and wholesalers, etc.


<Products and Services in the Market>
ethical drugs
Contact Us
©2021 Yano Research Institute Ltd. All Rights Reserved.
The copyright and all other rights pertaining to this report belong to Yano Research Institute.
Please contact our PR team when quoting the report contents for the purpose other than media coverage.
Depending on the purpose of using our report, we may ask you to present your sentences for confirmation beforehand.