Computer Aided Engineering (CAE) Market for Machinery in Japan: Key Research Findings 2020
Yano Research Institute (the President, Takashi Mizukoshi) carried out a survey on the global computer aided engineering (CAE) market for machinery, and found out the current status, the trends of market players, and the future perspectives. This press release discloses the results of the domestic market analysis.
Transition and Forecast of Global CAE Market Size for Machinery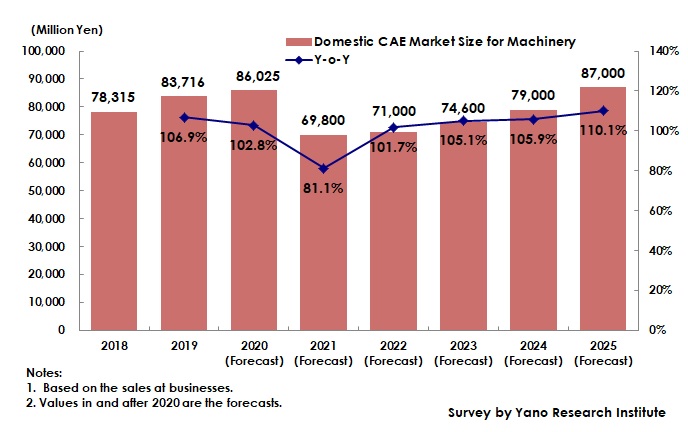 Market Overview
The domestic market size of CAE for machinery in 2019 rose by 6.9% from the previous year to achieve 83,716 million yen, based on the sales at businesses. The growth rate, however, is likely to slow down in 2020 to 2.8% to generate 86,025 million yen.

Favorable domestic economy drove the CAE market for machinery to grow steadfastly in 2019, but this has changed in 2020. COVID-19 pandemics deteriorated the entire economic activities and gave a hard blow to the manufacturing industry, especially the auto industry that has encouraged growth of the CAE market for machinery.

On the other hand, since the budget of Japanese companies for FY2020 was decided before the infections spread in Japan, which somewhat limited the negative influence of the pandemics.

Noteworthy Topics
Livelihood in COVID-19 Pandemics Led Progress in Cloud Utilization and Workstyle Reform
As infections of COVID-19 expanded, many domestic manufacturing companies introduced telework and many designers at manufacturers began working at home. Use of cloud solutions has increased to allow remote access of the work and has been recognized as effective, which is true also in engineering, where cloud computing is likely to prevail.

Although the tools to support design reviews at remote locations by using CAD data viewers or VR (Virtual Reality) were not well accepted in Japan, because the communications by meeting with each other have been thought as preferable, use of the tools may increase, with telework becoming a part of daily lives.


Future Outlook
The domestic market size of CAE for machinery for 2021 is likely to decline by 18.9% from the previous year at 69,800 million yen, based on the sales at businesses. Sluggish economic activities affected by COVID-19 pandemics is projected to significantly reduce capital investment at enterprises, which is likely to bring about serious market slowdown just like the aftermath of bankruptcy of Lehman Brothers.

Later, the domestic market size of CAE for machinery is expected to upturn when capital investment recovers in wide ranges of manufacturing.


Research Outline
1.Research Period: January to May 2020
2.Research Object: CAE vendors, etc.
3.Research Methogology: Face-to-face interviews by the specialized researchers, survey via telephone/email, and literature research
The CAE Market
CAE (Computer Aided Engineering) in this research indicates a computer system that enables intelligent and efficient use of the computing technologies in the process of product designing and developing. There are CAE for machinery that analyze the characteristics of machinery systems such as strength and fluid resistance, 1D CAE which is the model-based development tool, and other CAE that support numerical calculation, etc.

The CAE market for machinery in this research targets CAE for machinery that helps to analyze structure, thermal fluid, resin molding, and casting, the market size of which is calculated based on the sales of the businesses.


<Products and Services in the Market>
CAE (Computer Aided Engineering) for machinery, structural analysis, thermal fluid analysis, resin molding analysis, casting analysis, etc.
Contact Us
©2019 Yano Research Institute Ltd. All Rights Reserved.
The copyright and all other rights pertaining to this report belong to Yano Research Institute.
Please contact our PR team when quoting the report contents for the purpose other than media coverage.
Depending on the purpose of using our report, we may ask you to present your sentences for confirmation beforehand.