Kimono Market in Japan: Key Research Findings 2020
Yano Research Institute (the President, Takashi Mizukoshi) conducted a survey on the domestic kimono market, and found out the current situation, the trends by market players, and the future perspectives.
Market Size Transition of Kimono Retail Market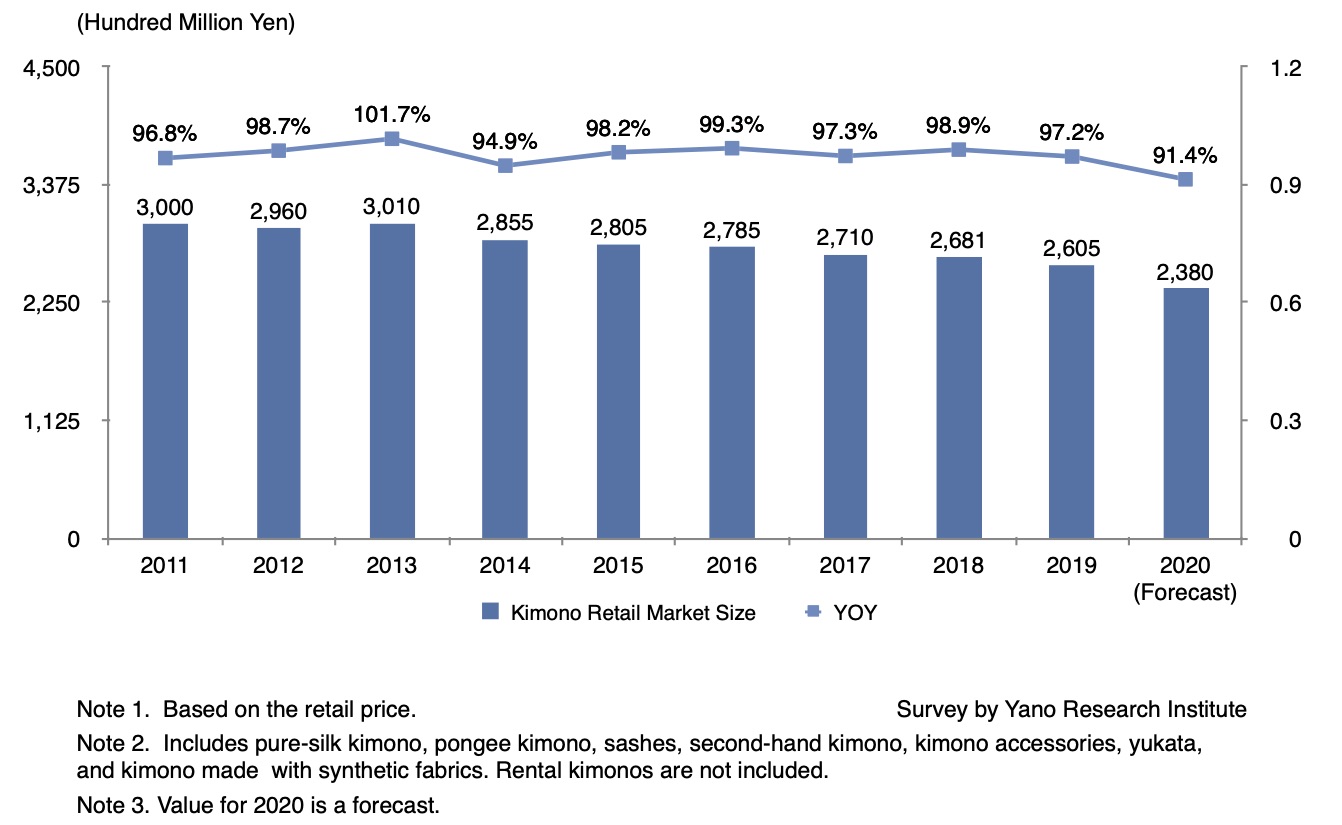 2019 Composition Ratio of Kimono Retail Market By Channel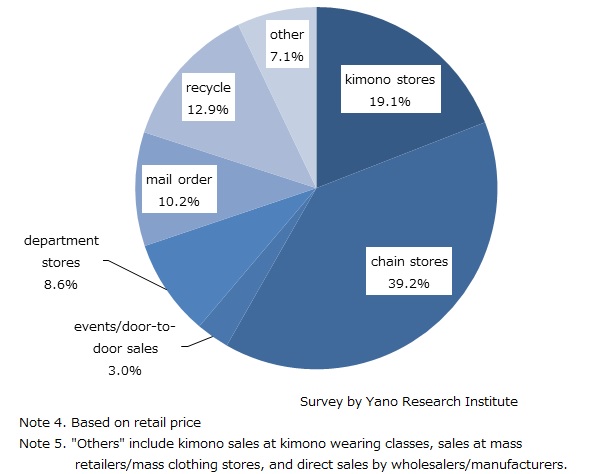 Market Overview
Kimono retail market for 2019 is estimated to attain 260.5 billion yen, 97.2% compared to the previous year.

While foreigners have deep interests in kimono, and therefore experience-based tours and events that involves wearing of rented kimonos are popular especially among inbound tourists visiting Japan, Japanese people's alienation from kimono has been progressing. In addition to the aging of its major customer segment, senior people, in current situation, young generations have not been taken in the market for they still sense high psychological hurdles to dress kimonos or to such occasions.

Meanwhile, in recent years, novel designs for kimono that is free from tradition are increasing. People's perception of kimono as a "special, out-of-the-ordinary dress" has been shifting to a "costume to enjoy out-of-the-ordinary"; the idea has become widely accepted from people home and abroad, as kimono experiences are posted and shared mainly through SNS. If more people starts to enjoy wearing kimono casually, it will stimulate interest of general consumers; the chain reaction is expected to trigger Japanese people to recall their interest in kimono, and increase opportunities to wear kimonos for congratulatory/condolence occasions and for daily use.

Noteworthy Topics
Promotion to Wear Yukata as Alternative Summer Kimono
Traditionally, yukata has been a dressing gown or lounge wear. However, an idea of wearing yukata during longer seasons, i.e. not only during the summertime but also in extended seasons, has been promoted. Depending on color patterns and materials used, and by wearing with juban (underskirt worn under the kimono) and da-te collar (a decorative collar and mainly used for formal kimono), products sold as yukata would look as elegant as traditional summer kimono. This way, occasions for yukata has been extended to casual dinners and going to theatres or museums instead of just fireworks display and summer festivals. While hurdles are high for consumers to purchase traditional summer kimonos, promotion of yukata as a casual kimono for summer stimulates their potential demands to own many yukata with different color patterns. As opportunities increase to wear yukata as summer kimono, consumers become familiar with the concept of summer kimono; it is expected that the familiarity will eventually lead to purchases of traditional summer kimonos.


Future Outlook
Kimono retail market for 2020 is projected to reach 238 billion yen, 91.4% of the preceding year.


In addition to the consumer trends such as alienation from kimono and other market environment, the market condition in 2020 is assumed to be affected largely by the novel coronavirus. As graduation ceremonies at universities were forced to cancel nationwide, rentals of kimono and hakama for graduates were cancelled one after another. Cancellations of other graduation and entrance ceremonies at kindergartens, nurseries, and schools as well as events like Imperial spring garden party diminished the purchasing opportunities of kimonos for this particular time of the year. If the impact of coronavirus continues for long period of time, further downturn will be inevitable.


Research Outline
1.Research Period: November 2019 to March 2020
2.Research Object: Kimono/Kimono-related manufacturers, kimono wholesalers, and kimono retailers
3.Research Methogology: Face-to-face interviews by the expert researchers, questionnaires sent via mail, and literature research.
Kimono Market in Japan
In this research, kimono market includes pure-silk kimono, pongee kimono, sashes, second-hand kimono, kimono accessories, yukata (light cotton kimono), and kimono made with synthetic fabrics. Market size is based on retail price, and it does not include rental services of kimonos.


<Products and Services in the Market>
Pure-silk kimono, pongee kimono, sashes, second-hand kimono, kimono accessories, yukata, kimono made with synthetic fabrics, etc.
Contact Us
©2019 Yano Research Institute Ltd. All Rights Reserved.
The copyright and all other rights pertaining to this report belong to Yano Research Institute.
Please contact our PR team when quoting the report contents for the purpose other than media coverage.
Depending on the purpose of using our report, we may ask you to present your sentences for confirmation beforehand.