Professional Service Robots Market in Japan: Key Research Findings 2020
Yano Research Institute (the President, Takashi Mizukoshi) has conducted a survey on the professional service robots market in Japan, and found out the market size by product type, the trends by application, the trends at market players, and the future outlook.
Transition and Forecast on Service Robots Market Size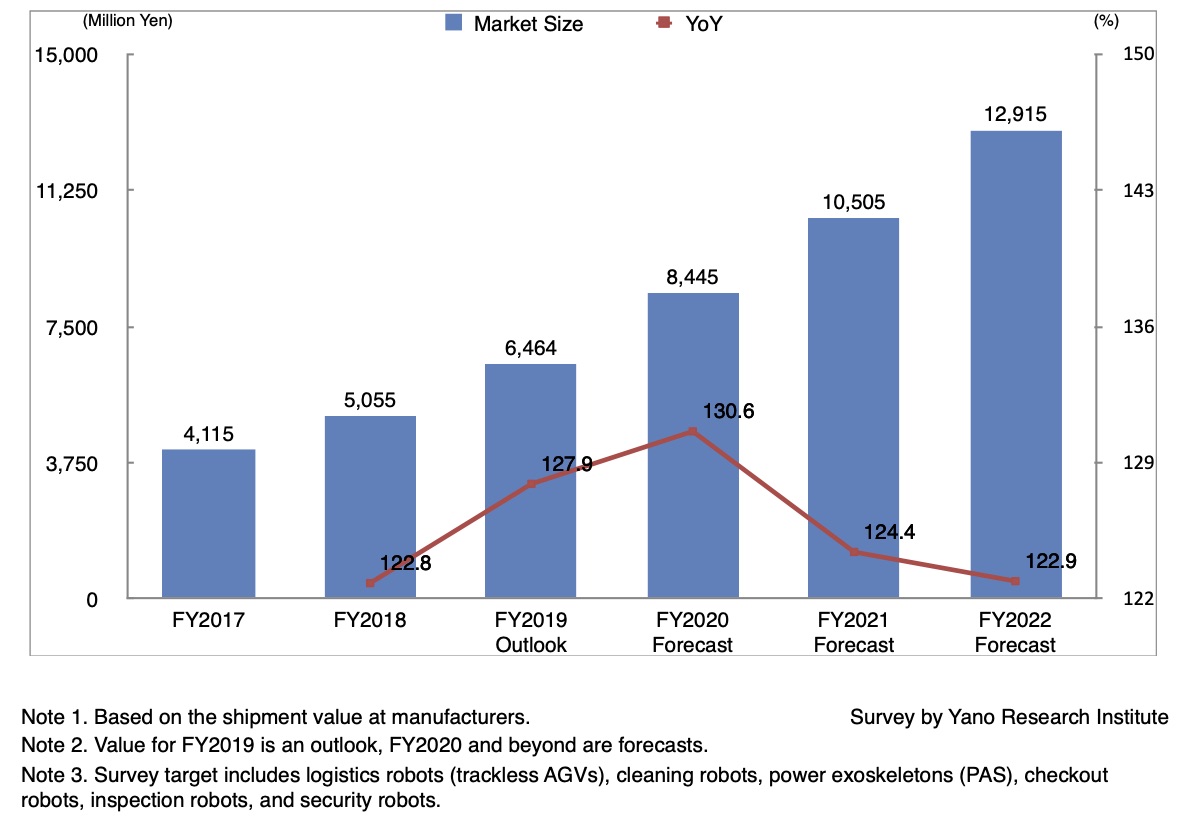 Market Overview
The market size is calculated based on 6 types of professional service robots, i.e., logistics robots, cleaning robots, powered exoskeletons (PAS), checkout robots, inspection robots, and security robots.
The service robots market is estimated to have attained 5,055 million yen in FY2018, increased by 22.8% from the previous fiscal year.
Viewing the market by product type, high-priced logistics robots (trackless AGVs) and low-priced power exoskeletons with large shipment quantity are the top drivers for expansion. Moreover, cleaning robots such as floor moppers / floor cleaners / window wipers that have established the market are showing certain level of presence. Boosted by entering of new market players from different types of industries and by the increase of new product launch in some types of robots, the professional service robots market in FY2019 is predicted to grow to 6,464 million yen (127.9% of the preceding fiscal year).

Noteworthy Topics
Benefit of Professional Service Robots as Covering Labor Shortage; Cost-Effectiveness as Determination Factor for Introduction
As a result of replacing human workers, reducing their physical burden and labor to improve operational efficiency, most professional service robots provide benefits of covering labor shortage.
The only exception is PAS for walking assistance; its primary benefit is not to offer productivity but for restoring (maintaining) user's ability to walk. In a sense, it does reduce physical labor as it does mitigate workload of rehabilitation specialists (physical therapists); however, as its primary application focuses on rehabilitation of the injured, they are medical-oriented equipment, and is slightly different in nature compared to other professional service robots.
Professional service robots are required to be easy to use at situations where needed, and are expected to be effective in reducing human workload, improving work efficiency, and covering labor shortage. Since product price is considered as an indicator of functionality and productivity, cost-effectiveness is substantial for justifying investments on robots. In other words, user's decision on installation of professional service robots is dependent on benefits for the user on their specific situation, and on reasonableness of benefits against price.


Future Outlook
Strong growth in the professional service robots market is expected for the years to come, and the trend of logistics robots, cleaning robots, and PAS driving market growth is only expected to continue. Nevertheless, because a gap in unit price of products affects entire market, logistics robots will be the key driver. The market size of professional service robots is projected to reach 12,915 million yen by FY2022 (based on the shipment value at manufacturers).
Whenever a chance of new product launch comes off, professional service robots make the headlines and gathers attention, but getting noticed does not directly lead to demand; value of service robots is measured relative to user's proper recognition, usage, and cost-effectiveness. It can be said that market penetration of service robot applications expected to boost the market depends on the past circumstances, i.e. how well they have been accepted. While there are some service robots that can anticipate commercialization for new applications, level of pervasion may vary depending on how the challenges of gaining traction in the market is addressed.


Research Outline
1.Research Period: December 2019 to March 2020
2.Research Object: Manufacturers and distributors of professional service robots, companies involved in R&D of service robots, related organizations, ministries concerned, etc.
3.Research Methogology: Face-to-face interviews by the expert researchers, surveys by telephone, and literature research.
Professional Service Robots Market in Japan
Professional service robots in this research are the robots considered for professional setting, except for industrial robots for manufacturing processes and robots for general households. It refers to 6 types of robots used as the means of professional services: logistics robots (trackless AGVs), cleaning robots, powered exoskeletons (power assist suits [PAS]), checkout robots, inspection robots, and security robots. Service robots specifically designed for communication or nursing are excluded.


<Products and Services in the Market>
Service robots (logistics robots, cleaning robots, powered exoskeletons, checkout robots, inspection robots, security robots)
Contact Us
©2019 Yano Research Institute Ltd. All Rights Reserved.
The copyright and all other rights pertaining to this report belong to Yano Research Institute.
Please contact our PR team when quoting the report contents for the purpose other than media coverage.
Depending on the purpose of using our report, we may ask you to present your sentences for confirmation beforehand.