Global 5G Mobile Phone Services Market: Key Research Findings 2019
Global 5G Subscriptions to Reach 8.5 Million in 2019
Yano Research Institute (the President, Takashi Mizukoshi) has conducted a survey on the global 5G market and made clear of the outline and future perspectives of 5G including the forecast of introduction of 5G commercial services by each country and the shipment of 5G smartphones. Here, the forecast of global number of 5G subscribers by country until 2025 is covered.
Forecast of 5G Subscribers by Major Country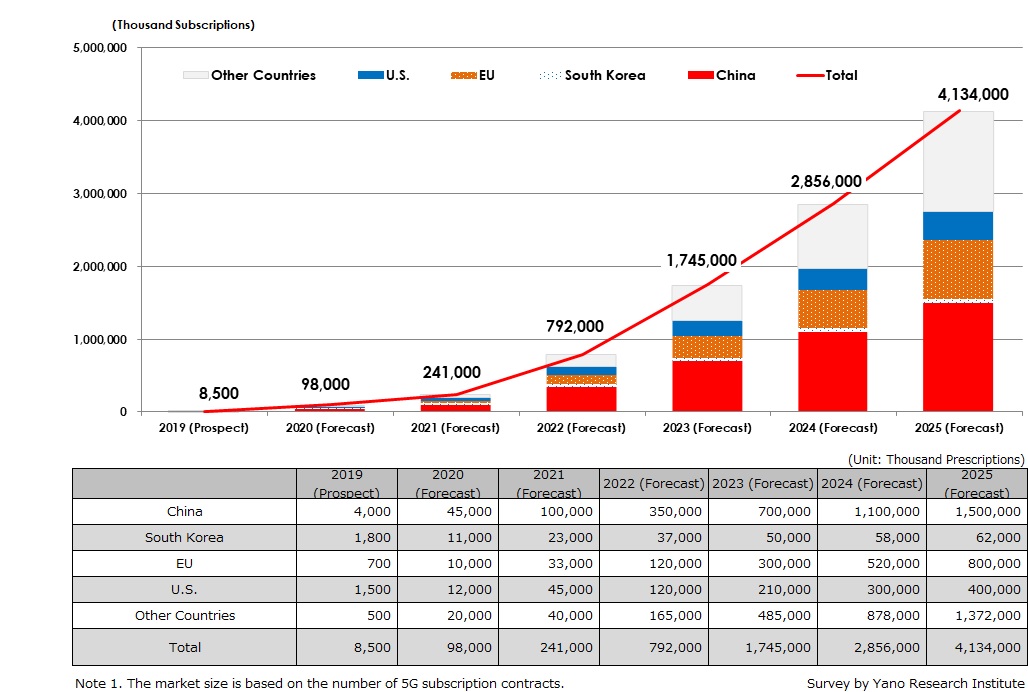 Market Overview
Just like 4G, 5G has been internationally standardized, with 3GPP (Third Generation Partnership Project) and ITU-R (International Telecommunication Union-Radio) played the main role, involving the whole industry including other international standardization organizations, industrial organizations, governmental agencies, telecommunication businesses, hardware makers, semiconductor makers, and software companies by country and region. In 2018, "Release 16" for 5G commercial services has been planned, and in April 2019 South Korea and the U.S. have launched the 5G commercial services earlier than any other countries, followed by some of the EU markets. China, the world's largest mobile phone market, has been preparing for the 5G commercial project to launch by autumn 2019. The global number of 5G subscribers is to be 8,500 thousand by 2019.

In Japan, license of 5G was issued to NTT Docomo Inc., KDDI Corp., SoftBank Corp., and Rakuten Mobile, Inc. These companies are projected to start 5G commercial services in the spring of 2020.

Noteworthy Topics
5G Market Likely to be Driven by China
The number of mobile-phone subscribers in China was 1,575 million in 2018, with new subscribers already on the decline. 4G in China was promoted by the government through improvement of infrastructure and by encouraging fierce competition among telecommunication service providers. Furthermore, China took measures to strengthen its domestic terminal makers of mobile phones and smartphone, making them globally excellent in product development and cost competitiveness. As a result, China became the market with the world's leading IT industry.


In introducing 5G, the country has taken various government-led measures following suit of the success in 4G. It plans to grant 5G license to four companies, i.e., one new company added to the existing three. In addition, it is said that infrastructure in the major cities has already been prepared to accept 5G. Because proactive investment as well as support has been led by the government, the number of subscribers in China is likely to grow vertically once the 5G commercial services start, expecting to reach 100 million by 2021. The global 5G market is likely to be driven by the proliferating subscribers in China.


Future Outlook
The 5G commercial services have already launched in South Korea and in the U.S. since April 2019. 5G home broadband services in each country are likely to start and become widespread from 2021. 5G is highly likely to be proliferated first in the U.S. and China, just like 4G prevailed earlier than other countries. Particularly in China, where 400 thousand 5G base stations are said to have been installed already, the commercial license is to be granted to four telecommunication service providers together with terminal vendors by September 2019. Chinese infrastructure vendors are said to outperform the makers in Europe and the U.S. not only in terms of the sales performance but also in 5G technologies. However, ever since the end of 2018 as a part of the influence of trade frictions between the U.S. and China, there has been a tendency of excluding telecommunication systems made by Chinese makers. If the systems made by Chinese makers are to be excluded in the global market, the schedule of constructing infrastructure for 5G may slow down. In addition, when observing the number of subscribers by communication standard level, 4G is currently the mainstream service with the subscribers continues increasing until 2022, expected to take a downturn in the following year and to be replaced by 5G. The global number of 5G subscribers is to attain 4,134,000 thousand by 2025.


Research Outline
1.Research Period: April to July, 2019
2.Research Object: Domestic 5G service operators, infrastructure vendors, terminal makers of mobile phones/smartphones, ODE/EMS companies, and semiconductor makers
3.Research Methogology: Face-to-face interviews to overseas and domestic companies by the expert researchers, interviews at seminars, and literature research
5G Market
5G is the fifth generation cellular network technology that are telecommunication standard since release 15 (released in June 2018) or later, planned by 3GPP (Third Generation Partnership Project) and other mobile communication international standardization institutions. While maintaining the compatibility with 4G, LTE, or LTE-Advanced, 5G uses new radio communication method with the frequency band larger than 6GHz. As high-speed wireless broadband services widely accepted in the telecommunication industry and the cellular network market after 21st century, the urgent issue is to cope with rapidly increasing communication traffic. In the current status where the demand for communications diversified, it has become the era that everything connects to the internet, which is referred to as IoT, or Intenet of Things. 5G has been developed as the solution for ever diversifying demands. 5G has been the first cellular network technology that has established as globally shared standard, preventing having multiple communication standards like 3G or 4G.


Contact Us
©2019 Yano Research Institute Ltd. All Rights Reserved.
The copyright and all other rights pertaining to this report belong to Yano Research Institute.
Please contact our PR team when quoting the report contents for the purpose other than media coverage.
Depending on the purpose of using our report, we may ask you to present your sentences for confirmation beforehand.