Global Trend in MaaS Corporate Strategies: Key Research Findings 2019
Yano Research Institute (the President, Takashi Mizukoshi) conducted a survey on the global MaaS companies and their trends of strategies, and has analyzed that the "next moves" are the following four items: 1.Multimodal mobility services, 2.Various sharing services using Automation level 4 (Fully automated driving) and level 5 (Full automation), 3.Food delivery/courier network/distribution services, and 4.Smart-City related services
Ideas (Four Services) on "Next Move" by MaaS Service Providers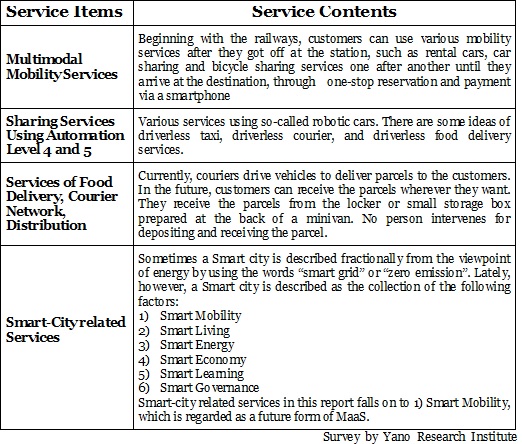 Summary of Research Findings
As the global population increases for the future, the demand for humans to move from one place to the other would doubtlessly expand. The future mobility, however, is not likely to be attained by possessing a car of one's own, but by the advent of an era of MaaS where people will be able to move seamlessly by making reservation and payment for diverse mobility services through a smartphone.

37 companies in the MaaS-related business respectively have their next-generation business strategies, in which majority of the companies placed importance on the following four items:

1. Multimodal mobility services
2. Various sharing services using Automation level 4 (Fully automated driving) and level 5 (Full automation)
3. Food delivery/courier network*/distribution services
4. Smart-City related services

*Courier Network Services offer services to deliver packages and food using individual vehicles, bicycles or scooters when requested through online applications or platforms (websites or smartphone applications).

Noteworthy Topics
Trends of MaaS Leading Market Players
The leading market players of MaaS can be categorized into auto OEM companies, Tier1 suppliers, IT vendors and Maas Service providers. Z

Auto OEM companies are making various attempts to change their current business model of manufacturing and distributing of automobiles to that of mobility services in order for them to let their next-generation offers to survive.

Tier1 suppliers, too, have been trying to shift from being loyal auto-parts suppliers, simply responding to what the OEM company requests, to being wirepullers in the mobility service business.

IT vendors are seeking alternative services of smartphone business that have completely saturated. They are considering supplying software that support MaaS hardware, or system integration services for building a MaaS cloud platform.

MaaS service providers are the companies that have entered the market from various other industries during the past one or two years. While many of them started out from automobile-related services like car sharing or ride sharing, the time has come for some to move on to other mobility services, such as those regarding parking, railways, buses, taxis, drones, motorbikes, and bicycles. Some of local governments as well as the companies and organizations from industries of sightseeing, medical and welfare services, real estate and construction have taken steps to align with mobility service providers, with the hopes of solving their lingering problems and generating new markets.

Research Outline
1.Research Period: April to August 2019
2.Research Object: Japanese and overseas companies relating with MaaS (OEM, Tier1 or 2, MaaS service providers, IT vendors, etc.)
3.Research Methogology: Face-to-face interviews by the specialized researchers, and literature research
What is MaaS (Mobility as a Service)?
MaaS (Mobility as a service) is the new mobility concept generated in recent years that considers all the transportation methods (except for private cars) can be connected seamlessly with one another into one service by using ICT[i], regardless of the operating body and regardless of whether it is public transportation or not.
Information source: PRI Review #71 (2019) by Policy Research Institute for Land, Infrastructure, Transport and Tourism (PRILTT)


<Products and Services in the Market>
1) Car sharing 2) Shared mobility services (mobility services for public facilities) 3) Bike sharing (including bicycles) 4) CNS (Courier Network Services) 5) P2P (Peer-to-Peer, vehicle sharing by individuals) 6) Ride sharing 7) Taxi (on-demand taxi dispatching) 8) Others (Parking lot sharing, etc.) 9) Apps (that provide information on transit and that equipped with reservation and payment functions) 10) Multi mobility services (letting users to successively use multiple mobility such as cars, public transportations, and bicycles). The domestic market size in this research is calculated based on the sales at MaaS service providers and excludes the fees for maintenance and hardware such as vehicles.
Contact Us
©2019 Yano Research Institute Ltd. All Rights Reserved.
The copyright and all other rights pertaining to this report belong to Yano Research Institute.
Please contact our PR team when quoting the report contents for the purpose other than media coverage.
Depending on the purpose of using our report, we may ask you to present your sentences for confirmation beforehand.