IT Outsourcing Service Market in Japan: Key Research Findings 2018
IT Outsourcing Service Market in Japan: Key Research Findings 2018
Yano Research Institute (the President, Takashi Mizukoshi) has conducted a survey on the domestic IT outsourcing service market and has found out the current status, trends by sector, and has estimated the future outlook.
Figure: Transition and Forecast of IT Outsourcing Service Market Size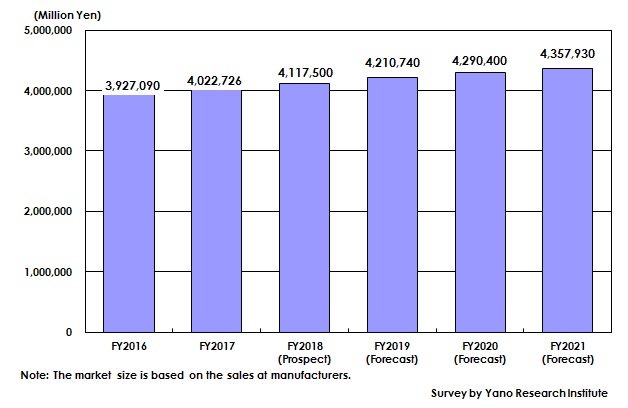 Market Overview
The domestic IT outsourcing service market in FY2018, based on the sales at businesses is projected to achieve 4,117,500 million yen, 102.4% of the size of the previous fiscal year.

The IT outsourcing services in this research are categorized into the following two services: Datacenter services (the datacenter-related services); and onsite maintenance/operation support services. First, use of data centers has been accelerated by cloud service providers because of proliferation of cloud.

Next, onsite maintenance/operation support services have continued being on the decline because the user companies have been shifting to datacenter related services. Especially, decline of maintenance service fee due to reduction in the unit price of IT devices, and prevalence of virtualization technologies have brought about an emerge of HCI (Hyper Converged Infrastructure) products, an integrated infrastructure consisting not only of the servers but also storages and networks, which is reducing the number of ICT devices to maintain.

Noteworthy Topics
The demand for domestic datacenters has driven by prevailing cloud services. Cloud services were at first used only in the online business primarily in the gaming industry. However, the great leap in the number of smartphone users has partly driven more use of cloud services for mobile applications.

Recently, overseas cloud service providers, primarily the hyper scalers, have vigorously started opening datacenters in Japan, increasing their presence as some of energetic driving forces of the market. They are also making alliance with existing datacenter businesses.


Research Outline
1.Research Period: July to September, 2018
2.Research Object: Computer manufacturers, system integrators (SIers), datacenter-specialized businesses, and other IT outsourcing service providers
3.Research Methogology: Face-to-face interviews by the expert researchers, surveys via telephone/email, and literature research
What are IT Outsourcing Services?
IT outsourcing services in general indicate maintenance and operation support services for IT hardware and software provided by external companies. The IT outsourcing services in this research are categorized into the following two services: Onsite maintenance/operation support services (provided at user companies) and datacenter services (the operation and maintenance services for the systems within the datacenters). The market size is calculated based on the sales of the IT outsourcing service providers.


Contact Us
©2019 Yano Research Institute Ltd. All Rights Reserved.
The copyright and all other rights pertaining to this report belong to Yano Research Institute.
Please contact our PR team when quoting the report contents for the purpose other than media coverage.
Depending on the purpose of using our report, we may ask you to present your sentences for confirmation beforehand.